Universal Security Policy
Market Detail: Encompass Insurance's (www.encompassinsurance.com) Universal Security Policy combines customers' personal lines insurance into one annual policy for their home, car, motorcycle, boat or other recreational vehicle, rental unit – and even a home-based business. Policy includes one insurance agent, one premium, one bill, one renewal date, and one deductible.
Available limits: As needed
Carrier: Encompass
States: All states except Alaska, Fla., Hawaii, Idaho, Miss., Mont, Neb., N.C., N.D., Okla., S.D., and Wyo.
Contact: Customer service at 847-402-5000
LawyerCare
Market Detail: ProLawyer Insurance LLC, dba ProSpecialist Insurance Services, (www.prospecialistins.com) has been appointed with an A.M. Best "A" rated carrier for lawyers professional liability in the state of New York. This is an admitted product designed for law firms with one to 25 attorneys. Various limit of liability options available up to $5 million. Deductible options as low as $1,000 and first dollar defense available to qualifying firms.
Available limits: Minimum $250,000, maximum $5 million
Carrier: ProAssurance/Medmarc
States: N.Y only
Contact: Ashley Culin at: Ashley@prolawyer.com, or Ian Massaro at Ian@prolawyer.com, or call 215-525-3293
USL&H
Market Detail: The American Equity Underwriters Inc. (AEU) (www.amequity.com) is the program administrator for a group self-insurance mutual fund based in Bermuda, which is authorized to provide USL&H by the Department of Labor. The group self-insurance mutual can provide employers' liability protection (including incidental maritime employers liability) and is also authorized to provide defense Base Act, Outer Continental Shelf Lands Act, and Non-Appropriated Fund and Instrumentalities Act coverage.
Available limits: As needed
Carrier: U.S. Dept. of Labor Approved Self Insured Group
States: All states
Contact: Allison Crisafulli at 704-749-2857 or e-mail: allison.crisafulli@amwins.com
Homeowners – High Value
Market Detail: Market Search Insurance Services (www.marketsearchinsurance.com) High Value Homeowners Insurance Program offers Coverage "A" value $500,000 and Up. Maximum Coverage "A" value $10 million and CPL limit $1 million available.
Available limits: Minimum $500,000, Maximum limit $10 million
Carrier: Unable to disclose, non-admitted
States: Calif. Only
Contact: Customer service at 888-273-0165
Lawyers Professional Liability
Market Detail: Target Professional Programs (www.TargetProIns.com) offers professional liability for law firms of all sizes, including part-time attorneys. EPLI for law firms also available. Standard and excess coverage from both admitted and non-admitted, A+ markets.
Available limits: As needed
Carrier: Various, admitted and non-admitted available
States: All states
Contact: Shawna Reidy at 331-333-8239 or e-mail: sreidy@targetproins.com
Fire Burglar Medical Alarm Supression
Market Detail: Berrian Insurance Group (www.big-ins.com) writes more than 400 classes including: fire equipment distributors, fire & emergency apparatus dealers; fire extinguisher sales & services companies; restaurant & special suppression system contractors; fire alarm/burglar & security system installers; fire suppression contractors; security guard & patrol services; off-duty police officers; armored car services; medical alarms; private detective or investigative agencies; process servers; and monitoring, armed or unarmed, with or without animals.
Available limits: Minimum $1 million, maximum $10 million
Carrier: Various, admitted and non-admitted available
States: All states
Contact: Joel Berrian at 303-795-5831 or e-mail: jberrian@big-ins.com
Was this article valuable?
Here are more articles you may enjoy.
From This Issue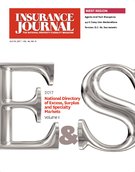 Excess, Surplus & Specialty Markets Directory, Volume II