A Central Texas town devastated by a 2013 fertilizer plant explosion that killed 15 people, many of them emergency personnel, has reached a settlement of its lawsuit for damages caused by the blast.
The city council in West said it will accept $10.44 million to settle its claims against the defendants, including makers and suppliers of ammonium nitrate, the explosive fertilizer involved in the blast, and Adair Grain Inc., owner of the fertilizer plant itself.
In a statement, Mayor Tommy Muska said he is pleased with the settlement.
Attorney Steve Harrison, who represented the city, said manufacturer CF Industries will pay $6.4 million, supplier El Dorado Chemical will pay $3.9 million and Adair Grain will pay $143,000.
Confidential settlements previously had been reached with families of victims and West Rest Haven, a nursing home badly damaged by the blast.
The April 13, 2013, blaze heated up 30 tons of ammonium nitrate at the fertilizer plant. Investigators don't know for sure what detonated the fertilizer, which can also be used as an explosive. The blast carved a crater 10 feet deep and damaged nearby schools. Fifteen people died, 12 of whom were first responders; around 300 people were injured.
The fire involved a 12,000-square foot wood frame seed and fertilizer building at the West Fertilizer Plant, known as the Bulk Processing Plant, which had no fire resistance rating. The Uniform Fire Code wasn't published until 1971 after the building's construction sometime in the 1960s.
Federal safety investigators found a lack of regulations for "siting of facilities that store and distribute" ammonium-nitrate fertilizer. They said regulations addressing issues such as buffer zones or barricades, could have significantly reduced the severity of the casualties and damage.
More than 200 claims were filed in the aftermath of the blast. As the fire raged, the building's roof collapsed, and the explosion rocked the city of approximately 2,800 people.
Three schools, a West EMS building, a nursing home, an apartment complex and several single-family homes, along with three volunteer fire department trucks, were destroyed. Insured losses were estimated at more than $100 million.
The plant, owned by Adair Grain, was reported to have carried only $1 million in liability insurance.
According to a final report on the incident report published by the U.S. Chemical Safety and Hazard Investigation Board in January 2016, the facility had been "dropped by one insurer for failing to address safety concerns identified in loss control surveys. The company that insured WFC at the time of the incident did not appear to have conducted its own safety inspections of the facility."
The Houston Field Division of the federal Bureau of Alcohol, Tobacco, Firearms and Explosives (ATF) said in May 2016 that the fire that caused the explosion was intentionally set, though investigators could not pinpoint exactly where the fire started.
Copyright 2018 Associated Press. All rights reserved. This material may not be published, broadcast, rewritten or redistributed.
From This Issue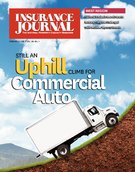 2017 Agency Mergers & Acquisitions Report; Markets: Nonprofits, Garage & Repair