While Andrea Wells' Feb. 13 article on consolidation in the wholesale space was well researched and written, some conclusions were drawn about the viability of independent wholesalers with which I disagree.
As anyone who has tried to schedule a cable TV service can tell you, bigger isn't always better. There will always be room for a small, responsive intermediary in any link in the insurance distribution chain, as long value is added. A wholesaler must add value for the insured, the retail agent and the carrier. For the insured, the wholesaler must take the time to understand their unique exposures and craft cost-effective solutions for coverage. For the retail agent, the wholesaler needs to be sensitive to the busy CSR's need to get coverage placed quickly and correctly, and giving great upfront advice on the best approach to a risk, even if it means a referral elsewhere. For the underwriter, the wholesaler needs to provide a good submission and understanding of the account, a targeted approach to marketing to keep quote-to-bind ratios acceptable, and realistic expectations of appropriate premiums to assure acceptable loss ratios.
To refute the four points raised in the article regarding the importance of size, I offer the following observations:
1. Carriers want volume, but to be profitable, they also want acceptable loss ratios and good hit ratios. Astute underwriters are putting submissions from good wholesale partners on the top of the pile, regardless of the size the wholesaler.
2. State-of-the-art systems are important, but the cost of computing power has been droppin. You don't need to be huge to afford a great system.
3. Retailers are paring down their distribution outlets, but many are choosing to keep a small, responsive independent wholesaler in their line-up because this not only makes good business sense, but also makes life easier for staff.
4. Talent is expensive, but there are many people who are keen to build a long-term reputation for talent and integrity. They want to provide extraordinary service and build relationships without the intense commission production pressure often prevalent at national wholesalers.
Running a small business has never been easy and the rewards are not always monetary. Great insureds will seek great retailers, and great retailers will seek great wholesalers. Whether the market is hard or soft, whether mergers are in vogue or not, those who make an unwavering commitment to add value will always thrive and prosper.
From This Issue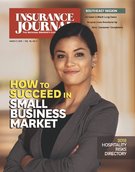 How to Succeed in Small Business Market; Directory: Hospitality Risks; Markets: Homeowners & Auto, Business Interruption