An oil and gas worker on a Talos Energy LLC platform in the U.S. Gulf of Mexico was killed on Feb. 17 while replacing piping, the Bureau of Safety and Environmental Enforcement (BSEE) said.
The worker, who was not immediately identified, was injured while removing out-of-service fire suppression equipment and later died. No other personnel were injured and there was no fire or release resulting from the accident, Talos said in a statement.
The Houston-based company said it initiated an investigation and was working with regulators in reviewing the accident, which occurred about 64 miles south of Lake Charles, Louisiana. The platform was being operated by Energy Resource Technology GOM LLC, a Talos subsidiary.
Offshore drilling accidents claimed 29 lives between 2009 and 2016, according to the latest data available from federal regulator BSEE, including 11 offshore workers in the 2010 Deepwater Horizon rig explosion.
Talos's Energy Resource Technology reported a fatality on a production platform in October 2013, according to BSEE. That accident occurred just a few months after federal regulators placed the operator on a performance improvement plan.
In 2016, Energy Resource Technology (ERT) was ordered to pay $4.2 million and put on three years of probation for felony violations tied to its offshore activities.
ERT pleaded guilty to two counts of failing to comply with regulations covering hot work and blowout preventer testing. It also pleaded guilty to violations of the Clean Water Act by dumping pollutants into the Gulf of Mexico and for tampering with methods for collecting water discharge samples, U.S. prosecutors said.
Talos self-reported the violations that led to the settlement after it acquired ERT in 2013, the company said in a statement.
From This Issue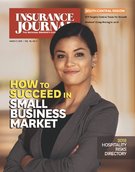 How to Succeed in Small Business Market; Directory: Hospitality Risks; Markets: Homeowners & Auto, Business Interruption