In the past two columns, we examined eight legal and contractual principles nonlawyers can use to resolve most claim disputes without litigation. In this month's column, we'll wrap up this discussion with nine other principles.
Entirety of Contract
By now, you know what "RTFP" stands for, the 'PG' version being "Read The Full Policy." That interpretation of the acronym falls within this principle. To determine whether coverage exists, you must review the entire contract. For example, in one claim, a homeowners policy insured's brother-in-law was using his own riding mower to pull fallen tree limbs to a pile following a bad storm. His mower was damaged when a large, suspended limb fell from a tree. He sought coverage under the homeowner's HO policy.
The adjuster denied the claim under the "goodwill" Property of Others coverage in Section II – Liability of the policy because it required that damage to the property of others must be "caused by" an insured, not the case here. The adjuster was interpreting this policy provision correctly, but not the policy in its entirety. His mistake was limiting his search for coverage to the liability section of the policy.
In Section I – Property, there is, at the insured's request, coverage for the property of others if caused by a covered peril. Under the facts and circumstances of this claim, the falling objects peril applies and there was coverage for damage to property of others in this provision. RTFP!
Good faith is simply a foundational principle of insurance.
Unconscionable Advantage
If you can make a case for coverage following a claim denial, the insurer must consider it, especially if you cite case law and/or authoritative support for your interpretation. In Smith v. Travelers Indem. Co., 32 Cal. App. 3d 1010, 1017, 108 Cal. Rptr. 643 (Ct. App. 5th Dist. 1973), the court opined that, "An insurer bears a duty to defend its insured whenever it ascertains facts which give rise to the potential of liability under the policy irrespective of the source of the information."
Similarly, if case law supports a position contrary to that taken by the carrier and such case law has been brought to the attention of the insurer, "It cannot hide behind the insured's ignorance of the law; it cannot conceal its liability. In these circumstances it has the duty to speak and disclose, and to act in accordance with its contractual undertaking." — Bowler v. Fidelity & Cas. Co., 53 N.J. 313, 327-328, 250 A.2d 580, 588 (1969).
Waiver and Estoppel
If an adjuster has waived a right under the policy, the insurer is estopped from asserting that right later. In one case, an independent adjuster hired by the carrier authorized an insured to begin cleanup following a fire loss. Two weeks later, the insurer sent a house adjuster who attempted to reduce the previously agreed upon settlement by $180,000 because he did not have the opportunity to review the damage prior to cleanup. Waiver and estoppel prevented the coverage reduction.
Detrimental Reliance
Detrimental reliance, or promissory estoppel, is a principle steeped in tort, not contract, law. It has been used successfully in cases where language added to a certificate of insurance implied coverage where none existed, and the certificate holder relied to his or her detriment on the information on the certificate.
Breach of Contract
An insured had been with the same insurer for more than 40 years and never filed a claim until the current homeowners policy period when the carrier paid a $6,000 windstorm claim and a separate $40,000 fire claim.
Following the second claim, the insurer sent a mid-term cancellation notice. The cancellation was invalid, thus breaching the conditions in the insurance contract, because having a loss was not valid grounds for cancellation.
A similar situation arose when an insured was pulled over for a traffic violation and marijuana was discovered in the vehicle. The auto insurer followed that with a cancellation notice but had to rescind it because there was no valid basis in the policy for cancelling for that reason.
Breaches of contracts can and do occur on the policyholder side by violating various conditions in policies, including fraud.
Duty of Utmost Good Faith
This is simply a foundational principle of insurance. In one homeowners claim, an elderly widow was paid half of the $26,000 that was needed for repairs following a fire loss. In the claim file, the adjuster had made a handwritten note that he had "lowballed" the homeowner.
The result was that the insured was awarded the additional $13,000 plus $3 million in punitive damages for bad faith. But successful bad faith lawsuits against insurers are uncommon if not rare.
Statutory Supersession
An insurance contract cannot be more restrictive than a statute. However, an insurance contract can be broader than a statute.
For example, an auto policy allowed nonrenewal with a 20-day notice; however, state law required a 30-day notice, so it didn't matter that the policy said 20 days because 30 days was required.
On the other hand, if state law permitted nonrenewal with a 20-day notice but the auto policy required a 30-day notice, then the insured should get a 30-day notice.
Agency Accommodations
Sometimes, insurers will pay claims that are arguably not covered as an accommodation to a preferred agency or an important customer or as a goodwill gesture to multiple insureds. If so, it's probably a good idea that such payments come from a charitable account and not a loss reserve. Some legal jurisdictions have opined that paying a claim for one requires paying an identical claim for all.
Good faith is simply a foundational principle of insurance.
This kind of inconsistency can come back to haunt an insurer. For example, as illustrated in Aetna Cas. & Sur. Co. v. Haas, 422 S.W.2d 316 (Mo. 1968), the payment of a claim for one insured but not another may, upon discovery, bind the insurer to coverage of a later claim of the same type. As a result, many insurers are reticent to pay uncovered claims on this basis.
Regulatory Directive
Sometimes, insurance departments act on their statutory ability to regulate in the public interest. On an individual claim basis, that may be the premise of an insurance department's involvement. However, it's more likely to be one of mediation, and resolution may be grounded more in perceived fairness than any real regulatory authority.
The reality is that insurers may sometimes bow to the recommendations of a regulator to stay in their good graces. Rightly or wrongly, that happens, and our mission here is to include reality and practicality in our exploration of means of resolving coverage and claims disputes.
In next month's concluding column, we will explore the value of regulatory intervention by insurance departments with the staff expertise to intercede in claim disputes.
Was this article valuable?
Here are more articles you may enjoy.
From This Issue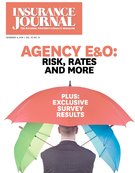 Top Commercial Lines Agencies; Agency E&O Survey; Premium Finance Directory; Market: Trucking