NFIP and Private Flood
Market Detail: Grand General Agency (www.thehelpfulpeople.com) is a general agency with several markets available for agents and their clients for flood coverage for residential or commercial structures nationwide. Quotes available in less than five minutes for the private flood option with no elevation certificate required. Residential, commercial and RCBAP coverage offered.
Available limits: Maximum $2 million per building
Carrier: Unable to disclose, admitted and non-admitted available
States: All states except Alaska and Hawaii
Contact: Spencer Tomlin at 800-869-2022 or e-mail: spencer@thehelpfulpeople.com
ATM or Bitcoin Operators
Market Detail: First Class Insurance (www.firstclassins.com) ATM Business Insurance is available for the machines in a fleet to include cash inside the machines as well as cash-in-transit. ATM operator insurance programs include general liability, which is usually required by the locations where machines are placed. First Class Insurance also writes policies for businesses who service Bitcoin ATMs.
Available limits: As needed
Carrier: Lloyd's of London
States: All states
Contact: Todd Russo at 954-241-4680 or e-mail: trusso@firstclassins.com
Crime Coverage for Community Associations
Market Detail: Distinguished Programs (www.distinguished.com) helps protect association clients against financial crimes with crime insurance. In the event of fraud, forgery, or theft, Community Associations Crime Insurance ensures associations will be protected against financial loss. Flexible limits ranging from $10,000 and up to $5 million. Quotes can be submitted and bound online. Coverage features include: Available as Agreement 1 only (employee dishonesty) or Agreements 1-6+8; managing agent endorsement; financials are not necessary to bind; various deductibles are available, including high-deductible options allowing policy to sit above another. First-party coverage includes wrongful acts committed by board members, employees, volunteers, or property managers (subject to policy terms and conditions); Agreement 1 Employee Dishonesty. Third-party coverages for wrongful acts committed by perpetrators not employed by or associated with the association (subject to policy terms and conditions); Agreement 2 – forgery or alteration; Agreement 3 – inside the premises; Agreement 4 – outside the premises; Agreement 5 – computer fraud; Agreement 6 – money orders and counterfeit paper currency; Agreement 8 – funds transfer fraud. Eligible risks include: condominium associations (COAs); homeowners associations (HOAs); planned unit developments (PUDs); cooperatives (co-ops); property owners associations (POAs); commercial condominiums; timeshares/intervals; and mixed-use condominiums.
Available limits: Minimum $10,000, maximum $5 million
Carrier: Unable to disclose
States: All states
Contact: Tara Hughes at 425-213-1259 or e-mail: thughes@distinguished.com
Multi-Line Crane & Scaffold Programs
Market Detail: Ascinsure Specialty Risk LLC (www.ascinsure.com) offers two multi-line programs for the crane and scaffold industries. Ascinsure has been a program underwriting manager and wholesaler within the crane and scaffold industries for over 30 years. Highlights include: general liability; workers' compensation; riggers coverage (crane program only); auto; inland marine; property; excess; and crime coverage available. Ascinsure is a specialty wholesale & underwriting insurance manager with a targeted focus nationwide on the scaffold, crane, inland marine, and equipment rental sectors, serving insurers and retail agents.
Available limits: As needed
Carrier: Call for more information
States: All states except Alaska and Hawaii
Contact: Rikki Concannon at 412-224-5506 or e-mail: rikki@ascinsure.com
Outdoor Sportsmen & Recreation
Market Detail: McNeil & Company's (www.mcneilandcompany.com) Outdoor Sportsmen & Recreation Insurance Program, "AdvenSure", offers risk specific coverages for the outdoor sportsmen and recreation industry. The program offers insurance and risk management services required for outdoor sports & recreation providers. Markets written within the program include: guides & outfitters; RV parks & campgrounds; hunting preserves; dude ranches; resorts & lodges; rod & gun clubs; fresh water marinas; trap skeet & sporting clay ranges; bed & breakfasts; and archery ranges.
Available limits: Minimum $1 million, maximum $3 million
Carrier: Arch Insurance Co.
States: All states except Hawaii
Contact: Steve Gulini at 607-428-2124 or e-mail: sgulini@mcneilandcompany.com
Was this article valuable?
Here are more articles you may enjoy.
From This Issue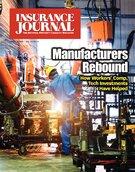 Manufacturing; Markets: Restaurants & Bars, Boats & Marinas; Corporate Profiles — Spring Edition