Stock Prices:
Brokers' stock prices have been mixed through the first quarter of 2007. Hub International Ltd. and USI Holdings Corp. have experienced stock price increases due to take-over premiums, as both companies will soon be privately owned. Hilb Rogal & Hobbs Co., whose stock is up a remarkable 16.8 percent year-to-date, reported impressive 2006 year end results in late February. Net income for the year increased 54.8 percent to $87 million, from $56.2 million in 2005. Net income in 2005 included an after tax $26.3 million regulatory charge primarily for the company's settlement with the Connecticut Attorney General. HRH reported a 4.4 percent organic growth rate in 2006.
M&A Activity:
There was no shortage of activity in the brokerage sector in February and March as 35 deals were made public. Through the first 12 weeks of 2007, 64 deals have been announced. In the largest deal of the past two month period, another public broker announced that it will be acquired by a private equity firm. On Feb. 26, Hub International announced it entered into an agreement to be acquired by funds advised by Apax Partners together with Morgan Stanley Principal Investments. Hub shareholders will receive $40.00 per share in cash, representing a premium of 28 percent to the 90-day trading day average closing stock price on the NYSE. This transaction values Hub at approximately $1.8 billion, which includes approximately $1.7 billion of fully diluted equity and approximately $145 million of debt. Hub later announced in March that the Arrangement Agreement with its acquirers had been amended. The amendment will increase the consideration to be received by Hub's shareholders to $41.50. Earlier in the month Hub was busy with acquisitions of their own. Hub announced an agreement to acquire substantially all of the assets of Hibernia Insurance Agency LLC. Hibernia Insurance, an $18 million revenue brokerage firm, will become a new regional platform doing business as Hub International Gulf South. Based in Metairie, La., Hibernia Insurance employs 85 people at offices in Metairie, Lafayette and Baton Rouge. Founded in 1965 as the Rosenthal Agency Inc., the brokerage was purchased in 2000 by Hibernia Agency LLC, now a subsidiary of Capital One Financial Corp. Hub acquired another bank owned insurance agency in March with the acquisition of BNC Insurance Services Inc. from BNCCORP Inc. The brokerage, which does business as Milne & BNC Insurance Services, has approximately $19 million in revenue. The brokerage has 85 employees and was founded in 1990. Several other middle market brokers were active in February and March including Brown & Brown Inc. with three acquisitions, Arthur J. Gallagher & Co. with two, and USI Holdings Corporation also with two acquisitions.
Capital Raising:
Willis Group Holdings Limited, announced that its subsidiary, Willis North America Inc., priced $600 million Senior Notes at 6.20 percent due 2017. The company intends to apply the net proceeds of the offering for general corporate purposes including repayment of outstanding borrowings under its revolving credit facility and repurchase of common stock pursuant to its stock repurchase program.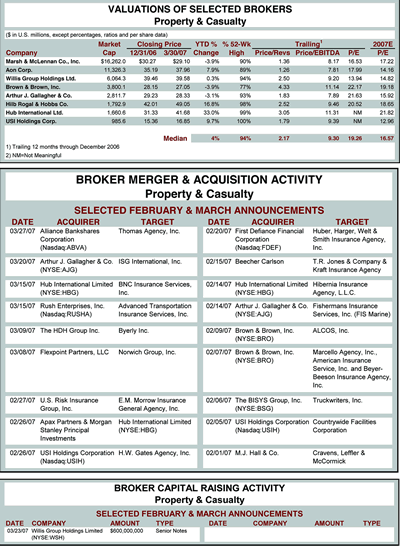 LMC Capital LLC is a national investment banking firm focused exclusively on the insurance industry. Services include highly qualified, industry-specific advisory relating to mergers & acquisitions, capital raises and valuations. The firm can be contacted at 704-943-2600, by e-mail at Info@LMCCapital.com or visit the firm's Web site at www.LMCCapital.com
Was this article valuable?
Here are more articles you may enjoy.
From This Issue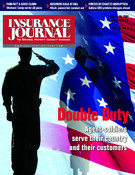 Salute to Independent Agents; Habitational Properties/Dwellings/Rentals/Seasonal; 1st Qtr Market Survey