Stock Prices: The range in stock prices for brokers has been dramatic. At one end of the spectrum, Marsh & McLennan (NYSE:MMC) is down 9 percent and at the other, Aon Corp. (NYSE:AOC) is up 14.2 percent year-to-date. Aon reported healthy second quarter earnings on July 31. Net income increased 24 percent to $240 million, compared to $193 million for the prior year quarter. On the same day, Aon announced that it is considering strategic options for its life and health underwriting subsidiary, Combined Insurance Company of America and its affiliates.
M&A Activity: Private Equity made its third billion dollar acquisition of a broker in 2007 when Blackstone Group announced an agreement to acquire Alliant Insurance Services Inc. for $1.1 billion. Based in Newport Beach, Calif., Alliant was ranked as the 13th largest U.S. broker by Business Insurance. The company said it has more than 20,000 insurance and employee benefits clients in the United States, with areas of specialty that include public entities, Indian nations, health care, energy, law firms, real estate, construction, and other industry groups. In addition to the Alliant deal, 22 other transactions were announced in June and July. The acquirers were familiar names that included: Willis Group Holdings Limited (NYSE:WSH), Arthur J. Gallagher & Co. (NYSE:AJG), and Hilb Rogal & Hobbs Co. (NYSE:HRH). Hub International also continues to make acquisitions, even after it was acquired earlier this year. The company announced it reached a definitive purchase agreement to acquire the assets of Windsor, Ontario-based Unity Group Insurance. Unity has three offices in Essex County which will increase the presence of HUB International Ontario to a total of eight offices. The proposed transaction will result in an approximately $16 million southwest operation including more than 120 employees. Hub also announced the acquisition of Steele City Agency and The Hudson Eldridge Insurance Agency, Inc. during June and July.
Capital Raising: Private equity firms are not only acquiring large insurance brokers, they are also providing capital to fund start-up brokers. Two separate entities announced that they received private equity backing and would begin insurance brokerage operations. Industry veterans Kenneth Pinkston, former chairman and CEO of Willis North America and David Haynes, former chairman and CEO of Synaxis Group Inc. launched Synercon Insurance Holdings of Franklin, Tenn., in July. Primus Capital funds, a Cleveland-based private equity firm, is providing the capital to fund Synercon, which plans to reach $200 million in revenues within the next five years. In June, Private Equity fund Trident IV L.P. committed up to $100 million to form Edgewood Partners Insurance Center, a new property/casualty and employee benefits broker in California. Edgewood will be headed by John Hahn, the former president and CEO of BISYS Commercial Insurance Services, and Dan Francis, the former president and CEO of ABD Insurance and Financial Services Inc. Edgewood is in the process of completing a brokerage acquisition that will provide it with a platform for expansion in California.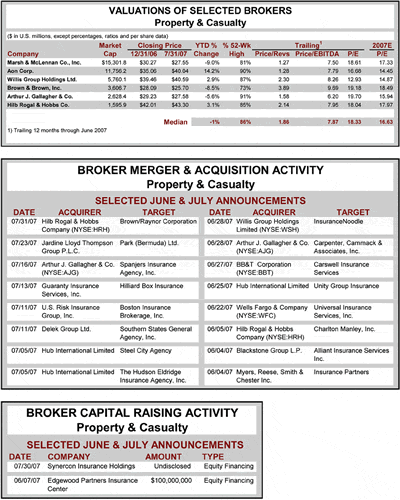 LMC Capital LLC is a national investment banking firm focused exclusively on the insurance industry. Services include highly qualified, industry-specific advisory relating to mergers & acquisitions, capital raises and valuations. The firm can be contacted at 704-943-2600, by e-mail at Info@LMCCapital.com or visit the firm's Web site at www.LMCCapital.com.
Was this article valuable?
Here are more articles you may enjoy.
From This Issue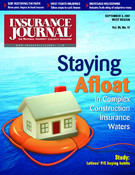 Contractors; Special Events; Digital Product Guide