As the insurance industry continues to be challenged with softening rates and premiums, innovation is key to long-term success, says Julie K. Davis, executive vice president for Aon Corp.'s Wired for Growth program.
Given the challenges of the recession, the property/casualty insurance sector may face hurdles such as the inability to meet revenue forecasts, declining operating margins, increase in debt and a decline in market share for certain client segments, said Davis, a featured speaker at sessions held by the Women's Network Group in Sacramento, Calif.
However, "an economic downturn can create great opportunities for new product and service innovation," Davis said. "In addition, it also creates the opportunity to break bad, and outdated, habits. Both innovation and creativity can be the best ingredients to produce great results in 2008."
Several key points were highlighted during the WNG sessions:
Innovation pipeline
Successful development of innovation (product, service, technology and process innovation) can be a key to success. The insurance industry needs to be ready to respond to market shifts with innovative responses. Leading change in the industry can help an insurance company to stay competitive.
During a recession, selecting the right tools couldn't be more important, Davis indicated. For example, if a firm earned $10 million in annual revenue and was able to achieve 10 percent organic growth, the end result might be less than the targeted year-end goal. A pipeline of new products and services may be necessary to bridge the performance gap in a soft market.
Davis said new products and services in the past year include pet insurance and privacy liability protection, as well as programs designed for new industries such as clean technology and nanotechnology. In the past 12 months, there has been a wide range of products and services, but innovation is still not at a level needed to meet growing customer needs and to provide an economic lift in the industry, she said.
She also warned against overlooking the reason why products fail. Reasons for failure include a lack of proven market demand, lack of objectivity, inappropriate market research, underestimating the financial requirements or resources needed to launch the new product, lack of experienced management or staff, or lack of uniqueness in the product or service.
Business growth can be achieved through the penetration of a company's existing market segments, innovation of new products/services or niches, the diversification of existing products or franchising.
Industry knowledge is key
Successful agents and brokers in the insurance industry are ones that can transition from transactional to consulting services, Davis said. That trend extends to small commercial accounts, as well as program business.
The ability to understand a specific targeted industry by size or segment, and its needs can shorten the length it takes to engage key prospects or launch successful new insurance products or programs. Furthermore, to be most effective at cross-selling, a basic knowledge of the client's industry or business life-cycle is helpful.
Target marketing
There is a growing trend of marketing and communication efforts that are more meaningful, industry-specific and speaks to the challenges of the target market, the keynoter said. Approaches should include collateral material, Web site content, industry-focused news, focused distribution channels and more. A more intelligent client or prospect wants to know that the insurance provider or partner understands his or her key business trends and critical issues in his or her industry segment.
Attracting and retaining the best people
Without dynamic people, the insurance industry would have no revenue, clients or value proposition, Davis indicated. Yet some parts of the industry still overlook the importance of hiring great people, developing them and ensuring that their goals are aligned with the company strategy. People are the most valuable assets, and a solid strategy on diversity, talent attraction and retention can't be overlooked, Davis concluded.
From This Issue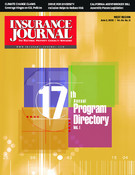 Program Directory, Vol. I