"If you build up their confidence they will set higher goals and push to achieve more."
— Lou Holtz
Mr. Holtz gives us a formula for winning and who doesn't want to win?
The formula starts off with building up their confidence. We'll dig into that in a moment. Then set higher goals, and the assumption here is: confident people believe they can achieve, so they are willing to set higher goals.
Last in his formula is push, push, push to achieve. The result of higher goals is something to push toward, and if you push hard enough, you increase your chances of accomplishment.
The Formula is Revealed
Step 1: Build up confidence.
Step 2: Set big goals.
Step 3: Push, push, push, work, work, work to achieve.
Step 4: Repeat over and over.
Where Do You Start?
If you are an agency owner, what would be more fantastic than having a boardroom full of confident and motivated producers, just dying to conquer the world? But you don't. And you scratch your head, day after day, week after week wondering why not.
Well, according to Mr. Holtz, maybe… just maybe, you aren't doing what you need to do to build up their confidence.
So, let's dig in.
What is Confidence?
Confidence is how you feel about your ability to do something. The fact that it is a feeling tells you it's a state of mind. It comes from your belief in your own ability. And your ability is in direct proportion to your knowledge and skills.
So, if you want to build up your producers' confidence, it appears you must help develop their abilities (knowledge and skills).
Fake it until you make it, is not the same. "Get out there son, just be confident," doesn't cut it.
If you really want confident producers, you need a plan to build it.
Plan to Build Up Confidence
The first place to get started is to figure out what skills and knowledge producers needs to do their job extraordinarily well.
Considering that what separates a producer from an account manager is the ability to prospect and sell, you might want to start there.
Almost every "no and low growth" agency is plagued with producers who have virtually empty pipelines. Those pipelines are empty because producers "love" to prospect? I don't think so. In fact, most hate to prospect. They feel insecure picking up the phone. They feel insecure asking for introductions.
The insecurity is driven by either a fear of the unknown or a sheer lack of preparation – not knowing what to say to gain a buyer's attention. Not knowing how to deal with whatever response they might receive.
So, if you isolate this one thing — one thing only and work on it, over and over — what do you think would happen?
I'll predict they will start to get good at it and start feeling confident.
Real World Example
Just recently, I went to a three-day copywriting workshop. We hit on headlines, sub-heads, creating your thesis, amplifying the pain, call to action and guarantees.
At the end of three days, I had six to seven topics that I learned a little more about, but didn't master any of them. I left there feeling less confident: "Look at all the things I don't know how to do well," rather than more confident: "I've got this."
Many of my clients have a team of new producers that they engage us to work with. Too often, I've done the same thing – load the agenda with a lot of topics, and we'll spend 60 to 90 minutes brushing across the surface of them all over a two-day period, never getting to mastery on any one item.
Just recently we made a change. For two whole days, we focus on one thing: how to write the perfect wedge. We break it down, step-by-step, exercise after exercise, write it, present it, hone it, re-write it, present it, make it better. It worked. Producers not only increased their knowledge, they built their skill.
It is in your self-interest, whether you are an agency owner or producer, to build up confidence.
When you have confident producers, they open bigger doors. They ask tougher questions. They write bigger accounts. They get more broker of records (BORs). They grow their books faster. They make more money. They are happier. They stay longer. They attract other good people.
You can then hire those good people. You can train those good people and build up their confidence.
They will grow, and your agency will grow.
The No. 1 Lie You Must Deal With
There is a personality type called the "impostor syndrome."
It's when high achievers have a fear of being exposed as a fraud. Despite all the evidence that you are successful and competent, there is something lingering inside that you don't deserve the success you've achieved.
This could pop out its ugly little head when you decide to get into the weeds and start really coaching your producers to be successful, building up their confidence.
Or, maybe that's not an issue, but this is: You never made a cold call in your life, but you are asking them to. When you start coaching them on what to say and how to say it, you are afraid you'll be exposed as someone that is just as bad, just as afraid, just as insecure as they are.
When that happens, you are afraid you'll lose their respect. They'll see you as an equal loser to them. And all will come crashing down.
And, that is why most agencies are stuck in the dark ages. Too many posers attempting to look good on the outside while hiding their insecurities on the inside.
Take Action Now
A lot of people are throwing the Millennials under the bus for being too soft. They are too soft because their moms and dads raised them that way. It's your opportunity to build up their confidence by training and developing them into productive citizens, or Million Dollar Producers.
Follow Mr. Holtz 3-Step Formula for success…. Build up confidence, set big goals, work, work, work.
Was this article valuable?
Here are more articles you may enjoy.
From This Issue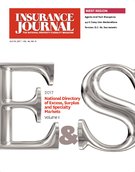 Excess, Surplus & Specialty Markets Directory, Volume II