The term customer experience has become a catch-all, almost cliche phrase, even if its critical importance is undeniable. For agents, customer experience cannot be an abstract or ill-defined term if the goal is to have more than marginal progress in achieving optimization. Customer experience must be broken down into its component parts, tied to specific and measurable operations and given adequate financial and management support.
A J.D. Power Shopping study in 2018 showed that the insurance customer is more likely to look to their agent for help than a company's call center or website. The study also found that representation by a local agent has increased in importance over the past five years (45 percent) compared to other touch points, and "reliance on agents" was especially true among first-time shoppers.
As comforting as these facts may be, agents cannot take these customers for granted.
Today's consumers also rate timeliness to be the most important factor in their buying decision — more important than efficiency, professionalism and knowledge. This means that delivering the best possible customer experience must start with fast response times and convenience. Start with these three steps.
Step One
Agents need to reexamine the tasks they perform for both policyholders and prospects and ask themselves, "How can we deliver these tasks more quickly and with less stress to the customer?" These tasks can include:
Delivering a quote;
Providing proof of insurance;
In auto insurance, adding or removing drivers and vehicles;
Billing options including payment plans, account balances, payment status;
Making alterations in coverages, deductibles and endorsements.
In his new book, "The End of Insurance As We Know It, How Millennials, Insurtech and Venture Capital Will Disrupt the Ecosystem," Rob Galbraith argues that insurance is too expensive and too complicated. He says these features are flaws that need to be corrected. The book is a great read and packed with spot-on insights by someone who clearly understands insurance and the world it must live in now.
Step Two
Be available whenever the policyholder or prospect needs help. That means staying open over the lunch hour, enabling emails on the website and responding to them immediately, adding 24/7 secure messaging and adding a bot (the costs are coming down fast) to address simple questions anytime, day or night. A phone answering service or designating a staff member to take calls at night or over weekends makes customers work too hard.
Step Three
Don't survey clients; talk to them. Customer surveys can be useful but just asking if they are satisfied with an agency's customer service usually does not provide critical details or context. For example, several studies reported limited interest by agents in portals for clients. Many agents said simply that clients were not asking for them. Clients usually expressed interest in such a portal but they were never asked.
The J.D. Power study acknowledged a strong need for agents to build and maintain a personal connection with clients but that strong and steady connection requires a robust digital component in many forms. Agents must create a customer experience to match consumer expectations.
Was this article valuable?
Here are more articles you may enjoy.
From This Issue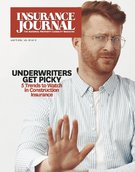 Construction Market & Risks Report; Markets: Umbrellas (Personal & Commercial); Special Supplement: The Florida Issue