$445 Billion
Nearly half a billion dollars will be given to U.S. cities and regions to help reduce the risk of terror attacks on ports, transit systems and chemical plants, Homeland Security Secretary Michael Chertoff announced. The Associated Press reported that recipients will have to submit detailed plans on how they will use the funds to protect critical sites. Chertoff said previous grant programs that were so broad they allowed cities to use allocations to pay for just about anything, including leather jackets. Nearly half the grant money, $201 million, would be used to secure ports and rail systems, including Amtrak.
100
A plan proposed by the federal government is designed to entice 100 U.S corporations into bringing 100 jobs each to New Orleans to help the city recover from Hurricane Katrina. The object is to help rebuild the city's middle class, Donald Powell, the Federal Coordinator for Gulf Coast Rebuilding, told The Associated Press. So far, the federal government has dedicated more than $100 billion to rebuilding the Gulf Coast since the devastating 2005 hurricanes. Details of the plan are still being developed. Powell's office noted that a federal act, approved just over a year ago, provides for tax and other economic incentives. Since Katrina, less than half of New Orleans' pre-storm population of about 454,000 people has returned.
2,000 +
More than 2,000 bills have been filed for the 2007 session of the Oklahoma Legislature, including many that sponsors acknowledge do not have a chance of passage, The Associated Press reported. The number of bills and resolutions filed before the Jan. 18 deadline for introducing legislation totaled about 1,250 in the House and 1,120 in the Senate. Those totals were down from 2006, when lawmakers also dealt with hundreds of carry-over bills. When legislators convene on Feb. 5 to begin considering legislation, they will be in the first year of a two-year legislative session. They can carry over bills for the second year of the session. Among this year's proposals that appear to be dead on arrival is a bill by Rep. John Auffet, D-Stilwell, that would allow restaurants to become all-smoking establishments again if they chose to do so. Effective last March, smoking was banned in all cafes and restaurants, except those that build separately enclosed, ventilated rooms.
83
The number of Hurricane Katrina-related lawsuits ordered into mediation by a federal judge in Mississippi, according to The Associated Press. Several of the cases sent to mediation, which accuse the insurance companies of denying their claims, are involved in recent settlement talks between State Farm Fire & Casualty Co., Mississippi Attorney General Jim Hood and policyholders' lawyers. The 83 lawsuits ordered into mediation include ones filed on behalf of U.S. Senator Trent Lott and Representative Gene Taylor, whose Gulf region homes were destroyed by the 2005 hurricane. Each sued State Farm for denying their claims. Of 55 Katrina cases that have been heard by a mediator, 28 have resulted in settlements, according to the office of U.S. District Judge L.T. Senter Jr. Hundreds of Mississippi homeowners have sued State Farm and other insurers for refusing to cover billions of dollars in damage from Katrina's storm surge.
550
The number of workers insurance brokerage firm Aon Corp. said it would lay off at facilities in New York, Texas and Maryland, The Associated Press reported. The Chicago-based company is reportedly consolidating certain functions performed in New York and Houston to a site in Glenview, Ill. A company spokesman said the layoffs were in keeping with a restructuring plan Aon announced in 2005. Before the announced layoffs, there were about 1,000 employees in New York and 550 in Houston.
From This Issue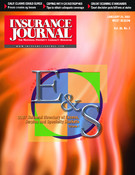 2007 Excess, Surplus and Specialty Markets Directory, Vol. I