27
The number of fires within a mile of each other in an Orangeburg County, South Carolina neighborhood that firefighters have battled in the past six months. All of the fires have been in vacant homes without power and almost all appear to have been intentionally set. No injuries have been reported.
$33 Million
The amount that Marsh & McLennan Cos. paid out in compensation to its two chief executives that oversaw the company in 2008, according to an Associated Press calculation. Michael G. Cherkasky, who served as CEO until Jan. 29, took home more than $8.2 million in compensation in 2008. His successor, Brian Duperreault, took home more than $24.8 million in compensation for the 11 months he served CEO. Cherkasky was ousted as CEO after presiding over weak earnings results for two years.
$11.6 Million
The total compensation that insurance broker Aon Corp. gave its president and chief executive in 2008, a 13 percent increase from the year before, according to The Associated Press.
$1 Million
The amount that consumers in Mississippi have received in recovered claims payments and premium refunds in the first three months of 2009 as reported by the Consumer Services Division of the Mississippi Insurance Department (MID). This is a nearly 400 percent increase of the amount collected in the first quarter of 2008. The largest increase in collections during the first quarter of 2009 was in the property/ casualty area, officials said. This area saw more than a 1,000 percent increase in collections, taking in over $737,000 for consumers despite a 16 percent decrease in the number of claims handled during this same time in 2008.
$35.7 Million
Estimated July 1, 2008, population most threatened by Atlantic hurricanes. These people live in the coastal portion of the states stretching from North Carolina to Texas and represent approximately 12 percent of the nation's population.
From This Issue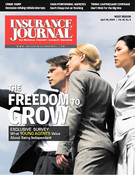 Young Agents Survey/Big "I" Issue; Medical Professional Liability; Inland Marine/ Transportation/Cargo