Bringing Market Seekers and Market Providers Together
---
Find markets in our database
Promote your markets on our site
Join our community forums
Membership is free!
Workers' Compensation
Market Detail: Insurex is a specialty workers' compensation underwriter with the ability to write hundreds of classes nationwide. The program partners with top-rated national carriers with a premium range starting at just $5,000 and x-mods up to 1.80. Phone inquiries and submissions accepted, as is brokered business. Minimum premium is $2,500.
Available limits: As needed.
Carrier: Unable to disclose, admitted.
States: Ariz., Calif., Colo., Mt., Idaho, Ore., N.M., Nev., and Wash.
Contact: Dan McCarthy at 877-467-8739 or e-mail dan@insurex.com.
Apartments
Market Detail: Agostini Wholesale Insurance is a one stop shop for apartment needs. Coverages available include: hired and non-owned auto liability; commercial general liability; umbrella up to $10 million; property/liability packages; monoline general liability; business income available up to 32 months; employment practices liability; and special causes of loss and replacement cost. Quotes turned around within 48 hours.
Available limits: As needed.
Carrier: Unable to disclose, admitted and non-admitted available.
States: Ariz., Calif., Colo., Mt., Ore., N.M., Nev., and Wash.
Contact: Steven Wasylkiw at 800-922-7283, ext. 2047 or e-mail: Steven@AgostiniSurplus.com.
Jewelers Block
Market Detail: Jewelers Specialty Insurance Services (JSIS Insurance) is a provider in California of jewelers block policies for retailers, wholesalers, manufacturers and specialty jewelry businesses. The company is also a members of The Jewelers Board of Trade and California Jewelers Association.
Available limits: As needed.
Carrier: Jewelers Mutual and Lloyd's.
States: Ariz., Calif. and Nev.
Contact: Elizabeth Williams at 213-488-1000 or e-mail: ewilliams@jsis-ins.com.
Healthcare Facilities
Market Detail: Hull & Co.'s Stockton office has markets available for medical related accounts. Some of the classes include: home healthcare agencies; assisted living facilities; drug and alcohol rehabilitation facilities; halfway houses; hospices; outpatient counseling; surgery centers any many more. All lines of coverage available including: general liability, professional liability, property, excess, and third party theft. Low minimum premiums and deductibles are available.
Available limits: Minimum $1 million, max $3 million.
Carrier: Various, non-admitted.
States: All states except Alaska.
Contact: Jeff Case at 800-678-4855 or e-mail: jcase@hullco.com.
Workers' Compensation
Market Detail: The Comp Solutions Network offers: monoline workers' compensation and non-subscriber programs for Texas employers. Phone inquiries and brokered business are accepted. Minimum premiums start at $250.
Available limits: Minimum $500,000, maximum $10 million.
Carrier: Workers comp: ACE, American Alternative, Amerisafe, AmTrust, BHHC, Chartis, Dallas National, General Casualty, Great Midwest, Guard, Markel, MidWest, Old Glory, Praetorian, Republic Indemnity, Service Lloyds, Southern Vanguard, OneBeacon, Texas Mutual, and Texas Builders. Non-subscribers: Berkley, Great American, Lexington, North American Capacity, Republic Vanguard, Service Lloyds, and US Specialty.
States: All states.
Contact: Dianne Favro at 800-256-8035 or e-mail: diannef@compsolutionsnetwork.com.
Physical Damage
Market Detail: International Transportation & Marine Agency (ITMA) offers physical damage insurance, often referred to as collision coverage. Policy pays to fix or replace damaged vehicles. ITMA specializes in writing commercial automobile physical damage coverage primarily for local and long-haul trucking, taxicabs, limos and special automobile risks.
Available limits: As needed.
Carrier: Unable to disclose.
States: All states except D.C.
Contact: Horrace Greene at 480-556-0200 or e-mail: info@itmagency.com.
Topics Texas
Was this article valuable?
Here are more articles you may enjoy.
From This Issue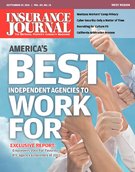 Professional Liability Directory, The Best Insurance Agencies to Work For, Employment/HR Issue