Bringing Market Seekers and Market Providers Together
---
Find markets in our database
Promote your markets on our site
Join our community forums
Membership is free!
Loan Protector
Market Detail: Loan Protector Insurance Services provides a range of asset tracking, compliance and insurance placement options for institutional lenders and servicers.
Available limits: Minimum $50,000, maximum $5 million.
Carrier: Various, admitted and non-admitted available.
States: All states.
Contact: Dennis Swit at 440-505-6100 or e-mail: dennisswit@loanprotector.com.
Festival & Fairs
Market Detail: Statewide Insurance Services Inc. has special events coverage that is crafted for specialized event needs. Eligible events include: anniversary celebrations; antique shows; art shows; auctions; award presentations; ballooning events; bazaars; beauty contests; bingo games; birthdays; bungee jumping; car shows; concerts; conventions; exhibitions; expos; fairs; family reunions; fashion shows; festivals; film showings; fun fairs; garden shows; graduations; gun shows; inflatables; job fairs; knife shows; luncheons; motor sports; parades; parties; picnics banquets; poker runs; productions; proms; swap meets; telethons,; theater; trade shows; and zoo outings. The Statewide programs for special events are specifically designed to help eliminate the financial burden one incurs as a result of costly medical bills or civil litigation due to personal injury or property damage. Coverage options include: accident; liability; liquor liability; hired and non-owned automobiles; as well asrented or owned equipment.
Available limits: Minimum $1 million; maximum $100 million.
Carrier: Statewide Insurance Services.
States: All states.
Contact: Michael Aberle at 916-503-4808 or e-mail: maberle@statewideins.com.
Horse Insurance
Market Detail: Ark Agency offers all types of horse insurance, including: equine liability, and farm/mortality coverages in all 50 states.
Available limits: As needed.
Carrier: Unable to disclose, admitted and non-admitted.
States: All states.
Contact: Customer service at 800-328-8894 www.statewideins.com.
Was this article valuable?
Here are more articles you may enjoy.
From This Issue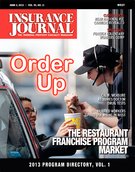 Program Directory, Volume I