My New Markets is brought to you by Insurance Journal's sister website: www.mynewmarkets.com
Need a Market? Find it. FAST.
---
Firearm Distributors
Market Detail: Firearms Insurance Agent (ASI) represents multiple insurance carriers in the firearms and ammunition industry.
Available limits: Minimum $1 million, maximum $10 million.
Carrier: Multiple, admitted and non-admitted available.
States: All state.
Contact: Trent Yager at 816-229-4450 or email: trent@asisaves.com.
Personal Umbrellas Farm and Ranch Owners
Market Detail: International Excess has limits to $10 million available for family farms with revenues up to $1 million and can include leased farm locations. Coverage can go over a homeowner' or farm owner's underlying policy. No limitations on acreage, livestock grazing or number of farm locations. Limited family partnerships as an additional insured are eligible. True umbrella form that includes personal injury and worldwide coverage offered. Coverage for farm vehicles available. Minimum underlying $500,000 liability and $500,000 auto.
Available limits: Minimum $1 million, maximum $10 million.
Carrier: U.S. Liability Insurance Co.
States: All states except Alaska, La., and W.Va.
Contact: Lisa Gabel at 216-797-9700 or email: lgabel@intlxs.com.
Auto Dealers
Market Detail: Williams & Stazzone Insurance covers dealers open lot; garage liability; interim car liability/physical damage; lessor only excess liability; lessors contingent liability; and lessors contingent physical damage.
Available limits: As needed.
Carrier: Unable to disclose, admitted.
States: All states.
Contact: Vincent Stazzone at 800-868-1235 or vstazzone@wsins.com.
Commercial Auto
Market Detail: Regency Insurance Brokerage Services (RIBS NY, LLC) can write multiple classes of business as part of its newest admitted commercial auto program. For risks not shown, contact company. Commercial auto classes: auto transporter; cement mixers – ready mix & concrete pumpers contractors; cranes & boom; trucks; dumping operations; fire departments – volunteers; food delivery; funeral operations; garbage operations; household goods movers; mobile business; non-trucking; petroleum transport; specialized delivery; trucking (zero to 300 miles); wholesale & retail delivery. Public auto classes: airport transportation; athlete and entertainer bus; bus – NOC; contracted child transport; daycare; inter-city; limousines; sightseeing & guided tours; special needs & non-emergency medical; urban bus; and van pools.
Available limits: As needed.
Carrier: Unable to disclose, admitted.
States: Fla., N.J., and N.Y.
Contact: Customer service at 800-982-1895.
Auto, RV, Motorhome, Motorcycles
Market Detail: 4 All Insurance offers all available markets with coverage for properties, buildings, home, business, BOP, all kinds of stores, retail, wholesale, service, contractors, engineers, commercial, residential, fire, flood, landslide, earthquake, liability, E&O professional liability, bonds, umbrella, auto, RV, motorcycle, mobile home, motorhome, boats, marine, Mexican auto insurance, and more.
Available limits: Minimum $100, maximum $1 million.
Carrier: Various, admitted and non-admitted available.
States: Ariz., Calif., Fla., Nev., Ore., Mich., Utah, Texas and Wash.
Contact: Nader Kayvantar at 818-346-4555 or e-mail: nader@4aliins.com.
Golf and Country Clubs
Market Detail: Zurich Program 's golf and country club program has an appetite for: private clubs, semi-private clubs, high end daily-fee courses, golf management companies, golf destination resorts, and homeowner's associations with golf courses. Coverages offered include: blanket building/personal property that features business income with unlimited period of restoration and replacement cost valuation on carts and equipment; GL that includes liquor liability, garage keepers legal liability, and herbicide/pesticide liability; $1 million and $2.5 million tee-to-green coverage for all playing surfaces with no per hole limitations that includes tree replacement and debris removal, and broad form outdoor property extension; commercial auto for fleets that can include valet parking; excess and umbrella liability with limits to $25 million and higher; pollution liability; D&O liability that can be included in the umbrella; EPL with separate aggregate that can be included in the umbrella; workers' comp with a broad form all states endorsement; and accidental death and dismemberment.
Available limits: As needed.
Carrier: Zurich.
States: All states except Fla., Hawaii and Md.
Contact: Customer service at 866-873-0782.
Was this article valuable?
Here are more articles you may enjoy.
From This Issue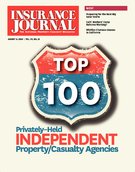 Top 100 Retail Agencies; Homeowners & Condos; Autos; Exclusive Issue Download Sponsorship Opportunity