My New Markets is brought to you by Insurance Journal's sister website: www.mynewmarkets.com
Need a Market? Find it. FAST.
---
Restaurant Programs
Market Detail:
UCA General Insurance Services Inc.
offers restaurant packages from fast food to fine dining. UCA's preferred restaurant packages include property, commercial general liability (CGL), business income, equipment breakdown, fire legal liability, and medical payments. Other coverages available include umbrella, nonowned and hired auto, EPLI, and cyberliability.
Available limits:
As needed.
Carrier:
Century-National Ins. Co.
States:
Ariz., Calif., Idaho, Ill. Nev., Ore., Utah, Wash., and Wis.
Contact:
Barry Colburn at 800-222-5582 or email: bcolburn@ucageneral.com.
Workers' Compensation
Market Detail: The Atlas General Insurance Services Workers' Compensation Division offers workers' comp insurance for select retail insurance brokers. It specializes in developing programs with insurance carriers that meet the needs of a wide variety of market segments, from heterogeneous to specialty niche programs.
Available limits: As needed.
Carrier: Various, admitted.
States: All states except Wash. and Wyo.
Contact: Customer service at 877-66-ATLAS.
Wedding Insurance
Market Detail: M2 Insurance offers low-price general liability coverage for weddings. "Day before" coverage is available at no additional cost. Transactions are processed 100 percent through the website. Certificates are sent via email upon purchase of coverage.
Available limits: Minimum $1 million, maximum $1 million.
Carrier: Lexington Insurance Co.
States: All states.
Contact: Customer service at 877-520-8363.
Atlas Travel Insurance
Market Detail: HCC Specialty offers short-term health insurance for individuals traveling outside of their home country.
Available limits: As needed.
Carrier: HCC.
States: All states.
Contact: Melissa Matheson at 781-994-6000 or email: mmatheson@hcc.com.
Primary Casualty
Market Detail: Golden Bear Insurance Co. prefers light to moderate liability exposures, but can consider heavier exposures in the more desirable classes. Target classes include business in the food service and hospitality industry, light to moderate hazard products and processes, wholesale distributors and importers, lessor's risk properties, taverns, and products and services that support other businesses and selected contracting operations. Admitted in California. Nonadmitted in other states.
Available limits: As needed.
Carrier: Unable to disclose, admitted and nonadmitted available.
States: Ala., Calif., Colo., Idaho, Ky., Mo., Mont., N.C., N.D. Neb. N.M., Ore., S.D., Utah, and Wash.
Contact: 209-948-8191. Email: support@goldenbear.com.
Shelters
Market Detail: Markel is an admitted carrier that insures shelters for the homeless, abused women/children, and troubled/runaway youth. Coverage available includes general liability, umbrella, sexual abuse/molestation, directors and officers, special events, professional liability, property, key employee replacement, auto, crime, and business income.
Available limits: As needed.
Carrier: Markel.
States: All states except Hawaii.
Contact: Linda Lee at 800-431-1270 or email: llee@markelcorp.com.
Miscellaneous E&O
Market Detail: Greenhill Insurance Services binds small accounts with quoting, binding and renewal processes to make agencies do less work. Miscellaneous professional liability covers a wide-range of industries with errors and omissions coverage for areas not already met by businessowner and general liability policies.
Available limits: As needed.
Carrier: Unable to disclose.
States: All states.
Contact: Phil Cabaud at 832-413-4601 or email: pcabaud@grnhll.com.
Beauty/Barber Shops/Salons/Schools/Supplies
Market Detail: Agency Intermediaries Inc. offers professional liability, business income, CGL, tanning liability, umbrella, liability, real and business personal property.
Available limits: Maximum $250 million.
Carrier: Unable to disclose, admitted and nonadmitted available.
States: Conn., Mass., N.H., and R.I.
Contact: Customer service at 800-922-3347.
Was this article valuable?
Here are more articles you may enjoy.
From This Issue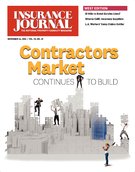 Top Personal Lines Retail Agencies; Assisted Living / Long Term Care; Contractors & Builders