My New Markets is brought to you by Insurance Journal's sister website: www.mynewmarkets.com
Need a Market? Find it. FAST.
---
Exterminators
Market Detail: VGM Specialty Underwriters offers primary limits up to $3 million occurrence/aggregate; blanket additional insured endorsement available; medical payments coverage with a $5,000; lost key coverage with $25,000 limit; property damage extension (care, custody, and control) – policy limits up to a maximum of $200,000 per occurrence/$300,000 aggregate; pesticide/herbicide applicator coverage; in-transit pollution coverage with $25,000 per occurrence; wood destroying organism inspection coverage with $25,000 per occurrence/$100,000 aggregate (higher limits available).
Available limits: As needed.
Carrier: Unable to disclose.
States: Colo., Iowa, Ill., Ks., Mo., Neb., and Okla.
Contact: Customer service at 800-203-3223.
Exercise/Health Studios/Health Clubs
Market Detail: Philadelphia Insurance Cos. provides broad form fitness center and gym insurance coverages for health clubs, fitness, Pilates and dance studios and day spas across the United States. Program features special causes of loss on building, contents, loss of income, and extra expense. Additional coverage enhancements including: ordinance or law, off-premises power failure, utility services, EDP, business interruption and extra expense (including contingent), and more. Special events coverage outside the club is included for the entity and professional instructors or consultants. Coverage extended to entity and employed professionals including lifeguards, racket sports instructors, dieticians, and aerobic and fitness instructors. Large excess limits available.
Available limits: As needed.
Carrier: Philadelphia Insurance Cos.
States: All states except La. and D.C.
Contact: Customer service at 800-873-4552.
Private Investigators/Security Services
Market Detail: Fox Point Programs Inc. offers professional liability insurance – sometimes referred to as errors and omissions (E&O) – that provides financial protection from damages and expenses (such as legal fees and court costs) arising out of allegations of the negligent acts, errors, or omissions by: background/pre-employment checks; missing persons; polygraph services; security consultants; skip tracing and more. Fox Point offers: professional liability protection for services provided by private investigators, including investigation of facts, review of financial data and other information, surveillance, determination of wrongdoing and other similar activities; coverage for personal injury, including allegations of false arrest, malicious prosecution, wrongful eviction, and invasion of privacy, where insurable by law; low minimum premiums; coverage for punitive or exemplary damages, where insurable by law; coverage for commercial property, where insurable by law; duty to defend policy provision; coverage includes vicarious liability resulting from any negligent actions allegedly committed by a third party acting on the direction of the insured. The term "vicarious liability" is defined as one person being liable for the negligent actions of another even though the first person was not directly responsible for the error or omission. Protection against allegations of bodily injury, personal injury, or property damage arising from a covered event also available.
Available limits: Minimum $250,000, maximum $1 million.
Carrier: Unable to disclose, admitted and non-admitted available.
States: All states except Calif., and Ky.
Contact: Jason Haughey at 800-499-7242 or e-mail: Jason.Haughey@foxpointprg.com.
Workers' Compensation Insurance
Market Detail: All Risks Ltd. offers worker's compensation with in-house underwriting authority with most carriers. Markets for high e-mods and direct bill with payment plan options. Over 240 eligible classes, new ventures welcomed. Quotes are available nationwide except in N.D., Ohio, Wash. and Wyo. Online rating indications available for risks in Ariz., Calif., Ga., Md., N.C., S.C., Texas and Va. with more states coming soon.
Available limits: As needed.
Carrier: Various, admitted.
States: All states except Ky., N.D., Ohio, and Wash.
Contact: Customer service at 800-366-5810.
Fine Art
Market Detail: Berkley Asset Protection understand the "priceless" nature of fine art and collections, including its historical relevance and importance. Coverage is available for all risks of physical loss or damage to every type of artwork and collectible. Areas of expertise include: museums; exhibitions; historical societies; universities, schools, and colleges; dealers – fine art, antiques, or other historic property; corporate collections; private collections including: art, jewelry, furs, stamps, wine, coins, cameras, musical instruments, antiques, collectible firearms, silverware, or other collections of rare or historic nature.
Available limits: As needed.
Carrier: Berkley.
States: All states.
Contact: Melissa at 330-697-4151; mbecker@berkleyassetpro.com.
Was this article valuable?
Here are more articles you may enjoy.
From This Issue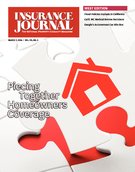 Hospitality Risks Directory; Homeowners & Auto; High Risk Property