Armored Car Services
Market Detail: Brownyard Programs (www.brownyardprograms.com) is focused exclusively on the insurance needs of the private security industry. Brownyard offers E&O, CGL, umbrella, assault & battery, excess liability, blanket additional insureds. They are the oldest name in the business and along with one of the oldest markets in the industry, Crum & Forster, they know the security industry like no other. Providing general/professional liability, follow-form excess, workers' compensation, auto, property, and fidelity insurance to more than 1,000 private security guard, private investigation, suppression, and alarm companies from coast to coast.
Available limits: As needed
Carrier: Unable to disclose, admitted and non-admitted available
States: All states.
Contact: Customer service at 800-665-7304
Workers' Comp for Nonprofits
Market Detail: Charity First (www.charityfirst.com) offers workers' compensation for nonprofits and social service agencies, offered on a monoline basis or in conjunction with package coverage.
Available limits: As needed
Carrier: Unable to disclose, admitted
States: All states
Contact: Frank Tarantino at 415-536-4037 or e-mail: frank_tarantino@charityfirst.com
Natural Products and Dietary Supplements
Market Detail: Citadel Insurance Services (www.citadelus.com) covers manufacturers, importers, and distributors of dietary supplements and herbal product manufacturers, importers, and distributors of cosmetics, contract manufacturers and formulators. Coverage highlights include: general liability and products and completed operations; ISO occurrence GL with claims made (not claims made and reported); products liability; zero deductible available for prem/ops and products liability; best in class insurance carrier (A Plus 15 rating); superior policy wording; ISO forms; definition of "bodily injury"; definition of "damages"; claim reporting requirements; change reporting duties; no mold exclusion on products; minimum premiums starting at $2,000; includes additional insured endorsement for vendors; includes waiver of subrogation endorsement; includes primary and non-contributory wording; includes identity theft coverage; includes punitive damages where allowed by law; includes medical payments; includes damage to rented premises; includes TRIA (terrorism coverage); flexible financing available; industry's most aggressive rating factors; and rapid quoting. Available coverage options: hired and non-owned auto; voluntary products withdrawal coverage; employee benefits liability; stop gap liability; property in your care, and others.
Available limits: Minimum $1 million; maximum $1 million
Carrier: Unable to disclose, exclusive program, non-admitted
States: All states
Contact: David Johnson at 877-247-4468 or e-mail: djohnson@citadelus.com
Architects, Engineers & Surveyors
Market Detail: Victor O. Schinnerer & Co.'s (www.schinnerer.com) architects, engineers & surveyors insurance program is tailored for the needs of today's design firms. Coverage includes professional liability, management liability and P/C coverages.
Available limits: Maximum $20 million
Carrier: CNA
States: All states
Contact: Jake Terrell at 713-597-0200 or e-mail: Jake.Terrell@schinnerer.com
Large Limit Non-CAT Property
Market Detail: Gridiron Insurance Underwriters (www.gridironins.com) coverage excludes wind in tier 1 coastal areas. Earthquake is also excluded in quake prone areas. Target occupancies are: retail, offices, warehouses, educational facilities, churches, municipalities and medical facilities. Minimum occupancy is 50 percent and there are minimum square footage valuation requirements.
Available limits: Minimum $2.5 million; maximum $50 million
Carrier: Lloyd's of London
States: Ala, Calif., Colo., Fla., Ga., La., Miss., N.C., N.J., N.Y., Ore., Pa., S.C., Texas, Va., and Wash.
Contact: Customer service at 954-473-3653
Was this article valuable?
Here are more articles you may enjoy.
From This Issue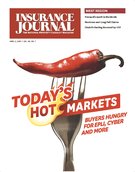 HOT New Markets; Also: Focus on Middle Market Risk Managers