Recycling Operations
Market Detail: All Trans Risk Solutions (www.alltransins.com) has a package program for medium to large recycling operations with fixed site facility. Package includes auto, GL, site pollution, contractors pollution liability and excess coverage. A-rated paper written on admitted basis for auto and non-admitted for GL and excess products. Available in all states. Blanket AI, WOS and PNC included.
Available limits: As needed
Carrier: Unable to disclose, admitted and non-admitted available
States: All states
Contact: Jackie DeVries at 321-426-7620 or e-mail: jedevries@tis-insure.com
Commercial General Liability
Market Detail: Consumer Specialties Insurance Co. (Risk Retention Group) (www.csiplus.com) provides chemical manufacturers and distributors with liability insurance. Also includes product liability and umbrella.
Available limits: Minimum $1 million, maximum $10 million
Carrier: Consumer Specialty Insurance Co. RRG
States: All states
Contact: Victoria Grissom at 866-323-2754 or e-mail: vgrissom@cspa.org
Workers' Compensation
Market Detail: Need access to the CA State Fund for Workers Comp? StateFund First (www.statefundfirst.com) is an approved Access Partner for the California State Fund. No fees and a fast and easy online submission process.
Available limits: As needed
Carrier: California State Compensation Insurance Fund
States: California only
Contact: Riley Binford at 855-784-4433 or e-mail: riley_binford@statefundfirst.com
Pilates Studio
Market Detail: Sports & Fitness Insurance Corp. (SFIC) (www.sportsfitness.com) offers general liability insurance including professional liability, property insurance, umbrellas, workers' compensation and surety bonds for large and small fitness centers, as well as, dance, yoga, Pilates and martial arts studios and personal trainers. The underlying general liability policies provide limits from $1 million occurrence with a $2 million aggregate to $2 million occurrence with $4 million aggregate. Both cyber liability and employment related practices liability limits are available on general liability policies. Professional liability for physical therapists and spa personnel can also be covered, in addition to personal trainers within the general liability and umbrella policies with full limits.
Available limits: As needed
Carrier: Liberty Mutual
States: All states
Contact: Kate Martello at 601-898-8464 or e-mail: Kmartello@sportsfitness.com
Was this article valuable?
Here are more articles you may enjoy.
From This Issue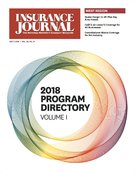 Directory: Programs, Volume I; Risk Managers' & Buyers' Views: Restaurants & Bars