Sports Accident Concussion – Loss of Scholarship
Market Detail: Sportify Insurance by Risk Strategies (www.sportifyinsurance.com) offers athletes protection from a sports participation accident concussion disablement that results in: athlete's loss of a scholarship offer/ verbal commitment status during their high school recruitment; permanent withdrawal, after medical review, from participating (under athletic scholarship) in their covered sport; due to concussion diagnosis; After 6-month elimination period, protection pays the lump sum benefit to the college institution listed in the athlete application/where athlete is enrolled. Coverage available to: A) parents of high school athletic scholarship recruits b) college athletic scholarship athletes c) colleges & universities seeking to protect their financial exposure of covering tuition for athletic scholarship continuance. Sixteen covered male and female sports. Other conditions, terms and limitations apply.
Available limits: Minimum $50,000, maximum $250,000
Carrier: Lloyd's of London
States: Calif., Colo., Fla., Ga., Nev., N.J., N.Y., Ohio, Okla., Pa., Texas, and Va.
Contact: Steven Mace at 713-332-6390 or e-mail: steven.mace@riskostrategies.com
Shared Mobility
Market Detail: Williams and Stazzone (www.wsins.com) Insurance offer coverage options for the shared mobility space, including: car subscriptions, platform/app-based opportunities; peer-to-peer; ridesharing services; autonomous vehicles; and gig jobs. W&S has an internal research and development team that is operating outside the typical parameters of the commercial insurance industry in order to fully embrace what it calls the Evolution of Mobility.
Available limits: As needed
Carrier: Various, admitted and non-admitted available
States: All states
Contact: Vincent Stazzone at 800-868-1235 or e-mail: info@wsins.com
Workers' Comp for Self-Storage
Market Detail: MiniCo Insurance (www.minicoinsurance.com) offers a workers' compensation insurance program for self-storage businesses that provides coverage for lost wages and medical treatment resulting from an employee's work-related injury or illness, as well as services needed to help an employee recover and return to work. MiniCo's workers' compensation insurance program is provided by Liberty Mutual Insurance. MiniCo Insurance Agency has 45 years of experience as a managing general agency offering property and casualty insurance products for a variety of industries and exposures. MiniCo also provides marketing support to independent agents. Other features: policy designed for self-storage risks; no appointment needed for a quote; no supporting MiniCo accounts required; and customer service and claims handling.
Available limits: As needed
Carrier: Liberty Mutual
States: All states
Contact: Rob Novak at 800-447-8383 or e-mail: robert.novak@minico.com
Class A Office Buildings
Market Detail: Berkley Luxury Group Real Estate Specialists (www.berkleyluxurygroup.com), a division of Berkley Luxury Group, writes Class A Office Buildings, defined as luxury properties that attract premier tenants and are professionally managed and well maintained. The buildings feature first class tenant improvements and betterments, state of the art infrastructure and technology, five stories or more (50,000 square feet or larger) and limited mercantile up to 25 percent.
Available limits: As needed
Carrier: Unable to disclose, admitted
States: D.C., Ill., Md., Mass., Minn., N.J., N.Y., Pa., and Va.
Contact: Debra Merlo at 201-518-2545 or e-mail: dmerlo@berkleyluxurygroup.com
Excess Liability for
Construction Risks
Market Detail: Golden Insurance Co., RRG's (www.golden-insurance.com) excess liability coverage on a claims-made basis is available over any insurer where the limits are at least $1 million. The underlying insurer can be any licensed insurer including RRGs, unrated insurers, or a captive. Instant Quotes available with 24-hour quote approval. Minimum premiums start at $2,000; 50 percent minimum earned; 50 percent down and the remaining balance in 30 days.
Available limits: Minimum $1 million, maximum $2 million
Carrier: Golden Insurance Co., an RRG
States: All states except Dela., Maine, Minn., N.H., R.I., Vt., and Wisc.
Contact: Richard Poling at 888-654-6565 or e-mail: RPoling@strucsure.com
Outdoor Shooting Ranges
Market Detail: Joseph Chiarello & Co. Inc. (www.guninsurance.com) offers property and commercial general liability insurance for firearms retailers, wholesalers, ranges, trap and skeet fields, sporting clays, clubs, gunsmiths, ammunition manufacturers, reloaders, instructors, firearms manufacturers and importers. Company has more than 40 years of experience insuring the firearms industry and is endorsed by the National Shooting Sports Foundation
Available limits: Minimum $1,000, maximum $10 million
Carrier: Granite State Insurance
States: All states
Contact: Joseph Chiarello at 908-352-4444 or e-mail: info@jcinsco.com
Was this article valuable?
Here are more articles you may enjoy.
From This Issue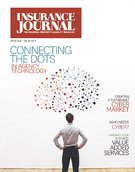 Agency Technology; Markets: Cyber & Security