Marine License Insurance
Market Detail: 360 Coverage Pros (www.360CoveragePros.com) marine license insurance from 360 Coverage Pros offers legal representation in the event of a freak accident, a major collision, or even a close call that can result in an investigation and the immediate suspension of your license, putting you out of work. Coverage starts at $25.83 per month. Comprehensive coverage options available, as well as an automatic renewal process. Optional loss of income coverage available.
Available limits: Maximum $2 million
Carrier: Berkley Offshore
States: All states
Contact: Matt Casella at 877-524-0265 or email: admin@360coveragepros.com
Monoline Personal Umbrellas
Market Detail: Risk Innovations (www.riskinnovations.com) has admitted and nonadmitted options for monoline personal umbrellas, including excess liability and comprehensive personal liability. Policy limits available up to $10 million and UM/UIM limits up to $2 million.
Available limits: Maximum $10 million
Carrier: Unable to disclose
States: All states except Alaska and Hawaii
Contact: Cheryl Crandall at 816-913-6696 or email: pl-nb@riskinnovations.com
Transportation
Market Detail: MJ Kelly's (www.mjkelly.com) offers coverages including auto liability, physical damage, motor truck cargo, fleet and non-fleet, and truckers general liability. Target classes of business include: new venture truckers, garbage haulers, loggers, taxis, non-emergency medical transport, church vans, hazmat haulers, and wreckers.
Available limits: As needed
Carrier: Unable to disclose
States: Ala., Ark., Ill., Kan., La., Miss., Mo., Neb., Okla., Tenn., and Texas
Contact: Marcy Chitwood at 417-408-8169 or email: mchitwood@mjkelly.com
Vacant / Rental / Seasonal Risks
Market Detail: Specialty Underwriters Group (SUG) (www.sugroup.net) will offer rate for nearly any risk and has many optional endorsements. Easy pay options available. Coverage for any occupancy including owner, rental, seasonal, tenant, vacant and vacant under renovation. Loss settlement options including ACV, full repair or replacement cost. Multiple dwellings can be scheduled on a policy.
Available limits: As needed
Carrier: Unable to disclose
States: All states except Ill., Ind., Ky., Ohio, and W. Va.
Contact: Rick Reynolds at 513-351-6400 or email: rreynolds@sugroup.net
Contractor General Liability – Short Term
Market Detail: Thimble's (www.thimble.com) broker program is available for agents to easily refer customers to its short-term general liability insurance (underwritten by Markel) and earn commission in perpetuity. Thimble's on-demand episodic insurance was designed to provide a flexible and affordable alternative to expensive annual plans, with coverage by the hour, day or month, that can be extended to a full year.
Available limits: Minimum $1 million, maximum $2 million
Carrier: Unable to disclose, admitted
States: All states except Ky., N.Y., and Wash.
Contact: Andy Bodrog at 508-283-0151 or email: brokers@thimble.com
Sports / Athletic Event (Participant Coverage Included)
Market Detail: Sport Underwriters (www.sportunderwriters.com) offers annual or short-term coverage for teams, leagues, tournaments, competitions, clubs, associations, schools, clinics, lessons and camps or any youth or adult U.S.-based amateur sporting activity that requires participant coverage. Includes participant liability coverage for the named insured, its employees, volunteers and athletic participants. Protects against claims of bodily injury, property damage and litigation costs of defending against such claims. Includes accident and medical coverage for participants. Covered operations include scheduled, sanctioned, approved, organized and supervised instruction, as well as practices, try-outs, clinics, games, play-offs and tournaments and related non-athletic participant events, such as registrations, meetings, award banquets and ceremonies.
Available Limits: As needed
Carrier: Unable to disclose
States: All states
Contact: Scott Cantini at 833-636-3939, ext. 123. Email: scott@sportunderwriters.com
Non-Emergency Medical Transportation
Market Detail: Cluett Commercial Insurance Agency Inc. (www.
cluettinsurance.com) offers coverage for non-emergency medical transportation, including: commercial auto liability, auto physical damage, general liability and professional liability, excess liability and workers' compensation. Program highlights include: quick quote turn-around with complete submission; risk management program; and claims program.
Available limits: As needed
Carrier: Admitted and nonadmitted
States: All states except Alaska and Hawaii
Contact: Bruce Cluett at 800-926-6772 or email: cluett@insruancemarketinfo.com
Was this article valuable?
Here are more articles you may enjoy.
From This Issue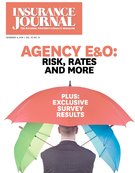 Top Commercial Lines Agencies; Agency E&O Survey; Premium Finance Directory; Market: Trucking