Special Event Insurance
Market Detail: K&K Insurance Group, Inc. (www.kandkinsurance.com) offers online quoting and binding capabilities for short-term special events. The website is simple to use and provides an option to purchase coverage immediately using a credit card. The website can be found at www.eventinsurance-kk.com. The program provides liability protection for organizers of events with a total attendance of 12,000 or less; occurring consecutive event days of 10 or less. The new online program offers an option for invitation-style events with less than 200 attendees for a new low premium of $100. Rates for larger events have also been reduced.
For larger, complex special events, K&K offers a program with higher limits and more coverage options.
Available limits: As needed
Carrier: Nationwide
States: All states
Contact: Stacie Helton at 800-426-2889 or e-mail: stacie_helton@kandkinsurance.com
---
Personal Auto
Market Detail: Orchid Insurance's (www.orchidinsurance.com) carriers have been insuring vehicles since they were first invented – everything from everyday cars to high-end, luxury vehicles. Key features of the auto policies include: choice of repair shop; agreed value – vehicles are protected on an agreed value basis, regardless of market depreciation; worldwide rental coverage that covers for damage to a rental car most anywhere in the world; use of OEM parts only – no knock-off or salvage/repaired parts; rental coverage up to $12,500 with loss of use and no per day limit; premium discounts by combining auto and home insurance that may bring considerable premium savings; waived deductible in the event of a total loss and high deductible options that can result in reduced annual premiums; cash settlement option that offers optional coverage to allow an agreed value payout should insured not want to keep the vehicle after a covered loss resulting in damage that is more than half of the agreed value.
Available limits: As needed
Carrier: Various, admitted and non-admitted available
States: All states
Contact: Marketing Dept. at 772-226- 5546 or e-mail: marketing@orchidinsurance.com
---
Nixer Comp Temporary Staffing Workers' Compensation Program
Market Detail: Nixer Comp National (www.nixercomp.com) has an A-Rated, staffing friendly workers' compensation program for best-in-class staffing companies and those that aspire to be. Guarantee cost & deductible programs as well as installment, pay-as-you-go, and monthly self-audit payment plans are available. The program was developed by a team of staffing industry professionals who wanted to create a program that works for the industry. Nixer Comp has partnered with StaffPro3, the staffing programs division of PMC Insurance Group, a program administrator and wholesale insurance broker for the staffing industry. Tools and services available include: best practice assessments-proven diagnostics tools for evaluating risk management related policies and procedures; staffing specific resources, tools and forms connected to its Resource Center Loss Review and Analysis or Best Practice Assessment (BPA); staffing experienced risk management consultants; risk management action plans focused on the individual needs of the staffing firm to become best in class; assistance in achieving the Safety Standard of Excellence; live and PPT risk management webinars; safety troubleshooting; on-site client risk assessments, and more.
Available limits: Minimum $50,000
Carrier: Service American Indemnity Company (SAIC)
States: All states except N.D., Ohio, Wash., and Wyo.
Contact: Rob Schild at (800) 245-6899 x 15045 or e-mail: rob.schild@tempstaffriskservices.com
---
Prime 100: Cyber Liability for Businesses up to $100m
Market Detail: Cowbell Cyber's (www.cowbell.insure) Cowbell Prime 100 is a standalone cyber liability insurance offering targeted at businesses with up to $100 million in revenue. Coverages include first and third-party liability and include: security breach expense (forensic, notification, call center, overtime salaries, post-event monitoring services, other expenses); extortion threats; replacement or restoration of electronic data; business income & extra expense; public relations expense; security breach liability (including PCI and regulatory); and social engineering. Limits up to $5 million; deductible starting at $1,000.
Available limits: Minimum $50,000, maximum $5 million
Carrier: State National
States: Ariz., Calif., Colo., Ill., Nev., and Ore.
Contact: Brandon Murphy at 804-475-0064 or e-mail: brandon@cowbellcyber.ai
Was this article valuable?
Here are more articles you may enjoy.
From This Issue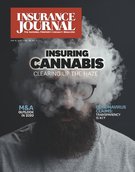 The Cannabis Issue; Markets: Cyber & Security, Entertainment