2004 was a landmark year for common sense legal reform in Ohio. The state enacted significant asbestos reform, silica and mixed dust reform, and comprehensive tort reform legislation. The many benefits of these historic laws will be felt by Buckeye State citizens for years to come.
Asbestos
Ohio courts are swamped with asbestos claims. For example, there are more than 41,000 pending cases in Cuyahoga County alone. Currently, thousands of asbestos claims filed by a select group of plaintiffs' attorneys involving people who are not sick–many of whom had minimal exposure to asbestos–are jamming state courts, forcing those truly sick from asbestos to wait in line.
In addition, businesses are forced to close their doors or scale back operations due to the overwhelming and unanticipated liability. To date, the out-of-control asbestos litigation system has cost U.S. businesses more than $70 billion, with nearly 75 companies driven into bankruptcy and more than 60,000 jobs lost, making it one of the most expensive types of litigation in U.S. history.
To help solve this problem, Ohio enacted House Bill 292. This first-of-its-kind state law makes the asbestos claims and litigation process fairer and more responsive to both asbestos victims and employers. The reform measure requires asbestos claimants to demonstrate actual harm from asbestos exposure by meeting objective medical criteria; then they may file a lawsuit. The new law also suspends the statute of limitations so individuals who do not yet show signs of impairment retain their right to file a claim when and if they ever do get sick.
Ohio's new common sense tort reform measures will help make the state an even more attractive place for insurers to do business by creating a more stable, equitable and predictable legal system.
Silica/mixed dust
While silica and mixed dust claims are not at crisis levels like asbestos claims, the same tactics used to generate asbestos claims have been applied in the silica context. In anticipation of another mass tort problem, Ohio legislators passed House Bill 342.
HB 342 also has medical criteria provisions (and a tolled statute of limitations) to help objectively sort and order silica/mixed dust claims so that individuals who are truly sick from exposure to these materials swiftly receive compensation. This streamlined process will help curb lawsuit abuse, including mass screenings and the recruitment of plaintiffs who have no physical injuries. Under HB 342, sick claimants would receive trial priority and no longer be forced to wait behind claims filed on behalf of unimpaired individuals.
Tort reform
After passing HB 292 and HB 342, the Ohio General Assembly tackled broader tort reform with Senate Bill 80, which had carried over from 2003. Its enactment should help restore fairness and predictability to the state's civil legal system, for the benefit of Ohio consumers and businesses, as well as insurers.
SB 80 is a comprehensive, common sense legal reform measure that greatly improves Ohio's legal system. The law places limitations on non-economic damages for non-catastrophic injuries to a maximum of $500,000, gives judges broader authority to review non-economic damage awards for catastrophic injuries and places certain limits on punitive damages for employers (depending on business size and type). It also establishes a 10-year statute of repose for certain product liability and construction claims, modifies the state's collateral source rule, establishes a provision to permit evidence of non-use of seat belts to mitigate non-economic damages and creates a "borrowing" statute of limitations that bars a claimant from bringing a claim in Ohio if they are time barred in their home state.
The bill does not limit a plaintiff's ability to collect compensation for lost wages, medical or other out-of-pocket expenses. Ohioans maintain all of their legal rights to sue, as well as to be compensated for acts of negligence. This set of reforms creates a more balanced, stable civil justice system for both consumers and businesses.
Ohio's new common sense tort reform measures will help make the state an even more attractive place for insurers to do business by creating a more stable, equitable and predictable legal system.
Ohio has become an inspiration for other states across the country–and perhaps even for Congress–as legislators work to implement true tort reform in response to a civil litigation system run amok. For example, the Missouri legislature is expected to consider comprehensive tort reform in 2005. Elsewhere, major Michigan media outlets have editorialized in favor of legislation that follows the Ohio asbestos model. Here's hoping that the reform spark lit in Ohio catches fire from coast to coast.
Steve Schneider is vice president of the American Insurance Association's Midwest region.
Was this article valuable?
Here are more articles you may enjoy.
From This Issue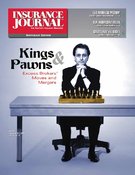 Wholesale Industry M&A Trends