Joe Weckerle Jr.
Joe Weckerle Jr. was hired by R.E. Chaix & Associates to replace recently retired senior vice president Steve Wessel. Weckerle joins the Irvine, Calif.-based company after serving as branch manager and partner in ARIS Insurance from 1992 to 2003. Prior to joining ARIS, Weckerle worked in reinsurance at Lloyd's of London for eight months.

Judy Diaz
Ventura, Calif.-based Tolman and Wiker increased its partnership ranks to 12 with the addition of Judy Diaz and David Shore. Diaz started her career as a workers' comp claims adjuster in 1977 and joined Tolman and Wiker in 1994 as a property and casualty associate. Shore joined the firm in 1997 as a property and casualty associate. He began his career with Employers Insurance of Wausau in 1992.

David Shore
Concord, Calif.-based RA&MCO Ins-urance Services has hired Cynthia Rabey as an underwriter specializing in special programs professional liability insurance. Prior to her appointment at RA&MCO, Rabey specialized in fiduciary liability at Ulico Insurance Group. She gained thirteen years of commercial lines experience while at USF&G, Allied Insurance, Seneca Insurance and Great American Home Builders.

Cynthia Rabey
United National Group Ltd. recently appointed David R. Bradley (dbradleyoffice@ yahoo.co.uk) as CEO. He was also elected to the company's board of directors. Bradley served for 31 years at the Hartford Financial Services Group, most recently as executive vice president of Hartford Fire and president of Hartford Specialty Co. Bradley began his career at Hartford as an actuary and held various positions in specific underwriting and actuarial training.

David R. Bradley
San Diego, Calif.-based Arrowhead General Insurance Agency Inc. has hired Chris Walker as co-CEO. Walker most recently served as vice chairman of Aon Reinsurance Intermediaries. He started his career in the insurance industry in 1980 at E.W. Blanch Company where he served as president, chief operating officer, chairman and CEO.
Robert J. Olson has been hired as executive vice president of Bermuda Dunes, Calif.-based Trinity E&S Insurance Services. Olson was formerly president of WestStar and has over 20 years of experience in the insurance industry.
Dan Knise has been hired as executive vice president of Denver, Colo.-based Restaurant Insurance Corp. He will be responsible for marketing and communications, including industry relations and Internet-based promotion. Knise will also assist RIC with corporate planning and strategy development. Knise's experience includes serving as a senior executive at Marsh & McLennan and at Johnson & Higgins. Before joining RIC, he was president and CEO of Dionis Insurance Holdings based in Arlington, Va.
Ronald F. Mosher has joined the board of directors at Employers Insurance Company of Nevada. He recently served as a senior executive with AEGON N.V. Previously he was on the board of directors for the Hungarian Insurance Company AB AEGON and on the board of WMA Global Alliance Joint Venture. Mosher was the state comptroller for Iowa and budget director for the state of Delaware.
Juliette Gamini and Monika Arboles have been hired as brokers at Los Angeles, Calif.-based Brown & Riding Insurance Services. Gamini has 10 years of insurance industry experience and has worked for AIG/National Union, Chubb and Atlantic Mutual insurance companies. She began her career at AIG/Lexington as a D&O liability underwriter. Gamini will work out of Brown & Riding's San Mateo office.
Arboles has more than 10 years of legal and corporate management experience. She most recently served as vice president and legal counsel for Luminent Inc. She also spent several years at law firms litigating construction defect suits and counseling corporations about risk exposures related to employment practices liability issues.
Robert W. Lampus was elected president of Menlo, Calif.-based RiskProNet International. Lampus is senior vice president of Dawson Insurance Inc. in Cleveland, Ohio. He has more than 30 years of experience in the insurance industry. He previously served as president and trustee of the Insurance Board of Greater Cleveland and as a District 12 trustee of the Independent Insurance Agents of Ohio.
David Findley was selected as the new chair of ACORD's Board of Directors. Findley previously served as chair-elect and as chair of the ACORD Planning Committee. Findley, senior vice president of Travelers Insurance, began his career at the company in 1968 as a commercial lines underwriter in Canada. After transferring to Travelers' Hartford, Conn. home office, he was responsible for accounting, policy and loss processing operations in several commercial lines positions. He will continue to serve as a board member of the AMS Systems Group and as a board member for the Agents Council for Technology of the Independent Insurance Agents & Brokers of America.
Charles "Chuck" McCaig was selected as ACORD's chair-elect. He previously served as the chair of the ACORD Operations Committee. McCaig is senior vice president and managing director of the Chubb Group of Insurance Companies. He started in the information technology department at Chubb in 1991.
Thomas G. Williams, Betsey L. Brewer and Steven J. White were selected as new IBA West board members. Williams is founder and CEO of Interwest Insurance Services Inc. He has served as chairman of the IBA West Workers' Compensation Task Force, charged with developing reform proposal for legislative consideration. He is also the creator of the Dynamic of Selling, a sales and marketing training tool.
Brewer is the senior vice president and a member of the board of directors at the Rule Company. She has served as president of the Los Angeles IABA and on various IBA West board committees. Brewer began her career at AON Risk Services as a customer service representative and was vice president serving the Pacific Rim when she left in 2002.
White has over 22 years of experience in the insurance industry and is senior vice president and director at Parker, Smith and Feek in Bellevue, Wash. He is currently a member of the Technical Committee of the IIAA.
The following executives were selected to return as directors: John P. Folsom, president of Brown & Brown of Washington; Teresa Todd, president of Teifeld & Co Insurance Services Inc.; Wayne Partee, owner of Partee Insurance Associates Inc.; Paul F. Bystrowski, president and CEO of John O. Bronson Company; Peter M. Cazzolla, president and CEO of California Insurance Group; and Jeffrey S. Newman, principal of Gelfand Newman Wasserman.
Arthur J. Gallagher & Co. has hired Theodore A. Skirvin II as vice president of corporate finance. Skirvin began his 20 year career in accounting and finance at Ernst & Young. He also served in key positions at CNA Global and Aon Corp. Prior to joining Gallagher, Skirvin was chief accounting officer for AXIS Capital.
Jemarion Jones has been appointed as media relations manager for the Independent Insurance Agents and Brokers of America. She will serve as an information resource for trade and consumer print media on all non-legislative issues. Jones most recently served as corporate communications specialist for Sallie Mae. She also was a technical writer and editor at the National Cancer Institute in Bethesda, Md. and a producer at a television station in Fort Smith, Ark.
Travelers Property Casualty Corp. announced that Charles T. Brooks has been appointed chief information officer for Personal Lines. He comes to Travelers from Accenture, where he was a Partner in the Insurance Practice and led many projects for large-scale property/casualty, life and annuity insurance operations. Prior to joining Accenture, Brooks was with Prudential Financial, where he had a range of responsibilities, including strategic planning, marketing, customer service, distribution, operations and systems.
Robert P. King has been appointed senior vice president of Willis Re, the reinsurance unit of Willis Group Holdings. He will be responsible for producing and marketing retrocession business emanating from the U.S., London and Bermuda offices. King most recently served as senior vice president at Maiden Lane Intermediaries. His prior experience includes 13 years at Guy Carpenter & Company Inc. and two predecessor firms, six years at Grieg Fester North America and three years at J.H. Minet & Co.
ACE Risk Management, a division of ACE USA, announced the appointment of Tony Apriceno as senior vice president and director of Field Operations. Based in New York City, Apriceno will have overall responsibility for overseeing the Central and Western regions of the country, serving large account customers for ACE Risk Management. Apriceno joins ACE Risk Management from Royal & SunAlliance, where he spent 10 years, most recently serving as casualty executive. He led the growth of Royal & SunAlliance into a viable risk management casualty operation, overseeing all casualty aspects of its Risk Management & Global division, a $400 million operation, including staffing, marketing and underwriting operations. Prior to that, he held various underwriting management positions with an ACE subsidiary.
Was this article valuable?
Here are more articles you may enjoy.
From This Issue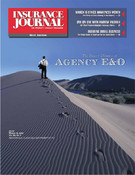 EPLI / E&O