Alan Crater

Cynthia Young
The Citizens and Hanover Insurance Companies announced that Alan Crater has been named regional president of their downstate New York and New Jersey commercial lines divisions and Cynthia H. Young has been named president of the companies' personal lines divisions. Crater comes from The St. Paul Companies where most recently he served as president of the Northeast region, responsible for agency management, distribution of specialty and commercial products, commercial lines operations and overall business development. Before joining St. Paul, he was senior vice president of CIGNA's inland marine division from 1998 to 1999. Young, who will be responsible for all aspects of personal lines operations, comes from The Hartford, where she served the last two years as vice president of product management for the South Central region. In this capacity, she was responsible for auto, homeowners and umbrella coverages sold in 22 states. Young also served as a senior product manager at The Hartford prior to this time. From 1993 to 2001, Young was with Progressive.

Gov. McGreevey
The Independent Insurance Agents & Brokers of New Jersey (IIABNJ) has recognized Gov. Jim McGreevey for his commitment to finding a solution to the automobile insurance availability problem that has plagued the state. The Automobile Choice and Competition Act (S. 63) spearheaded by McGreevey is now being implemented. IIABNJ presented an award to the governor at a luncheon on June 3. "Prior to the signing of S. 63, over 20 automobile insurance companies had left the state and several others were facing financial difficulties," said Scott Stanford, IIABNJ chairman. "Consumers were finding it increasingly difficult to obtain an automobile insurance policy. The governor and his administration worked tirelessly with the industry, consumers and legislature to develop and enact major reforms to the system."

John Verbich
Willis Group Holdings, a global insurance broker, has made a senior appointment to its North American management team. John Verbich, who has a 25-year career in the industry, has joined Willis as chief financial officer of Willis North America. Verbich comes to Willis from Scor Reinsurance where he was senior vice president and chief financial officer.

Kurt Bingeman
The Excess Line Association of New York announced results of its board elections. The new directors are Kurt C. Bingeman of Russell Bond and Company Inc., John A. Buckley of NIF Services of New York Inc. and Guy R. Migliaccio of Marsh Inc. The board also elected new officers: Chairman, David Isenberg of the DC White Agency; Vice-Chairman, Donald Privett, Privett Special Risk L.L.C.; Treasurer, Kevin McGill of Willis of New York Inc.; Secretary, John A. Buckley of NIF Services of New York Inc. The Immediate Past Chairwoman is Margaret M. Beirne of Aon Group Inc. Other directors serving on the ELANY board are as follows: Thomas J. Derella of The Kingstar Company Inc.; Robert Shapiro of Global Facilities Inc. and Lee Orabona.
Bingeman also received the Professional Insurance Wholesalers Association of New York State Inc. Service to the Industry award for his commitment to the excess and surplus insurance industry. He is the first wholesaler to receive this award.
Jimcor Agencies in Montvale, N.J., announced the appointment of Donna Chiapperino as director of marketing. Chiapperino brings to Jimcor over 10 years of experience in the industry, most recently as a credit insurance specialist with Lee & Hawthorne Agency in New York. Chiapperino has been on the board of directors for the Professional Insurance Agents of New York and is the immediate past president of N.Y. Young Insurance Professionals, who named her Young Insurance Professional of the Year in 1996. Jimcor Agencies is an excess and surplus lines wholesaler with offices located in New York, New Jersey, Pennsylvania and Massachusetts.
William A. Gilbert, John D. Hashagen Jr., Thomas J. Tierney and William P. Cody have been elected to the board of Granite Mutual Insurance Co., a member of the Vermont Mutual Group, so that the boards of all three companies in the group now have common membership. The Montpelier-based VMG also announced election of officers: Thomas J. Tierney, chairman of the board, president and chief executive officer; William A. Catto, executive vice president; Richard N. Bland, vice president, general secretary and general counsel; Joanne M. Currier, vice president, information systems; Brian C. Eagan, vice president, chief financial officer and treasurer; Peter P. Fresco, vice president, underwriting and marketing; and David N. DeLuca, vice president, claims.
Thomas M. Van Berkel, president and chief executive officer of The Main Street America Group, with corporate offices in Keene, N.H. and Jacksonville, Fla., announced the naming of two key executives. Antonia M. Porterfield has been named vice president of human resources. Most recently, she was senior vice president of human resources for another carrier. Richard B. Kelly has been named chief investment officer. Kelly brings more than 15 years of experience in investment management. They will both be located in Jacksonville.
Markel Corporation in Richmond, Va., announced that Glen Curley has joined the company as president of its Investors Underwriting Managers subsidiary. Curley most recently served as senior vice president for the direct reinsurance operations of American Reinsurance. Investors Underwriting Managers specializes in providing admitted and non-admitted products in the areas of primary casualty, property, excess and umbrella, and environmental liability.
Compensation Risk Managers (CRM) in Poughkeepsie, N.Y., has formed an affiliation with Snashall Associates, a consulting firm led by former N.Y. State Workers' Compensation Board Chairman Robert R. Snashall. CRM retained Snashall Associates to enhance its member relations and business operations, as well as identify strategic opportunities, according to Dan Hickey Jr. president of CRM. CRM administers workers' compensation group self-insurance programs including eight groups in New York.
Was this article valuable?
Here are more articles you may enjoy.
From This Issue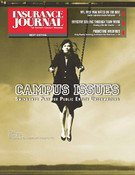 Public Entities