Jonathan Freeburg
Chicago-based online wholesaler Noodle Specialty Brokers announced that Jonathan Freeburg has joined the company as a senior underwriter focusing on private company directors' and officers' liability insurance, with a special emphasis on employment practices liability insurance. Prior to joining NSB, Freeburg was an underwriter with several MGAs and wholesalers and managed D&O and EPLI programs for London-based and domestic carriers. He has also managed EPLI and professional liability claims for several Lloyd's programs and domestic carriers.

Scott Ammer
Mack and Parker Inc., the Chicago hub of the North American insurance broker Hub International Ltd., announced that Scott Ammer has been hired as an account executive in the professional liability department.
Ammer is responsible for developing new business, marketing, customer relationship management and servicing renewal accounts for the practice group for lawyers, accountants, architects, engineers, software designers and surveyors in the Chicago hub. Ammer began his insurance career with Philadelphia Insurance Cos. in 2000 as a professional liability underwriter. Prior to joining the insurance industry, Ammer held management positions in various consumer enterprises.

Kenneth Spence
St. Paul Travelers announced that Kenneth F. Spence III has been named senior vice president and general counsel. Most recently, Spence was vice president of the Legal Services division and deputy general counsel responsible for the company's non-claim litigation and regulatory and underwriting legal support. Prior to that, he was vice president of corporate litigation for the St. Paul Cos. He joined St. Paul from USF&G when the companies merged in 1998. Spence also served in the litigation department of Miles & Stockbridge in Baltimore from 1983 to 1996. He was a partner of that firm from 1990 to 1996.

John Kapanke
Edina, Minn.-based Western National Mutual Insurance Co. announced that John G. Kapanke joined its board of directors. Kapanke has more than 30 years of financial and investment experience. For the last 17 years, he served as CEO of the Board of Pensions of the Evangelical Lutheran Church in America (ELCA), a $5.5 billion nonprofit administering pension, health, disability and survivor benefits for nearly 50,000 ELCA pastors, rostered lay persons, lay employees and their families. Prior to assuming this role, he served as senior vice president of investments for 14 years at the Board of Pensions of the Lutheran Church in America.
Western National Mutual is a member of the Western National Insurance Group, which consists of two regional property/casualty insurers. The mutual currently offers insurance products in Minnesota, South Dakota, Iowa and Wisconsin exclusively through independent agents.

Lyn Rossano
Willis Group Holdings, the global insurance broker, announced the appointment of Lyn Rossano as senior vice president and life sciences practice leader. The life sciences practice is a specialty within the health care practice. She will be located in the Bethesda, Md., office. Rossano will provide production assistance for pharmaceutical, biotechnology and medical device business to Willis offices around North America. She will assist local client teams, facilitate the coordination of Willis resources and advocate for clients. She is charged with new product development and working with underwriters at the home office level, assisting in their efforts to develop coverages and contracts that track with changes in business environment.
Rossano has been with Willis for three years, working with the capital market, specializing in biotechnology business. She began her insurance career in 1984 as an underwriter for the American International Group (Lexington Insurance Co.) in Boston, specializing in health-care liability and life sciences liability. She spent seven years with the CNA Insurance Co. in New York City.
Chicago-based property/casualty insurer Old Republic announced the expansion of its board of directors from 13 to 15 members. While Old Republic said its long-term objective is to gradually reduce the board size, the expansion is in anticipation that several existing directors will be retiring or not stand for re-election within the next several years.
Charles F. Titterton and Dennis P. Van Mieghem were appointed to Old Republic's board during a regularly scheduled meeting of its board of directors. Titterton's career has encompassed a tour of duty as a U.S. Navy officer, a 25-year career with a major banking institution where he ultimately became a senior lending officer specializing in the insurance industry and a 12-year stint with the Standard & Poor's Corp., from which he retired in 2003 as an insurance group director.
Van Mieghem retired in 1998 as a partner and director of the national insurance tax practice of the international accounting firm of KPMG. During his 40-year career with that firm, Van Mieghem served a large number of insurance clients in matters of taxation, acquisitions and corporate reorganizations. He co-authored the highly regarded book, Federal Taxation of Insurance Companies.
Arch Insurance Group announced that William Palmer has been promoted to executive vice president of the Central region. In his new role, Palmer will oversee all aspects of the Midwest operation as well as continue to grow the business in this sector. Palmer will be based in Chicago. He joined Travelers Insurance in 1980 as a commercial lines underwriter and then went to General Star in 1985. While at General Star, he managed the excess department in both New York and Chicago.
Cincinnati-based insurer American Financial Group announced that Karl J. Grafe has been named a vice president. Grafe joined AFG in October 1987 as an attorney in the general counsel's office, having previously worked as an associate in the Dayton, Ohio, office of the law firm of Smith and Schnacke. He has served as an assistant general counsel and assistant secretary of the company since July 1997. During his tenure with AFG, he has been involved in acquisitions, divestitures and numerous capital transactions.
Chicago-based CNA Surety Corp. announced that Robert A. Tinstman, executive chairman of James Construction Group, joined its board of directors effective Aug. 11, 2004. Tinstman will replace Ken Miller. Tinstman is a professional engineer whose career began 30 years ago. He has served as president and CEO of Morrison Knudsen Corp., a multinational engineering construction and operations company. He was also executive chairman to the Angelo Iafrate Construction Co., which focuses its principal activities in the heavy construction market. He currently serves on the board of directors for Idacorp/Idaho Power and is the chairman of its compensation committee.
The Myers Law Firm has opened an office in Lee's Summit, Mo. Its principal, Ross S. Myers, served five and a half years as senior counsel of insurance regulatory affairs for the National Association of Insurance Commissioners (NAIC). Myers represented the NAIC numerous times before the U.S. Supreme Court, U.S. Circuit Courts of Appeal and state appellate courts. He holds CPCU and ARM designations from AICPCU/IIA and has been published in several journals and legal periodicals.
The firm will concentrate in several areas of insurance regulation, including unfair discrimination laws, regulatory compliance strategies, disparate impact, insurance company underwriting and rating, licensing issues, credit scoring, the USA Patriot Act and a number of other recent federal laws and regulations that require insurance industry compliance.
Was this article valuable?
Here are more articles you may enjoy.
From This Issue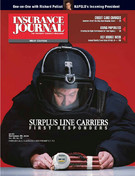 Surplus Lines Issue