Robert Loiselle
At the Independent Insurance Agents of Rhode Island's (IIARI) Annual Convention in Newport, R.I., recently, Robert Loiselle was named as the newest recipient of the esteemed Carleton I. Fisher Award. He is one of only seven people in the association's 104 year history to receive this honor. The award was instituted 25 years ago to commemorate Fisher's devotion to IIARI and his outstanding contributions to the insurance profession. Loiselle is the president of Loiselle Insurance Agency in Pawtucket, which was founded by his grandfather in 1943 and is now a fourth generation family business. He is a past president of IIARI and served five years as IIARI's State National Director. He has five times been awarded national recognition as a Best Practices Agent and has held Peerless Insurance Company's President's Award for 16 years, the longest running recipient in the country. He has chaired or served on virtually every IIARI committee. Loiselle currently serves on the Governing Committee of the R.I. Auto Insurance Plan.
The Hartford Financial Services Group Inc. has named Judith A. Patterson to be executive vice president of its First State Management Group subsidiary. Patterson, who previously held the title of senior vice president, will be primarily responsible for all underwriting units, business systems, office services, communications, ceded reinsurance and information technology at the Boston-based unit which handles the company's surplus lines and specialty property operations.

Susan McNeil
McSweeney & Ricci Insurance Agency located in Braintree, Mass., recently added Susan McNeill and Earl B. McKinney to its thriving commercial lines department. McNeill and McKinney will both work as account managers, assisting and advising small business commercial lines accounts. McNeill has over 20 years of experience in the insurance industry and has recently earned her CISR designation. Similarly, McKinney is a licensed insurance broker with over 17 years of industry experience.

Earl McKinney
John K. Latham has been promoted to chief information officer and senior vice president of Markel Corporation, in Richmond, Va., a writer of specialty insurance. His previous position was president and chief operating officer of Markel Re, a wholly owned subsidiary of Markel Corp. Prior to joining Markel Re in 2003, from 1991 to 2002, Latham was president and chief executive officer of Colony Insurance Company, a subsidiary of Argonaut Insurance Company.

John K. Latham
The American Insurance Association (AIA) in Washington, D.C., has appointed Dennis Kelly as director of federal media relations. Kelly will develop and manage the public affairs aspects of federal issue advocacy campaigns and will be a spokesperson for the association on terrorism insurance, insurance regulatory reform, asbestos litigation reform and similar issues. Kelly joins AIA from the A.M. Best Company, where he served as senior associate editor and Washington bureau manager covering legislative activity. Prior to A.M. Best, Kelly was a newspaper reporter at the Allentown, Penn., Morning Call, and a writer for a magazine in Sacramento, Calif.
Crawford & Company, the claims management firm out of Atlanta, Ga., has named Robert R. Kulbick and Larry A. Mattingly senior vice presidents. They will head the Risk Management Services and Healthcare Management business units, respectively.
Kulbick comes to Crawford with more than 15 years of industry experience which includes owning his own independent disability management consulting firm. Kulbick most recently was senior vice president of a large property and casualty risk management services company.
Mattingly, who brings more than 25 years of insurance experience, was most recently the president, founder, and CEO of Mednet Connect, a software and service company in the workers' compensation medical bill review software business.
Lawley-Richwood LLC, of Hawthorne, N.Y., announced that George Archer and Paul Hallahan have become partners at the firm, joining original partners Michael Abrams and Gerald Tobias. Additionally, Abrams was appointed branch manager at Lawley-Richwood, where he will continue to produce large commercial business and high-end personal lines.
Archer joined Lawley-Richwood in March 1998. He concentrates his efforts in high-end personal lines, designing programs for some of the most successful families and business owners in New York City.
Hallahan joined the organization in November 2001. He writes cinsurance programs for commercial and personal clients, specializing in private country clubs and golf courses.
Tobias will continue in his role of leading the Lawley-Richwood branch in production, generating high profile and profitable business. He will be an important part of transitioning Archer and Hallahan into their partnership positions.
Lawley Richwood LLC is a full-service independent agency that is part of the Lawley Service Insurance Group of Companies.
Global insurance broker Willis Group Holdings Limited has made four senior appointments in its Florham Park, N.J., office. Kevin Houston, Richard O'Callaghan, Nicholas Trent and Richard Wright have all joined Willis as senior vice presidents from the Morristown, N.J., office of Marsh.
Houston, most recently a casualty client advisor, worked at Marsh and its predecessor companies for 17 years. Prior to Marsh, he worked at ARM as a vice president. His experience is in designing risk management strategies for large, complex commercial accounts.
O'Callaghan, working at Marsh and predecessor companies for 13 years, most recently served as a client executive. Before joining Marsh, he worked at A&A as a senior vice president. His experience is in New Jersey-based large commercial accounts.
Trent, formerly a group leader in Marsh's Property and International Practice, brings experience in large commercial accounts. He worked at Marsh and predecessor companies for 15 years.
Wright, with more than 25 years experience in alternative risk financing, workers compensation cost containment consulting, and mergers and acquisition due diligence efforts, led the advanced large account for Marsh in New Jersey. Prior to his tenure with Marsh, he worked at Aon as a senior vice president.
Was this article valuable?
Here are more articles you may enjoy.
From This Issue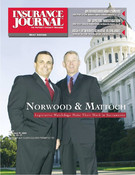 Agriculture