John Tympanick
The Liquor Liability Joint Underwriting Association of Massachusetts (LLJUA) has named John W. Tympanick as president. LLJUA, based in Westboro, Mass., is a last-resort liquor liability insurance provider for Massachusetts businesses that have been turned down for coverage in the voluntary market at least three times. In his new role, he said he would like to place an emphasis on educating those who serve alcoholic beverages about the importance of carrying liquor liability insurance. Tympanick previously served as chief financial officer, joining the LLJUA as controller 13 years ago. Before working at LLJUA, he was the assistant controller for Lube 495 Inc. of Braintree, Mass., a franchisee of Jiffy Lube. He also was a regional accountant for American Cablesystems Inc.

Patricia Henry
ACE INA, a U.S.-based division of The ACE Group of Companies, announced two appointments in its government affairs and legal unit. Patricia Henry has been promoted to executive vice president, government affairs and legal.
Henry will oversee ACE's group-wide government affairs and legal activities involving ACE USA in the United States. Based in Philadelphia, she will report to Susan Rivera, president, ACE INA, and will work on global government affairs issues. Henry most recently served as senior vice president, ACE INA Government Affairs.

Lawrence Bascom
Lawrence Bascom has been appointed senior vice president and chief financial officer of 21st Century Insurance Group. Prior to joining 21st Century Insurance, Bascom was a partner in public accounting firm Deloitte & Touche. Based in New York City, Bascom was a member of the firm's Global Financial Services Industries practice and served as the deputy leader of the firm's Northeast Insurance practice, where he oversaw consulting, tax, financial and audit services to insurance clients in the region. As a member of Deloitte's managing partner advisory council, Bascom played a role in the firm's strategic and operational agenda.

Sandra Bravo
Willis Group Holdings added Sandra Bravo to the group to lead the Private Client Group in North America. Bravo previously served as senior vice president for a subsidiary of Chubb Group, and joins Willis as executive vice president, North America Private Client Group Leader, bringing 30 years of private client experience. Prior to her tenure with Chubb, Bravo was a managing director at Marsh and held various leadership positions, including U.S. practice leader for Private Client Services, CEO of Europe Private Client, and head of International Private Client Services. Bravo is charged with growing Willis' private client business in North America.

Bruce Coates
Insurity Inc., a ChoicePoint company, has named Bruce B. Coates as regional vice president. He will focus on sales and developing customer relationships for the Hartford-based provider of technology services to the property/casualty industry. Coates most recently served as the customer-advocacy leader for GE Commercial Insurance. During his nearly 30 years in the industry, he has also held marketing and executive positions with Westport Insurance Corporation, Employers Reinsurance Corporation and the Oklahoma Association of Insurance Agents.
Robert Drohan has been appointed chief underwriting officer for Target Insurance Services in Avon, Conn. In that capacity, Drohan will serve as program manager for Target's Staffing Firms Program, as well as its Tax Preparers Program, and its Miscellaneous Errors & Omissions. Most recently, Drohan was vice president in charge of underwriting strategy and management for St. Paul Travelers' Miscellaneous Professional Liability Division in Hartford. Prior to that time, he managed a professional liability department for the Lexington Insurance Company in Boston. Drohan also co-founded a commercial property and casualty retail agency, as well as a managing general underwriter.
Northumberland, Pa.-based Keystone Insurers Group announced the addition of George C. Wynne, former vice chairman and chief executive officer, Berkley MidAtlantic Group, as senior executive of corporate development. Wynne spent nine years with W.R. Berkley Corporation. He founded Presque Isle Insurance Division and then headed Berkley MidAtlantic Group, which consisted of Firemen's Insurance Company of Washington, D.C., Chesapeake Bay Property & Casualty Company, Berkley Insurance Company of the Carolinas, and Presque Isle Insurance Division. Prior to W.R. Berkley, Wynne spent 23 years with Erie Insurance Group. David Boedker, president and CEO, of KIG said the addition of Wynne is important as keystone expands into other states. Keystone is franchisor of independent insurance agencies, with more than 130 locations in Pennsylvania and North Carolina. Keystone is approved to do business in Maryland and has filed for approval in Virginia, with plans for expansion in 2005.
Douglas J. Hayden has been appointed to a nine-year term as general attorney of the New York State Insurance Fund by NYSIF's board of commissioners. Hayden has served as general attorney of the fund since February 2003, when he succeeded James P. O'Connor as chief legal officer of NYSIF, an entity with approximately $9.2 billion in assets, $1.5 billion annual premium and approximately 187,000 policyholders. Prior to his new appointment, Hayden served as NYSIF's deputy general attorney in charge of litigation. Prior to joining NYSIF, Hayden was an assistant district attorney in Nassau County, N.Y., for six years and was actively engaged in trial work and prosecution of organized crime.
The Council of Insurance Brokers of Greater New York inaugurated its youngest president to date–Anthony S. Calafiore, president, Apex Brokerage Co. Inc.–at its 27th annual Dinner Dance. CIBGNY also honored Terry M. Gras, corporate secretary, Otsego Mutual Fire Insurance Co. as its 2004 Man of the Year, at the event. CIBGNY's officers and directors were also installed. The following officers have been elected for the 2004-05 term: President Anthony S. Calafiore, Apex Brokerage Co. Inc., Brooklyn, N.Y.; Vice President Anthony Aquilino, Regency Agency Inc., Brooklyn, N.Y.; Vice President Peter Resnick, Interboro Mutual Indemnity Insurance Co., Mineola, N.Y.;Secretary Justin Fries, Garber Atlas Fries & Associates, Lynbrook, N.Y.; and Treasurer Shelly Kozel, Lezok Ltd., New York, N.Y. CIBGNY is a professional, independent insurance brokers association in the New York City metropolitan area.
Was this article valuable?
Here are more articles you may enjoy.
From This Issue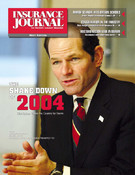 2005 A Look Ahead