Catherine Rein
MetLife, Inc. has named Catherine A. Rein to the role of chief administrative officer, effective Jan. 1, 2005. Reporting to MetLife, Inc. Chairman and Chief Executive Officer Robert H. Benmosche, Rein will oversee MetLife's human resources, audit, information technology, corporate ethics and compliance, corporate real estate, corporate procurement and call center functions. She also will continue to serve as the chair of MetLife Foundation. Currently, Rein serves as the president and chief executive officer of Metropolitan Property and Casualty Insurance Company (MetLife Auto & Home), the personal lines property and casualty subsidiary of MetLife, Inc. The chief administrative officer position has been vacant since Lisa M. Weber was promoted to president of individual business earlier this year.

William Mullaney
In connection with Rein's appointment, William J. Mullaney, who currently serves as MetLife Auto & Home's senior vice president of claims and customer service, has succeeded Rein and become president of MetLife Auto & Home. In addition, MetLife Auto & Home will become part of the individual business organization and will now report to Weber. Products offered by the individual business organization now include annuities, life insurance, long-term care insurance, individual disability insurance, and auto and home policies for individuals and their families.
Rein, who has served as president and chief executive officer of MetLife Auto & Home since 1999, led the company to record sales and earnings growth, improved MetLife Auto & Home's combined ratio and increased customer retention. During her tenure, she also oversaw MetLife's acquisition and integration of the personal insurance operations of The St. Paul Companies.
Appointed to his current position in 2002, Mullaney has overseen MetLife Auto & Home's claims, business operations and services, and customer retention initiatives as well as the project management office. Prior to joining MetLife Auto & Home, he held a number of sales and operations positions in MetLife's institutional business segment.

Jeff Darling
The Lighthouse Companies, an Ananadale, Va.-based program underwriting company that works with select industry groups, announced two senior management appointments. Jeff Darling was named chief underwriting officer and vice president of The Lighthouse Companies and is primarily responsible for managing revenue growth for the companies. He joined Lighthouse four years ago and served as program director of Take 1, the company's insurance program for the presentation, communication and entertainment industries. Prior to joining Lighthouse, he served as senior underwriter for Chubb Group.

Sean Gormley
Sean Gormley was named chief operating officer and vice president and is responsible for managing the administrative functions and expenses of the insurance operations at the companies. Gormley joined Lighthouse nine years ago, serving as program director of Staffpak, an insurance program endorsed by The National Association of Personnel Services. He was responsible for the StaffPak's formation and growth as a premier insurance program for the staffing industry. Prior to joining Lighthouse, he managed specialty insurance programs for The Eagle Companies.

Terri Austin
Terri D. Austin, senior vice president and general counsel for AIG Claim Services, Inc., a member company of American International Group, Inc. (AIG), has been named vice president and chief compliance and ethics officer for AIG's Domestic Brokerage Group. In this new position, Austin will be responsible for ensuring compliance with all federal, state and local laws, and all company standards and practices. Austin will report directly to Kristian P. Moor, AIG executive vice president for domestic general insurance, and to Mari B. Maloney, AIG's chief compliance officer. Prior to her current position, Austin served five years as an assistant general counsel in AIG's corporate law department. The Domestic Brokerage Group is AIG's core U.S. commercial insurance business.
Judy Davis has been named vice president of sales at Insurance Center of New England Inc. in West Springfield, Mass. Davis will work in the firm's employee benefits division. Davis has spent the last seven years as vice president of employee benefits at Banknorth Insurance Agency Inc. of Springfield, Mass. She has also been an account executive for large group sales at Tufts Health Plan. Insurance Center of New England, Inc. is a regional insurance agency for commercial and personal insurance.
Brian J. Beggs has been named vice president, bonds for National Grange Mutual Insurance Company, a subsidiary of The Main Street America Group. Beggs has more than 20 years of experience in fidelity and surety bond underwriting. He comes to NGM from Hartford Insurance where he held several home office bond positions. Prior to Hartford Insurance, he was with Merit Insurance. The Main Street America Group has corporate offices in Keene, N.H. and Jacksonville, Fla.
Salvatore J. Dominello has joined Willis Group Holdings to strengthen the broker's Connecticut office. Dominello, formerly with Palmer & Cay, has been given the position of senior vice president and sales leader in the Farmington office. Joining Dominello in Farmington will be J. Kevin Foster, formerly of Banknorth Insurance Group. Foster is now a Willis vice president. Robert J. Smith, Northeast regional executive for Willis, said the additions of Dominello and Foster are signs of an increased commitment to the greater Hartford market.
The Hartford Financial Services Group, Inc. has named Robert Ivey regional vice president of its newly expanded Pennsylvania regional office. This operation in King of Prussia provides underwriting, sales and loss control services to more than 200 independent property-casualty insurance agents and their customers throughout Pennsylvania and Delaware. Under Ivey's direction, The Hartford has expanded its Pennsylvania regional office during the last year, adding more than 16 sales representatives and underwriters. The Hartford also recently expanded its Pittsburgh branch office. As regional vice president, Ivey is responsible for the sales, profit and growth of all property-casualty business lines for Pennsylvania and Delaware, including mid-size business, small commercial, personal insurance, and specialty practices.
Was this article valuable?
Here are more articles you may enjoy.
From This Issue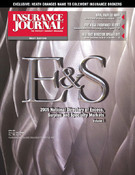 2005 Excess, Surplus and Specialty Markets Directory, Vol. I