Deneen Schmitt
Deneen Schmitt and Jim Cottone are among two of the newest additions to the expanding Pittsburgh, Pa., operations of Willis Group Holdings. Schmitt has joined Willis from Aon to serve as a senior vice president for the Executive Risk Practice. Cottone comes to Willis from the Pittsburgh office of Marsh and will serve as senior vice president and wrap-up team leader.

Jim Cottone
In addition, Mike Scibetta, most recently with Cigna, has joined Willis as vice president in the Middle Market Practice Group, as is Andy Fellowes, coming over from Baily Raabe & Associates.

Jeffrey Lattman
Frank Sorosky joins Willis in Pittsburgh from Marsh as vice president and client advocate; Jennifer De La Torre as assistant vice president and casualty specialist; and Amy Rudzik, also formerly with Marsh, as client manager.

John Kerns
Rena Wardand Karen Wedmorehave also been added to the Willis staff as client service administrators.

Barry Whitton
Jeffrey Lattmann and John Kerns have been named managing directors of Beecher Carlson Holdings Inc.'s New York office. Lattmann will also be a senior partner of the newly formed Executive Liability Practice.
Lattmann has more than 18 years of experience in the financial product area including both underwriting and brokerage. Prior to this assignment, Lattmann was vice president and manager of the FINPRO department for Marsh & McLennan's Connecticut operations. Before joining Marsh, Lattmann underwrote specialty lines at AIG/National Union for more than three years.
Kerns will focus his efforts on special coverages such as directors and officers liability and other professional liability and fidelity insurance-related products. Most recently, Kerns worked for Marsh USA Inc. as managing director in charge of the New York branch's D&O division. Before joining the New York team, Kerns was managing director in charge of sales and marketing for the Mid-Atlantic Region of Marsh USA Inc. Kerns began as underwriting manager for Continental Guaranty and Credit.
Also at Beecher Carlson, Barry Whitton has been appointed senior vice president of the firm's new Global Property Practice. Whitton has more than 18 years of experience in the insurance industry. He joins Beecher Carlson after nine years with Marsh, originally joining Johnson & Higgins in 1996.
Beecher Carlson, headquartered in Atlanta, maintains operations in Burlington, Vt.; Denver; Honolulu; Los Angeles; Nashville, Tenn.; New York; Boston; Princeton, N.J.; The Cayman Islands, and Hamilton, Bermuda.
John B. Collins Associates Inc., a reinsurance intermediary, announced that John Daum has joined the firm as a vice president in the New York office. He brings 25 years of insurance and reinsurance experience to the company. Daum began his career in London and later joined General Reinsurance, until 1989 when he joined E.W. Blanch. He was most recently at US Re.
Charles "Chuck" McCaig, chief information officer at Chubb, has been designated the new chair of ACORD's board of directors. Barbara Koster, CIO, Prudential Financial, has been selected as the chair-elect.
McCaig has been with Chubb since 1991 where he is responsible for information technology. As CIO of Prudential Financial, Koster oversees the use of information technology company-wide.
New directors on the ACORD board are Lawrence G. Brandon, American Institute for CPCU and John Chu, senior vice president, eBusiness and Technology, The Hartford Financial Services Group.
Selective Insurance Group Inc. appointed Kerry Guthrie to executive vice president and chief investment officer. He was previously senior vice president and chief investment officer. Guthrie was named assistant vice president in 1992 after joining the firm as an investment analyst in 1987. Promoted to vice president in 1996, ultimately promoted to senior vice president and chief investment officer in August 2002.
Anthony Martella Jr. will move to senior vice president of Selective's actuarial reserving department from vice president. Martella joined Selective in 2000 as vice president and associate actuary. Before coming to Selective, he was an assistant vice president with Reliance Insurance.
HCC Insurance Holdings Inc. announced that James Donovan has joined its underwriting agency subsidiary Professional Indemnity Agency based in Mount Kisco, N.Y. Donovan will be senior vice president responsible for all errors & omissions underwriting at PIA in New York and its recently acquired RA&MCO division in Concord, Calif. He joins the company from Hartford Financial Products where he served as vice president since 2001.
U.S.I. Holdings Corporation has appointed Philip W. Remig as president of its Mid-Atlantic offices in Trooper and Allentown, Pa. Remig joins U.S.I. from Aon Risk Services where he held various positions during the past 10 years including middle market practice leader and national director of interdependency. Most recently, Remig served as Southeast sales leader. Remig has 25 years of experience in the insurance brokerage industry. Prior to Aon, he worked as a sales executive at Arkwright and Hobbs Group. He began his career at Allendale Insurance.U.S.I. is headquartered in Briarcliff Manor, N.Y., and operates out of 63 offices in 19 states.
Zurich announced that Bill Casey been promoted to the newly created position of senior vice president of regional management of its North America commercial marketing operations. He will be based at the company's headquarters in Schaumburg, Ill., and will coordinate Zurich's regional marketing and distribution efforts in North America. Casey most recently worked as the regional vice president responsible for marketing and business development in New York, New Jersey and New England.
William J. Hall, production underwriter for Middlesex Mutual Assurance Co., has been named this year's recipient of the Professional Insurance Agents of Connecticut Inc.'s Company Professional of the Year award. The presentation will take place March 15 at PIACT's annual convention. Hall handles the marketing and agency management and new business underwriting at Middlesex Mutual. He earned the company's Star Performer award in 2002 and 2003. Hall also represented Middlesex Mutual on the Connecticut Automobile Insurance Assigned Risk Plan's Governing Committee.
Was this article valuable?
Here are more articles you may enjoy.
From This Issue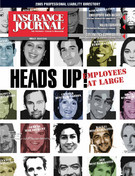 Professional Liability Directory