Michael D. Pierce
Cincinnati-based Great American Insurance Group recently announced three promotions in its Schaumburg, Ill.-based executive liability division.

Bruce R. Smith Jr.
Michael D. Pierce was promoted to corporate senior vice president of Great American. Pierce assumes the role of group reporting officer for the executive liability division, the bond operations (surety and fidelity/crime) and the foreign credit insurance business. Prior to this promotion, Pierce had been divisional president of Great American's executive liability division since 2000.

Kevin P. Gadbois
Bruce R. Smith Jr., meanwhile, was named divisional president of the executive liability division. Smith is responsible for the underwriting, marketing, claims and administration of the division which specializes in corporate and organization professional liability. Smith joined Great American's executive liability division in 1992 and prior to this promotion was executive vice president of underwriting for the division.

Kristyn Ryda
Lastly, Kevin P. Gadbois was promoted to divisional executive vice president of the executive liability division. Gadbois also joined the division in 1992, leaving in 1996 to spend three years in the Bermuda market. He returned to the executive liability division in 1999. In addition to his role as chief claims officer, Gadbois also has responsibility for human resources and the regulatory/compliance functions of the executive liability division.

William E. Donnell
Farmington Hills, Mich.-based managing general agency Burns & Wilcox has hired Kristyn Ryda as the advertising assistant in the company's home office advertising department. As advertising assistant, Ryda is responsible for supporting the advertising department in coordinating marketing campaigns and graphic communication to sustain the continued growth of Burns & Wilcox.
Prior to joining Burns & Wilcox, Ryda was an assistant at Sokol Professional Management Training in Troy, Mich. Ryda currently resides in Troy, Mich. Burns & Wilcox serves more than 30,000 agents through its network of 32 offices in 23 states.
William E. Donnell, 47, has been named chief marketing officer for Kansas City, Mo.-based commercial insurer GE Insurance Solutions with responsibilities for customer service, brand management, new product introductions, customer segmentation and client support.
Most recently, Donnell served as global casualty leader, leading product strategy and profitability of all casualty insurance and reinsurance lines. He previously served as the business unit leader for the programs, excess workers' compensation and excess and surplus lines in the company's commercial insurance business. Donnell joined GE Insurance Solutions in 1998 as marketing and sales leader for the program business. He has 22 years of property/casualty insurance experience in various regional and corporate management roles with U.S. primary insurance companies.
Donnell succeeds Cheryl Feltgen, 49, who is joining a unit of Citigroup.
Thomas Comer, president and CEO of Swett & Crawford, announced to employees at the end of the business day on March 14 that he will be leaving the company, according to unidentified sources. The reason for Comer's departure is unknown at this time and a possible successor has not been announced. Comer was named president and CEO in 2003.
Comer could not be reached for comment. However, an Aon spokesman confirmed that he is "no longer an employee" of Swett & Crawford. Chicago-based Aon Corp. reported last month that it was exploring alternatives related to its ownership of Swett & Crawford, including a possible sale of the wholesale arm. The status of any change in ownership of the company remains unknown at this time. Swett & Crawford is the largest U.S.-based wholesale insurance broker with more than 900 employees in 40 offices.
More than a year after J. Anthony Clark handed in his walking papers as Illinois' insurance director, Gov. Rod Blagojevich has found a permanent replacement. Blagojevich, a Democrat, named corporate lawyer Michael T. McRaith as the new director of the Illinois Division of Insurance, which is part of the state's Department of Financial and Professional Regulation.
McRaith has practiced commercial litigation with an emphasis on legal matters involving regulated institutions including the insurance industry, according to a statement from the governor. McRaith is a partner at the national law firm McGuireWoods and works in the commercial litigation department. McRaith lives in Chicago and has been a lawyer for 15 years. His nomination requires approval by the Illinois Senate, also controlled by Democrats.
The Kansas Insurance Department announced that Kelly Levihas been named director of the government and public affairs division. Levi comes to the insurance department from Kansas State University, where she was associate director of development for the College of Engineering, overseeing major gift fundraising for the Kansas State University Foundation. Prior to working for Kansas State, Levi worked for four years as policy director for Speaker of the House Kent Glasscock.
New York-based Marsh & McLennan Cos. Inc. has announced the resignation of Peter F. Garvey, co-president of Marsh, the company's risk and insurance services subsidiary. The company, under fire since last October for bid-rigging and contingent commissions agreements, said Garvey stated personal reasons for the resignation, which took effect immediately.
William A. Malloy, co-president of Marsh, will become its president. Philip V. Moyles Jr., executive vice president of Marsh, will become head of Marsh's North America region and will continue his responsibilities as head of global client development.
Was this article valuable?
Here are more articles you may enjoy.
From This Issue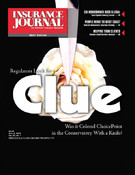 Homeowners