Debra Richardson
The Citizens and Hanover Insurance Companies named Debra Richardson as regional vice president of The Hanover Insurance Company's Texas region. In this capacity, Richardson will be responsible for all aspects of commercial lines underwriting, distribution, marketing and sales in the region.

Shirley Fritch
Richardson joined Hanover as commercial lines manager in June of 2004. Prior to that, she served as underwriting director for The St. Paul Companies' North Texas and Arkansas regions. An experienced commercial lines underwriter, Richardson also held management positions with The Millers Group, a regional property and casualty insurance carrier located in Texas, and the Gulf Insurance Group, a national property and casualty insurer that is now a part of St. Paul Travelers.

Christopher Will
Mandeville, La.-based FARA promoted Shirley Fritch to vice president. In this new position, Fritch is responsible for the overall direction and management of FARA's Texas branch offices, as well as the FARA branch offices in Lafayette, La., Shreveport, La., and Jackson, Miss. She will remain based in Houston.
Fritch began her career with FARA in 1986 as an adjuster trainee and was promoted the following year. In 1990 she was appointed adjuster in charge followed by another promotion to manager of two branch locations. In 1995 Fritch began overseeing all operations in north Louisiana. She later served as the manager of the Boca Raton, Fla., office, leading operations in this area to exponential growth. Fritch was later named assistant vice president of operations in 1998.

Jennifer Finnan
FARA also announced the promotion of Christopher Will to vice president of FARA Security Services Inc., FARA's special investigative unit. In this new position, Will is responsible for all operations and business development for FARA Security Services. He will remain based in Mandeville.

Gregory Case
Will began his career with FARA in 1998 as the manager of FARA Security Services. He previously served as a claims director for Equifax, later named ChoicePoint, where he supervised all claims investigations in Louisiana, Alabama and Arkansas. During his tenure Will also supervised the pre-employment and records collections divisions.
First Premium Insurance Group, a growing regional property and casualty insurance broker in Covington, La., announced the promotion of Jennifer H. Finnan to personal lines manager.
Finnan joined the staff of First Premium Insurance Group seven years ago and has steadily moved up the ranks to her present management position. She will be responsible for the overall direction and management of FPIG's personal lines department.
Finnan can be reached by phone at (800) 256-2171, ext. 661, or by e-mail at Jennifer.finnan@firstpremium.com.
Gregory Case was named Aon Corporation's new president and chief executive officer. Case has also been elected to Aon's Board of Directors.
He succeeds Patrick Ryan, who has served as Aon's CEO since the company's founding. Ryan will serve as executive chairman of Aon's Board of Directors.
Case most recently served as head of the Financial Services Practice at McKinsey & Company, the international strategic management consulting firm.
HCC Insurance Holdings Inc. reported that John N. Molbeck, Jr. is joining the company's Board of Directors. Molbeck, who lives in Houston, has been in the insurance industry for nearly 30 years, most recently retiring as the chief executive officer of Jardine Lloyd Thompson LLC. He was formerly an officer and director of the Texas Surplus Lines Association, chairman of the Marine Insurance Seminar, and from 1997 to 2002 served as president and chief operating officer of HCC.
The Texas Automobile Insurance Plan Association announced its new officers for 2005.
Brad Duelks, assistant vice president-corporate underwriting of The Republic Group, was elected chairman of the governing committee. He has served as member of the governing committee since 2002, and in 2004 was elected first vice chair.
Also elected were Terry Mack, underwriting consultant-residual markets for State Farm Insurance Companies in Bloomington, Ill.; Bill Jeter, president and CEO of Boys and Girls Harbor Inc., Houston, Texas; and Corise Morrison, executive director-residual market underwriting, USAA, San Antonio.
TAIPA was created by statute to provide automobile bodily injury and property insurance required by the Texas Motor Vehicle Responsibility Act available to applicants subject to the rules of the Association.
Texas Gov. Rick Perry named Ronald J. Walenta, of Dallas, to a six-year term on the Board of Directors of the Texas State Office of Risk Management.
Walenta has been involved in risk management consulting, claims consulting and various aspects of the insurance industry since 1972. He has served as corporate risk manager for DFW International Airport, Chili's Restaurants, Trailways Transit, ATE Management and Service Co., and Chief Auto Parts. Walenta is president of EEI Support Services Inc. EEI provides risk management, claims and personnel consulting services to private companies.
A graduate of the University of Texas at Austin, Walenta has a certified insurance counselor designation, and has served on the state faculties of the Society of Certified Insurance Counselors, the Independent Insurance Agents of Texas, and the insurance committee for the University of Texas at Austin.
The Texas State Office of Risk Management is responsible for providing workers' compensation benefits to employees of the State of Texas and approval of insurance purchases by state agencies, universities and colleges, among other things.
Chicago-based insurance brokerage Hub International Limited appointed Roger Forystek president of its regional hub in the southwest U. S. (HUB Southwest). Reporting to Roy Taylor, president of Hub's subsidiary, Talbot Financial Corporation, Forystek will have responsibility for HUB Southwest's operations in the states of Colorado, New Mexico and Texas.
Forystek has nearly 20 years of sales and management experience in the insurance brokerage industry, most recently as vice-president, operations with Hub International's corporate office. Prior to his corporate position, he led HUB Indiana when it was acquired from Fifth Third Bank in 2002.
His background also includes management and sales positions with Minnesota Mutual, Aon and Keycorp Insurance Management.
HCC Insurance Holdings Inc. announced that Cory L. Moulton joined its underwriting agency subsidiary Professional Indemnity Agency (PIA), based in Mount Kisco, N.Y., as president and chief executive officer.
He will succeed the current chief executive, Mark E. Rattner, who is leaving his current position to pursue personal investments, but will remain as chairman of PIA.
Moulton has been in the insurance industry since 1992, spending time with reinsurance broker E.W. Blanch in both the U.S. and the U.K.; co-founding Tobat Capital, a venture capital fund focusing in the financial services sector; and more recently serving as executive vice president of US Risk Insurance Group, an underwriting agency and wholesale broker based in Dallas.
Dallas-based Heartland Marketing Group welcomed Brian Simpson as its regional sales manager in Lee's Summit, Mo. Simpson will be responsible for executing HMG's growth campaign in Kansas, Missouri, Oklahoma and Arkansas.
HMG currently provides agents with access to multiple standard personal, commercial, farm & ranch and high value personal property carriers.
For more information about Heartland, please visit its Web site, www.hmg.com or e-mail Brian Simpson at bsimpson@hmg.com.
Aon Corporation announced the appointment of Dave Hartoch as president and CEO of Swett & Crawford. Hartoch had previously headed the company from 1997 to 2003.
Terry Winkler will continue to serve as chairman of Swett & Crawford. The company said Winkler and Hartoch, along with executive committee members Neal Aber-nathy, Bob Greenebaum, Ed Magliaro, Don Shorey and Terri Snell, will steer the firm as its future course is determined.
ACE USA, the U.S.-based retail operating division of The ACE Group of Companies, appointed David J. Brosnan as president, ACE Casualty Risk. Based in Philadelphia, Brosnan will lead the Casualty Risk operations of ACE USA.
ACE Casualty Risk specializes in lead umbrella and excess liability, custom casualty, public entity, and environmental liability insurance products. Brosnan will be responsible for implementing and executing the strategic business plans for ACE Casualty Risk.
Brosnan brings nearly two decades of experience in the insurance industry to his new position. Most recently he was senior vice president and zone underwriting officer for Chubb Commercial Insurance, where he was responsible for managing all of Chubb's commercial insurance business in Europe. Prior to this role, he held various other managerial positions at The Chubb Corporation.

Marsh & McLennan Companies Inc.announced the resignation of Peter F. Garvey, co-president of Marsh, the company's risk and insurance services subsidiary.
William A. Malloy, co-president of Marsh, will become its president. Philip V. Moyles, Jr., executive vice president of Marsh, will become head of Marsh's North America Region and will continue his responsibilities as head of Global Client Development.
NationsBuilders Insurance Services promoted Andrea M. Griggs to senior vice president, business and product development.
In her new role Griggs will oversee the development of NBIS's eight home builder association endorsements, including all future endorsements. NBIS reported that over the past three years, Griggs has been instrumental in the profitable growth and success of the company by contributing to the implementation of a variety of programs designed to service the general liability needs of contractors nationwide.
NBIS is the manager of ProBuilders Specialty Insurance Company, a risk retention group, with offices in Atlanta, Ga., and Palm Desert, Calif.
The Main Street America Groupappointed Robert Restrepo Jr. as its senior vice president, insurance operations. Restrepo will oversee the company's commercial lines, personal lines, claims, information technology and staff marketing functions.
Most recently, Restrepo was president and chief executive officer of Allmerica Property and Casualty Companies, a subsidiary of Allmerica Financial Corporation, an insurance and financial services holding company based in Worcester, Mass.
While at Allmerica, Restrepo was responsible for day-to-day management of a $2.3 billion business that included a portfolio of insurance products distributed through more than 2,000 agents and brokers in 22 states. He also led the restructuring of Allmerica's regional property and casualty carriers Citizens Insurance and Hanover Insurance.
Lenore Marema joined The Surety Association of America as vice president of government affairs. Marema's primary duties at the SAA will be to represent the common interests of surety and fidelity bond writers in federal, state and local legislative and regulatory matters.
She has 25 years of experience in the property/casualty industry, largely with the Alliance of American Insurers. Most recently, she was vice president of legal and regulatory affairs, and was the organization's primary liaison to the National Association of Insurance Commissioners, among other state and national organizations.
Prior to her work at the Alliance, Marema was an assistant state attorney general in Illinois.
Was this article valuable?
Here are more articles you may enjoy.
From This Issue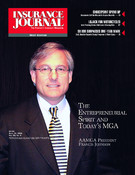 AAMGA Issue