Joseph Savarese
NBIS appointed Joseph Savarese senior vice president of underwriting. He will focus on the company's Eastern and Western U.S. presence working to establish a network of insurance agents and brokers in the contractors insurance market. Savarese began his career as a reinsurance broker with Guy Carpenter and Co. Inc., based in New York. Over the last 20 years he held a variety of positions of increasing responsibility within the insurance industry, most recently vice president and manager of the primary casualty department for Investors Underwriting Managers in Red Bank, N.J.

Brian Doyle
Meanwhile, Jerry O'Neill was named NBIS' vice president of underwriting. O'Neill comes to NBIS with over 20 years of insurance experience in the brokerage and reinsurance community. Having held multiple senior level executive positions over the years with such companies as AIG, Transamerica Insurance Group and Markel, O'Neill will be a significant part of the NBIS team, implementing a variety of programs designed by NBIS to service the general liability needs of contractors throughout the U.S. O'Neill will also work to develop a network of insurance agents and brokers in the contractors' insurance market in the Eastern U.S.

Mario Spina
Zurich named Brian Doyle vice president of international program business. He will focus on driving continued growth in the large corporate market. Doyle began his insurance career at AIG in New York in 1972. He returns to Zurich from Royal and SunAlliance, where he managed the U.S. risk management and global property practice unit. He previously worked for Zurich as a global regional manager for the Midwest region.

Stephen Warfel
The PMA Insurance Group, a property/casualty insurer specializing in workers' compensation, promoted Mario Spina to vice president of direct sales. Spina is responsible for managing PMA Direct, a sales and service team that interacts directly with PMA clients in Pennsylvania and Delaware. He started his career with PMA in 1988. In 1995, he joined PMA's direct team as an account executive and later held several management roles. He was previously PMA's assistant vice president of direct sales.

Michael MacAulay
PMA also promoted Stephen Warfel to senior vice president and chief actuary. Warfel is responsible for PMA's actuarial function, including loss reserving and support for pricing, product development, strategic planning, statistical reporting and financial support. He was previously PMA's vice president and chief actuary. He joined the company in 1991 and has served in positions of increasing responsibility in PMA's actuarial department.
Meanwhile, PMA Management Corp., a provider of claims and other risk management services to individual and group self-insured programs and a service affiliate of the PMA Insurance Group, promoted Michael MacAulay to vice president of sales. MacAulay is primarily responsible for leading all sales and marketing activities for PMA Management Corp.'s third-party administration and unbundled services in 12 states. Previously, he was assistant vice president of sales, a position he held since 2000. He began his career at PMA in 1987 in the claims area and advanced into positions of increasing responsibility at both The PMA Insurance Group and PMA Management Corp.
Aon Corp.appointed Dave Hartoch president and CEO of Swett & Crawford. Hartoch previously headed the company from 1997 to 2003. Terry Winkler will continue to serve as chairman of Swett & Crawford. He and Hartoch, along with executive committee members Neal Abernathy, Bob Greenebaum, Ed Magliaro, Don Shorey and Terri Snell, will steer the firm as its future course is determined.
Columbus, Ohio-based Assurex Globalappointed three senior executives to its leadership team. Kelli Black was executive vice president and chief operating officer, Curt Anderson was named vice president of finance, and Paul Chidester joined the firm as vice president of business development.
Black will be responsible for the management of Assurex Global operations. With Assurex Global since 1987, she previously held the position of vice president, partner services, responsible for a broad range of services, including the planning of professional development meetings. Additionally, Black played an integral role in the strategic development of Assurex Global's new Web site and was responsible for public relations and advertising.
Anderson joins the company with extensive insurance industry and public accounting experience previously holding executive positions with Evergreen National Indemnity, GreatLand Insurance and Auto Club Insurance. He also served as a senior auditor with Hausser & Taylor, CPAs, and KPMG Peat Marwick.
Chidester held an executive position with Frank Gates Service Co. prior to joining Assurex, where he was responsible for maintaining relationships with insurance carriers and brokers, and expanding workers' compensation, liability, and property insurance programs statewide and nationally. He also worked with Carl Craig Co. and Merrill Lynch Pierce Fenner & Smith and was the founder and principal of NAPTA.
Tim Madden joined GE Insurance Solutions company as leader of its North American brokered reinsurance business. Madden will report to Ken Brandt, business leader of North America and Asia Pacific reinsurance, and will be headquartered in the company's Barrington, Ill. office. Most recently, Madden served as managing partner at IAT Reinsurance Group, where played a key role in the startup of the business and was largely responsible for managing the firm's relationships with reinsurance brokers. Prior to helping found IAT Re, Madden held numerous management, underwriting and marketing positions at companies such as Mutual Reinsurance Bureau, CNA Reinsurance, Kemper Reinsurance and Allstate Reinsurance.
Independently owned insurance broker Lockton Cos. appointed Mark Blockerto the post of vice president of employee benefits consultants. Blocker will focus on client development and will be based in Chicago. Blocker has held many client service and management positions including account executive, chief marketing officer, and chairman. Most recently he was the director of national accounts of a national insurance brokerage firm.
Chicago-based wholesaler Noodle Specialty Brokers promoted Tom Neeley to senior vice president, and John Dunn to vice president. Neeley served as product manager of NSB's directors and officers underwriting unit and will now be responsible for underwriting, new product development and technology implementation, managing NSB's Bloomfield, Conn., office. He was previously a regional manager for Chubb Specialty Insurance. Dunn was a senior underwriter in NSB's directors and officers program and will now underwrite issues such as regulatory and compliance. Prior to NSB, he was an underwriter at Chubb Specialty Insurance and Executive Risk.
The American Insurance Association appointed Tammy Velasquezas vice president and director of state affairs. In her new role, Velasquez will work with AIA's six regional teams to manage the association's state-level resources and design strategies on key public policy issues. Headquartered in Washington, D.C., the company has state government affairs professionals located in Albany, Atlanta, Austin, Chicago and Sacramento.
Prior to joining, Velasquez worked in the District of Columbia's Department of Insurance and Securities Regulation as chief of staff and director of public affairs, chief consumer advocate for the attorney general's office in Louisiana, director of state government affairs for the National Association of Professional Insurance Agents and director of public affairs for the Alliance of American Insurers.
Kibble and Prentice hired industry veteran Dave Ross as vice president of the employee benefits and private client groups. Ross spent his entire 20-plus year career with Great West Life in a range of positions in sales and management, including several years as general manager of the company's Pacific Northwest division. Most recently he had overall responsibility for national account management.
The ACE Group of Cos. appointed Ronald Rintala global operations officer. In this new position, Rintala will be responsible for a range of operational areas including work flow management and general business efficiencies across the organization, real estate and facilities, disaster planning and business continuity, workflow management and purchasing in both the U.S. and internationally.
Prior to joining ACE, Rintala served as senior vice president, customer marketing and retention, for Chase Home Finance, a division of JPMorgan Chase. Earlier in his career Rintala held a variety of operations, risk management and strategy positions with American Express in the United Kingdom and in New York, and several finance and process integration positions with U.S. Bancorp.
South Coast Suretypromoted Monica Stone to senior bond specialist. In her new position she will be responsible for producing the large variety of license, permit and misc. surety bonds provided by South Coast Surety.
Was this article valuable?
Here are more articles you may enjoy.
From This Issue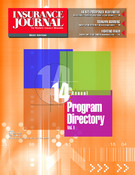 2005 Program Directory, Vol. I