Lisa Lounsbury
The Independent Insurance Agents & Brokers of New York Inc. recently announced the promotion of six staff members at the statewide trade association, effective Aug.1.

Scott Poore
IIABNY, which represents more than 18,000 employees at 1,900 agency locations, named Lisa Lounsbury as president of IAAC, the association's for-profit subsidiary. Lounsbury joined IIABNY in 1999. She will also continue to serve the suburban Syracuse-based organization as senior vice president.

Gary Grindle
Kathy Glahn, a 24-year IIABNY employee, was promoted to assistant vice president of information systems. Most recently, Glahn served as director of information systems.

Ellen Uhl
Tim Dodge, IIABNY's director of research, will continue in that role and add management responsibilities for the association's external communications directed at the insurance industry, business and consumer media. Dodge joined IIABNY in 2002.

Peggy Cullen
Former marketing and sales representatives Brian Bixby and Chris Taylor were also elevated. Bixby, who joined IIABNY in 2001, is the association's newly appointed membership sales and service manager. Taylor was promoted to marketing manager after serving two years as marketing and employee benefit specialist.
Receptionist Katie Palmer, an IIABNY employee since November 2004, has added office coordinator to her job responsibilities. Palmer will provide administrative support for the staff.
InsurBanc, the financial services provider to the independent agency community headquartered in Farmington, Conn., announced that Scott Poore has joined the company as vice president of sales and business development. Poore will direct the sales and business development efforts of the bank, focusing on the needs of independent agencies and developing relationships with carriers across the country.
Prior to joining InsurBanc, Poore served as managing partner of a private investment fund. He also spent four years at Assurance Partners Bank in Carmel, Ind., where he managed the bank's investor companies and their marketing and sales staffs. Before that time, Poore worked at several agencies including and was also marketing manager for the Westfield Companies in Michigan.
Colemont Insurance Brokers has added Gary Grindle as an assistant vice president in the Hartford, Conn., office, where he will be responsible for the marketing and production of commercial casualty accounts.
Prior to joining Colemont, Grindle was regional underwriting manager for Guilford Specialty Group. In this position he was responsible for establishing an Eastern region middle market division with a focus on general liability and packages. Prior to Guilford, he was assistant vice president for Citigroup's foreign insurance subsidiary, CitiInsurance, where he was responsible for developing the bank's foreign insurance cross sales capabilities. He also worked at Travelers Insurance Company in various underwriting positions.
SAN Group, a network of independent insurance agencies in the Northeast, has acquired WIN Satellite Agency Network territory, covering the counties of Allegany, Cattaraugus, Chautauqua, Erie, Niagara in western New York. SAN Group also announced that Ellen Uhl will become the regional vice president for western New York. She will be responsible for membership services, development, and insurance company relations for SAN Group Agencies in western New York. Uhl has more than 20 years of insurance industry experience. Her previous positions include commercial lines underwriter and manager for a western New York company and agency producer and commercial lines manager at various agencies. The SAN Group has been operating in 18 eastern New York counties since 1999. SAN Group has 180 member agencies in the Northeast.
Peggy Cullen has joined Aon Corporation as the company's environmental practice as director of syndication. Cullen will oversee Aon's nationwide team of environmental risk experts. Cullen will be based in New York. Prior to joining Aon, Cullen spent 20 years at American International Group, where she was most recently senior vice president of AIG Environmental, heading up mergers and acquisitions. Before that, she managed the worldwide environmental insurance program for American International Underwriters and was profit center manager for commercial accounts within AIG Environmental.
Venture Insurance Programs in West Chester, Pa., has appointed Kim McLaughlin as director of human resources. Previously, she was the human resources manager at EB Games/Electronics Boutique in West Chester, Pa., and staff human resources consultant for Allstate Insurance Company in Wayne, Pa.
The McIntyre Group, based in Cherry Hill, N.J., has added Michael A. Geiger to its account management team. Geiger will be responsible for overseeing large clients with complex risk exposures at The McIntyre Group. Prior to his current assignment, he was a vice president for Commerce Insurance Services, the property and casualty division of Commerce Bank.
Atlanta-based Insurance Specialty Group LLC has formed a new branch office in New York for Pacific Wholesale Insurance Brokers LLC, which will operate in the state of New York as Pacific Pro Intermediaries. The New York office will operate as a wholesale insurance broker specializing in the placement of property and casualty business in the excess and surplus lines marketplace. Gary D. Ricker Jr. has been named president for the Northeast region. Ricker comes to ISG from Swett & Crawford where he worked for 12 years and held various senior positions, most recently senior vice president.
Integro Ltd announced that John Zaffino, John Green, and Gregory Sinnott recently joined the firm in the New York City headquarters. Zaffino, formerly with Willis Group, will become the casualty practice leader. Green, who has held several New York office, regional, and national management positions over a 14-year tenure at Willis, was most recently national excess casualty practice leader. He will serve as an executive broker and an excess casualty practice resource. Sinnott, who joined Willis Group in 1991, was a large account client advocate serving a variety of companies including complex energy and chemical risks. He will be an executive broker for Integro.
Was this article valuable?
Here are more articles you may enjoy.
From This Issue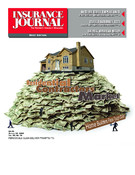 Contractors Issue