Ron Brown
The Independent Insurance Agents of Tarrant County recently installed Ron Brown as president of the association. The installation of Brown and other IIATC officers took place at the association's annual installation banquet at Rolling Hills Country Club in Arlington, Texas.

Carla Paschal
Brown started his insurance career in Houston in 1970 with CNA. He moved to Arlington in 1977 to work with Alexander & Alexander. He associated with the Arlington agency of Rose & Mince in 1982 and purchased that agency in 1998.

Ann Forkner
Brown has served as Board president of the Arlington YMCA; three years as district chairman for the Boy Scouts; two years on Fort Worth area BSA Executive Board; and scout leader for Troop 545 since 1986.

Neal Abernathy
Other officers installed were: D'Ann Woodle, VP-Programs; Cade Hanson, VP-Membership, Ben Nitsch, Secretary-Treasurer; Diane Madson, Jim Dickenson, Derwood Phillips, Aaron Compton and Ricky Locke as directors. Julie Murphy will continue to serve as the executive director.

Mike Schofield
Dallas-based McQueary Henry Bowles Troy L.L.P., announced the appointments of Carla Paschal and Ann Forkner as vice presidents of marketing in the firm's Dallas office.
Paschal joins MHBT with 30 years' experience in large property placements, as well as very focused account management and placement expertise in specialized areas including real estate, hospitality and higher education. At MHBT, she is not only a key member of the marketing team, but Paschal also serves as an account executive/producer responsible for producing and managing risk management clients.
Prior to joining MHBT, Paschal was an account executive/producer in the real estate practice group at Marsh USA, where she managed general delivery of all Marsh services to several large real estate clients. Preceding her position at Marsh, Paschal spent 23 years as an account executive/producer at Alexander & Alexander/Aon, where she managed production and service delivery to risk management clients and received national awards six times for outstanding client service.
Forkner joins MHBT with extensive experience as a property and casualty insurance broker, working in both retail and wholesale arenas. She has provided creative risk retention and risk transfer solutions for clients with premiums ranging up to $8 million, as well as coordinating marketing efforts on their behalf.
Most recently, Forkner spent 12 years as vice president for Marsh USA, marketing multi-line coverages. Prior to that position, she worked for 10 years as an assistant vice president and broker for Maclean, Oddy & Associates, where she handled both property and casualty lines with a focus on property, general liability and umbrella placements.
MHBT is based in Dallas and also has offices in Fort Worth and Austin, Texas.
Swett & Crawford, headquartered in Los Angeles, Calif., appointed Neal Abernathy as chief operating officer, effective immediately. Abernathy will serve in the position of COO until the retirement of CEO David Hartoch at the end of 2006.
Abernathy's most recent responsibility has been as the regional manager of Swett and Crawford's Southeast marketing territory. He also has been instrumental in planning for the broker's expected divestiture from its parent company, Chicago-based Aon Corporation.
Phoenix, Ariz.-based MiniCo Inc. announced an executive reorganization. Three new presidents will lead MiniCo's core divisions: Mike Schofield, insurance; Denise Nunez, publishing; and Marilyn Leslie, Asian operations.
The three newly named presidents are longstanding MiniCo executives. Schofield has been vice president, insurance, since 2000; Nunez, director of publishing since 1999; and Marilyn Leslie, vice president and chief financial officer since 1998.
Five senior management executives complete the MiniCo executive management team. Madie Lewis is director of human resources; Darin Barney is director of marketing and communications; and David Good has been named director of information technology, replacing Ron Barwick. Barwick remains on the executive management team as vice president, insurance technology.
Quadrant Insurance Managers, an Ohio-based MGA, has named William Baycroft to head up its newly opened office in Houston, Texas–Quadrant Insurance Services LLC.
Baycroft has worked in commercial property, casualty, and employee benefits since 1969 and is a recognized insurance professional in Texas. He has earned numerous honors and serves as a member of several organizations.
The Texas expansion follows the January 2004 management buyout of the Quadrant Operations. The company said two new contractor programs will be based out of the Texas office: Residential Home Builders/Contractors GL and Roofing Contractors GL.
Quadrant Insurance Services will operate as a surplus lines firm for Texas and surrounding states.
M. J. Kelly Company, an insurance brokerage firm headquartered in Springfield, Mo., appointed Beverly Johnson to manage its new branch office in Fort Worth, Texas.
Johnson has over 27 years' experience in the excess and surplus lines market. She can be reached at (817) 2376-3300 – phone; (817) 237-3307 – fax; and e-mail at bjohnson@mjkelly.com.
The new office provides quality excess and surplus lines products to retail agents throughout Texas. As one of 10 branch offices in nine states, M. J. Kelly of Texas will utilize national purchasing power to offer independent agents diverse products at competitive rates, the company said.
Was this article valuable?
Here are more articles you may enjoy.
From This Issue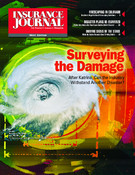 Latin Agents Issue