Chris Williams
Saylor & Hill has announced that three senior associates of the firm have been promoted to principal. Tim Sweeney, Kevin Mirsky and Chris Williams, each of whom has worked for the firm for more than a decade, will become owners of Saylor & Hill.

Tim Sweeney
Williams will continue to work with clients in developing employee benefits programs, while Mirsky and Sweeney will remain focused on creating comprehensive risk management and insurance programs in the property/casualty area. Williams has more than 17 years of experience in the employee benefits industry and joined Saylor & Hill in 1993 after working for Travelers Insurance Company as a sales director for the Western Region.

Kevin Mirsky
Mirsky has more than 14 years of experience in the insurance industry and joined Saylor & Hill in 1991.

Neal Abernathy
Sweeney has 19 years of experience as a property/casualty insurance executive and joined Saylor & Hill in 1994 after working for Liberty Mutual Insurance and Fireman's Fund.

Kelly Bray
Swett & Crawford, headquartered in Los Angeles, has appointed Neal Abernathy as chief operating officer. Abernathy will serve in the position of COO until the retirement of CEO David Hartoch at the end of 2006. Abernathy's most recent responsibility has been as the regional manager of the broker's Southeast marketing territory. He also has been instrumental in planning for Swett's expected divestiture from its parent company, Chicago-based Aon Corporation.
Kellie Bray will head the federal affairs efforts of The National Association of Professional Insurance Agents as assistant vice president of federal affairs. Bray now will expand her involvement with PIA's day-to-day lobbying efforts and contacts on Capitol Hill, the annual PIA National Federal Legislative Summit and will continue to be lead liaison with the association's Federal Affairs Committee and the Professional Insurance Agents Political Action Committee. She began her career at PIA in March 2001. Prior to that, she served as the PAC Coordinator for the National Cattlemen's Beef Association from 1999 to 2001.
Christine Mead, Seattle-based Safeco's CFO and president of Service, Technology and Finance, has announced plans to retire effective Dec. 31, 2005. Mead joined Safeco in January 2002 as senior vice president and chief financial officer. Since then, Mead and her team have strengthened Safeco's balance sheet and capital structure, repositioned the investment portfolio and implemented robust risk management processes. She also led improvements in the transparency, quality and speed of Safeco's financial reporting and instituted key performance metrics across the company. Upon her retirement, Mead plans to circle the globe via bicycle, traveling from London, England, to Sydney, Australia.
Barbara Zimmerman has joined IBA West as membership benefits vice president. She will be responsible for the research, development and management of IBA West Service Corporation programs and management of Membership Services. She began her career in insurance in 1981 with Liberty Mutual. In 1984, Zimmerman worked at Pacific Compensation as claims supervisor. In 1987 she joined Fremont Compensation Insurance Company as a claims investigator, and later worked in customer service and marketing. Zimmerman most recently served as marketing manager for Southern California at Employers Insurance Group.
Willis Group Holdings has announced that Jack Yelverton has joined Willis' San Diego, California operations as managing partner (CEO). In this new capacity, Yelverton is charged with identifying potential acquisitions, recruiting talented individuals and assisting producers with organic growth tools for the company's San Diego operations. Yelverton, previously Industry Practices Leader at Marsh, brings 15 years of insurance experience, specifically within the technology and life sciences industries to Willis. While at Marsh, he was responsible for leading the Industry Practices Group for their North American Western Region focusing his risk practice expertise within the Directors and Officers Liability and general Property and Casualty areas. As a management professional, Yelverton's extensive experience includes the Executive Risk, Client Advisory and Business Development sectors.
The PMI Group Inc. of Walnut Creek, Calif. has promoted Earl "Rusty" Sealy to vice president and assistant general counsel. Sealy joined PMI in 2002 and manages litigation for PMI providing legal support for PMI's U.S. national underwriting group and regulatory, governance and compliance matters for PMI's European companies and the CMG companies. Additionally, Sealy provides legal support relating to PMI's external insurers, as well as training for PMI employees. Prior to joining PMI, Sealy worked in London with the International Private Client Group of Merrill Lynch, managing litigation and compliance matters in Europe. Prior to that, he was a partner in the Austin law firm of Long, Burner, Parks & Sealy, P.C.
Pasadena-based Western Security Surplus Insurance Brokers Inc.has announced the new hire of insurance veteran Judy Tucker as associate broker. Tucker will work out of the Los Alamitos, Calif., office and will be responsible for supporting the brokerage team. Her duties will include customer service, marketing and account management. She was an underwriter/rater at Allstate/Northbrook Insurance in Brea, Calif., worked in Commercial Rating at General Accident Insurance in Tustin, Calif., and was Territory Operations Manager for many years at Zurich, North America. Most recently, Tucker worked at Worldwide Facilities in Los Angeles.
Los Angeles-based Mullin Consulting Inc. has announced the appointment of Matthew B. as senior managing consultant. In this position, Cobb is responsible for consulting with corporate clients on designing, implementing, funding and monitoring financial aspects of nonqualified executive benefit plans. Cobb brings to the firm a strong legal background, having worked as an attorney at law in business transactions, taxation, the formation of insurance companies and litigation. Prior to joining Mullin, Cobb was most recently with the law firm of Musick, Peeler & Garrett, in Los Angeles, handling business, insurance and complex litigation matters. Previous to this, he was an associate at Bonne, Bridges, Mueller, O'Keefe & Nichols, where he was involved in litigation, as well as transactional insurance practice, including formation, claims management and financing of insurance companies.
Santa Monica-based Greene Broillet & Wheeler LLP has announced that associate Scott H. Carr has become a partner with the firm. Carr represents clients in the areas of business litigation, legal malpractice, insurance bad faith, products liability and employment litigation. An accomplished plaintiff's trial attorney, Carr has handled numerous cases in diverse practice areas.
Adriana Marrero has joined the Irvine, California office of Superior Access Insurance Services Inc. as marketing representative. Marrero began her insurance career more than five years ago at Interstate Insurance Agency as a customer service representative. She also has worked at Legacy Insurance as an underwriter. At Superior Access, Marrero will use her varied experience to assist subscribers nationally.
Crawford & Company's Healthcare Management Services has announced that Jose Carmenatti has been named national account executive for the Southwest region of the United States. Carmenatti has more than 19 years of experience in the sales and workers' compensation insurance. Most recently, he was vice president of sales for Concentra Integrated Services in Orange, Calif.
John Shettle Jr. has taken over as president of Victor O. Schinnerer & Company. He came to Schinnerer with more than 20 years in senior management positions in the property/casualty and insurance-related services industry. Most recently, he served as chief executive officer of Tred Avon Capital Advisors Inc. and served on the board of directors of NYSE-listed insurance holding companies. Shettle previously held senior management positions at Securitas Capital, Swiss Reinsurance Company, Frederick and Maryland-based AVEMCO Corporation. His experience at AVEMCO included primary responsibility for the development of non-aviation specialty lines businesses including lender's single interest, short- term health, marine and other service-related businesses, through both acquisition and internal development.
Guy Carpenter & Company Inc., a global risk and reinsurance specialist and a part of the Marsh & McLennan Companies headquartered in New York, has appointed David Spiller as its new president, effective Jan. 1, 2006. Most recently, Spiller was CEO of Benfield Ltd. in London, chief executive of its International Division, and a member of its executive committee. Spiller was elected to the Lloyd's Insurance Broker's Committee in 1996 and chaired the Broker's Reinsurance Committee from 1997 to 1999. In addition, he has chaired the London Market Brokers' Committee since 2003. Spiller will be based in New York and be responsible for developing strategic plans for Guy Carpenter's global enterprise.
Was this article valuable?
Here are more articles you may enjoy.
From This Issue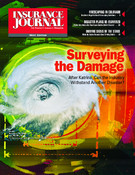 Latin Agents Issue