Leslie Mallonee
Seattle-based Physicians Insurance A Mutual Company has announced that Leslie Mallonee has been named senior vice president and chief information officer. Mallonee's history in information technology includes his re-cent executive roles with Employers Insurance Group and Fremont Compensation Insurance Group in California. Mallonee also has experience in banking and consulting.

Anita Bryant
Encino, Calif.-based NAS Insurance Services has appointed Anita Bryant as assistant vice president. She most recently served as underwriter for NAS' EPLI and tenant discrimination liability insurance coverages. Bryant has more than 10 years of experience in underwriting and marketing with NAS and other insurance organizations.

Tiffany Stewart
Tiffany Stewart has joined the property/casualty insurance division of Baldwin Resource Group. Stewart will work to improve daily business operations and processes in that division. Previously, Stewart worked at the Sienna Group, a private equity company in Seattle. She recently received her property casualty insurance license. She worked as an intern for Baldwin Resource Group in 2000.

Mike Reed
Michael B. Reed has been hired as marketing manager for Superior Access Insurance Services Inc. Reed began his insurance career in 1995 as a retail agent. He has worked for Douglas Insurance, as an associate broker at Driscoll Insurance and most recently at Colony West Insurance on the commercial lines side of the industry.

Scott Poore
InsurBanc, headquartered in Farmington, Conn., announced that Scott Poore joined the company as vice president of sales and business development. Poore will direct the sales and business development efforts of the bank, focusing on the needs of independent agencies and developing relationships with carriers across the country. Prior to joining InsurBanc, Poore served as managing partner of a private investment fund. He also spent four years as vice president, marketing and sales at Assurance Partners Bank in Carmel, Ind., where he managed the bank's investor companies and their marketing and sales staffs. Before that, Poore worked as a commercial account manager at several agencies including Ottawa Kent, Acordia and Irwin Union. He was also marketing manager for the Westfield Companies in Grand Rapids Mich.
Colo.-based Pinnacol Assurance announced that its board of directors has named Kenneth J. Ross as Pinnacol's new president and CEO. Ross will succeed Gary Pon, who recently announced his retirement after 20 years as Pinnacol's chief executive. Ross comes from the New York State Insurance Fund, where he spent 10 years in executive roles at NYSIF, the last five as the organization's executive director and CEO. Ross joined NYSIF in 1995 as deputy executive director and chief operating officer. In 2006, Ross will become president of the American Association of State Compensation Insurance Funds, the primary trade association for state-affiliated workers' comp insurers. Before joining NYSIF, Ross spent nine years as a defense attorney, specializing in commercial insurance and real estate litigation. Prior to that, he was director of operations for New York City's Criminal Justice Agency.
Former Senior Vice President Johannes (Johs) Worsoe, head of global markets, chairman and CEO of UnionBanc Investment Services LLC, and chairman and CEO of UBOC Insurance Inc., has been promoted to executive vice president for Los Angeles-based Union Bank of California, N.A. Worsoe, who has management of the bank's global foreign exchange, global derivatives, individual retirement accounts solutions and personal trust sales business activities, also heads the bank's wholly-owned investment brokerage subsidiary, UnionBanc Investment Services LLC. Last spring, Worsoe took on the additional role of head of UBOC Insurance Inc. Prior to joining Union Bank in March 2001, Worsoe spent six years at Imperial Bank in Los Angeles. From 1985-1991 Worsoe worked in various capital markets related positions in Denmark, Spain and California for the Scandinavian bank, Sydbank A/S and it's wholly-owned subsidiary, National Bank of Long Beach.
Seattle-based Safeco's board of directors has appointed Maria S. Eitel as director. She will serve on the board's Nominating/ Governance Committee and will stand for election at the company's annual meeting of shareholders in May 2006. Eitel is president of the Nike Foundation and corporate advisor to Nike Inc. From 1998 to 2004, she served as Nike Inc.'s vice president for Corporate Responsibility. Before joining Nike, Eitel was senior manager of Microsoft Corp.'s European Corporate Affairs Group. She previously held positions in public affairs, communications and media affairs at the Corporation for Public Broadcasting, MCI Communications Corp., and the White House during the administration of George H.W. Bush.
Salt Lake City-based Advantage Workers Compensation Insurance Company recently announced that Linda M. Feller has joined the company as CFO. Feller comes to the organization from Select Portfolio Servicing, a $200+ million national mortgage servicing company, where she was a vice president. Prior to that, Feller was controller at STSN, a telecommunications start-up and, before that, spent over 10 years with the American Stores Company, where she had many different assignments including internal audit, division financial manager and Director of Financial Reporting.
Lockton Companies, an independently-owned insurance broker, has appointed Thomas Denniston to the post of executive vice president in Lockton's San Francisco office. Denniston, with experience within the maritime industry, has worked in the Bay Area for 20 years. Most recently, he was managing director with a national insurance brokerage firm where he was responsible for the development and placement of Marine and Aviation Risk Management programs. Prior to his experience in the insurance industry, he was a maritime lawyer with a New York/New Jersey law firm. In his new position, Denniston will assume a leadership role in Lockton's Marine Practice, which is important to the company's operations in Northern California, as well as a role on Lockton San Francisco's Executive Committee.
Gray-Stone & Company Insurance recently announced that James Stone has joined the organization as underwriter/broker in the Thousand Oaks office. Stone comes to the organization with more than 25 years of insurance experience. He began his career at St. Paul Fire & Marine Ins. in 1976. Most of his underwriting experience has been in the California markets. He has worked at Robert Moreno and most recently at Suncoast General Insurance Agency as commercial underwriting manager. Stone will be responsible for new business development and will concentrate on general liability, workers' compensation, property, inland marine, commercial auto and professional liability.
All Risks, Ltd. announced that Dick Preston has joined them as a contract underwriter for their Phoenix office. Preston has more than 25 years of commercial insurance experience starting as a package/HPR underwriter with Wausau Insurance Company in Syracuse, N.Y. Preston has several years of nationwide MGA and wholesale insurance experience both in Arizona and Indiana, where he was with K & K Insurance Group as an account executive in its Motorsports department. He will be responsible for production and marketing to his assigned network of agents.
Woodruff-Sawyer & Co. announced that Stacy Lemoine has joined the firm as an account executive with its Southern California office. Lemoine will lead new business development activities and provide strategic risk management consultation for public, private and non-profit organizations, with an emphasis in the real estate development and construction industries. Lemoine's background includes 14 years of insurance industry and risk management consultation experience. Most recently, she was vice president of the Construction Division in USI's Irvine office (formerly known as Dodge, Warren & Peters), where she played a key role in business development. She has also held positions as a CIP Director with Lockton Companies in Irvine, and as a Risk Manager with Investment Concepts in Orange.
Aaron D. Margolis has joined Superior Access Insurance Services Inc. as marketing representative at the Irvine headquarters. Margolis began his insurance career in 2000 at Geico Direct in the sales/service department. He also gained experience working at a Farmers agency. He also served as a non-commissioned officer with the United States Marine Corps for four years. Margolis will be the point of contact for the retail agents and the CSRs doing business with SAIS. While he is responsible for all product lines, he will be concentrating on premium subscription enrollment and enhancements.
Valencia, Calif.-based QualCorp Inc.recently announced that the company has hired a new head of quality control, Jackie Ndiforchu as SR Quality Control Engineer. Ndiforchu was selected because of her extensive background in software development and quality control. To date, she has established two Windows 98, 2000, XP and NT4.0 test platforms that are being used to simulate each client's environment prior to the release of any new version of FormsPlus Enterprise.
John McCaffrey, former chairman of Frank B. Hall Consulting Co. and most recently head of market relations at Arthur J. Gallagher & Co, joined Integro, headquartered in New York, as a managing principal. McCaffrey, whose insurance career spans more than 40 years, also held executive positions at Aon and Willis.
The St. Paul Travelers Companies Inc. of Minnesota has promoted chief financial officer Jay Benet to the position of vice chairman and CFO. Benet joined Travelers Property Casualty as the chief financial officer in 2002 and continued serving when the company merged with St. Paul in 2004. Previously, he served 12 years in various executive positions with Citigroup and with Travelers Life & Annuity.
Paul Primavera joined Willis Group Holdings as senior vice president of claims management in its construction practice for their Hunt Valley, Md., operations. Prior to joining Willis, Primavera was vice president of construction claims for St. Paul Travelers. He has more than 17 years of claims experience in a variety of roles including claims adjustment, supervisory and management.
Was this article valuable?
Here are more articles you may enjoy.
From This Issue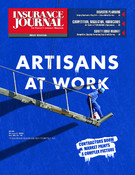 Artisan Contractors Issue