Vincent Liotta
Willis Group Holdings has appointed Vincent D. Liotta as executive vice president and production director of the Willis Re U.S. Specialty Practice. Earlier this year Willis Re merged its Global Marine, Aviation, Retro and London Market Non Marine businesses to form Willis Re Specialty. Liotta joins Leo Magrath, the newly appointed executive vice president and operations director, and they will jointly manage the New York Specialty area, reporting to Chris N. Clark, chief executive officer of Willis Re Specialty.

Bradley Hamburger
Liotta, formerly senior vice president of Global Marine, Energy, and Aviation for Arch Insurance Group (U.S.), is a seasoned veteran with 28 years of experience in marine, energy, aviation and aerospace underwriting and reinsurance broking. In this new capacity. In this new capacity, Liotta will lead the effort to heighten Willis Re's profile in the specialty marketplace, and also create additional production synergies with the Willis Re U.S. Property and Casualty Practice.

Elizabeth O'Donnell
Bradley Hamburger has joined Foa & Son, an insurance brokerage firm with offices in Manhattan and on Long Island, N.Y., as a senior vice president. Hamburger specializes in insurance placement and risk management for growing businesses and will help lead the company's business development and client services operations. Hamburger left the Halland Companies earlier this month, where he had been a vice president since 1991. Prior to joining Halland, he was an associate at Fischbein Badillo Wagner & Harding law firm in Manhattan.

Alfred Goxhaj
Elizabeth O'Donnell has joined Russell Bond & Co. as a broker specializing in the placement of large property and casualty accounts and business development operating from Syracuse N.Y. O'Donnell has more than 20 years of retail and wholesale excess and surplus insurance underwriting and management experience with firms in New York and North Carolina. Russell Bond & Co. Inc. is a regional excess and surplus insurance wholesaler and managing general agent based in Buffalo.

Michael Crowley
Alfred Goxhaj has been named assistant vice president of enterprise data for Harleysville Insurance.
In this position, he oversees all aspects of enterprise data repositories and analytics for the company. Before joining Harleysville, Goxhaj was associated with Decision Path Consulting in Gaithersburg, Md. He also has held positions at AT&T Wireless, Schering-Plough, NDC Health, Management Science Associates and Geotechnics.
Hilb Rogal & Hobbs Company, the insurance and risk management intermediary based in Richmond, Va., has appointed F. Michael Crowley to the position of president. In this role, Crowley will have overall responsibility for profit and loss, revenue growth, trading relationships and executive management of HRH's more than 120 retail insurance operations.
Crowley joined HRH as executive vice president and national director for property and casualty in 2004. Prior to joining HRH, Crowley was president and chief operating officer and ultimately vice chairman of Palmer & Cay Inc. During his 13-year tenure at Palmer & Cay, the company grew from a small regional firm to a top 20 U.S. brokerage company. His career began in 1974 with Johnson and Higgins, where he served in several senior management positions including senior vice president, Virginia operations.
Gencorp Insurance Group has added several Northeast agents to its agency network. Newest to the group are Northeast Insurance, with offices in Needham, Auburn and Falmouth, Mass; HG Financial, New York, N.Y.; Mansfield Insurance Agency, Westerly, R.I.; Karl Crowell Insurance, Plymouth, Mass.; C&S Insurance, Mansfield, Mass.; Sandpiper Insurance Agency, Hyannis, Mass.; Pike Insurance, Orleans, Mass.; Thomas Carroll Insurance, Auburn, Mass.; Amaral & Gallagher Insurance, Stoughton, Mass.; Degnan Insurance Agency, Lawrence, Mass.; and Employers Group Inc., in Fitchburg, Mass.
The Gencorp Insurance Network is an affiliation of independent agencies throughout New England and New York, making available to these agencies access to insurance and financial markets, products and services including account development strategies, sales, marketing, underwriting and claims support.
William Gallagher Associates in Boston has promoted three executives within its property and casualty group. Doug Bixby has been elevated to senior vice president and Janice Clifford and Kristen Martin to assistant vice presidents.
Bixby has more than 15 years experience in the insurance industry. He specializes in life sciences, high tech, private equity and venture capital. He joined WGA five years ago from AIG's Merger & Acquisitions and Management Liability practice areas.
Clifford has been with WGA for 13 years. She specializes in life sciences and biotechnology accounts.
Martin joined WGA in 2002 from Crum & Forester Insurance and has nearly 15 years of experience in the insurance industry. Within WGA's claims department, she works with large accounts, handling complicated workers' compensation claims.
William Gallagher Associates also announced that Robert Wynnehas joined its Boston office as senior vice president and leader for large casualty programs in the Risk Management Practice Group. He brings over 30 years of brokerage and underwriting experience to the firm in the area of large casualty accounts. Prior to joining WGA, Wynne was with Willis Group Holdings for 27 years.
The Council of Insurance Brokers of Greater New York will present its 2005 Man of the Year award to Richard Zick, president and chief executive officer of Utica First Insurance Co., at its 28th Annual Dinner Dance. The event will be held Nov. 18 in Brooklyn, N.Y.
Maryland's Injured Workers' Insurance Fund, the state's largest workers compensation writer, recently promoted Carmine D'Alessandro to director of legal services. He previously served as assistant director of legal services for the Towson-based insurer. D'Alessandro has been employed with IWIF since 1994.
Was this article valuable?
Here are more articles you may enjoy.
From This Issue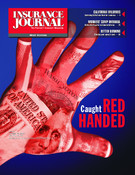 Financial Services