David Stevoff
Michael A. Moran has joined Insurance & Benefits Consultants of Sarasota, Fla., as president.

Angela Peterson
Moran's new responsibilities were announced after Florida Preferred Administrators Inc. entered into a purchase agreement to acquire certain IBC assets.

Stephen Douglas
Florida Preferred, a subsidiary of Meadowbrook Insurance Group Inc. of Southfield, Mich., announced the promotion as part of changes consistent with its goals to increase and diversify its fee and commission revenue. IBC's acquisition geographically expands agency operations and broadens product offerings in the health and benefits field.

Kelli Mitchell
Moran will have responsibility for the firm's management and sales operations. He will integrate his Sarasota-based Blue Water Insurance Group, an 11-month-old insurance and payroll services company, into IBC's operations.

Carolyn Gray
IBC is a Florida-based retail agency specializing in group and individual health insurance products and personal financial planning services. The services are offered by several highly-rated and financially secure insurance companies. IBC is one of the oldest Blue Cross Blue Shield general agencies in Florida, with more than 27 years experience doing business in Sarasota, Venice and Bradenton.
From 1994 to 196, Moran was a producer in the Meadowbrook Agency in Southfield, Mich. After leaving Meadowbrook, he founded two companies: The Rockmor Group (a Detroit-based P.E.O.) and Blue Water Insurance Group (an insurance and payroll services firm).
Gail Sanders has been promoted to vice president of Policy Services of the South Carolina Farm Bureau Mutual Insurance Company in Cayce, S.C.
For 11 years, Sanders has worked as the company's Policy Services manager. SCFBMIC was organized in 1955 and has grown to become South Carolina's largest domestic property and casualty insurer.
Sanders has been a steady influence on Policy Services, where her leadership has allowed the firm to implement changes that have continually improved the level of customer service to policyholders. Policy Services issues and delivers automobile and homeowners insurance policies sold by the company's 250 exclusive, licensed insurance producers. Sanders will also oversee the company's call center.
Candace Curls was named president of the Society of Insurance Research during the SIR Annual Conference in St. Petersburg, Fla. Other officials inaugurated during the event included Howard Goldstein, secretary and Gary L. Ford, treasurer.
Also during SIR's general session, the annual president's award was presented to Ken Marshall, state affairs information manager of the National Association of Mutual Insurance Companies, and Curls. Jeff Nagel, with Allstate Insurance, received SIR's Corporate Member Award.
Curls is the director of practice management at the Claritis Financial Services Group in Los Angeles. Goldstein is with Goldstein Consultants of Glenn Ellyn, Ill.
R. Nick Page has been appointed vice president of Clinical Services and Business Development by PMSI-Tmesys of Tampa, Fla., a wholly owned subsidiary of AmerisourceBergen Corp., the largest pharmaceutical services company in the United States dedicated solely to the pharmaceutical supply chain. PMSI-Tmesys is a leading provider of pharmacy, medical services and supplies to the workers' compensation and catastrophic care industries.
Page brings to the position a diversified, nine-year career in clinical services with five years of Pharmacy Benefit Management experience. Before joining PMSI-Tmesys, Page was the director of pharmacy operations for PBM Plus Inc. in Milford, Ohio.
Previously he served as director of pharmacy services with OhioHealth Corporation.
Kevin Womack has been promoted from software developer to senior operations analyst with CHOICE Medical Management Services LLC of Tampa, Fla., a specialty health care management organization focusing on workers' compensation and disability management services.
Womack has a strong background in information technology, health care and workers' compensation. He conducts medical and indemnity claims data analysis and monitors results to improve outcomes for CHOICE's operations.
Womack's role will be to identify areas in which CHOICE can help clients drive lower total-loss costs.
He previously was an information technology consultant for Accenture, and a senior accounting systems analyst for USF Physicians Group, including its Provider Management Organization.
Womack's role will be to identify areas in which CHOICE can help clients drive lower total-loss costs.
Jennifer Rutecky has been named senior vice president, Healthcare Practice principal, by Willis Group Holdings Ltd. in New York. She will be based in Atlanta.
Rutecky will be responsible for regional growth and development strategies to increase the market share of National Healthcare Practices. Her focus will include new business development strategies, developing sales and marketing tools to support production efforts and developing client advocacy and consulting platforms for the practice.
Rutecky has a strong background in risk finance consulting and alternative risk transfer strategies utilizing captives and RRGs for clients and prospects.
She was formerly with Palmer & Cay/Wachovia Insurance Services, where she served as the National Healthcare Practice co-lead. While at Palmer & Cay she was responsible for new business development, strategic planning, increasing visibility, overseeing carrier relations and developing standard operating processes and templates.
Prior to joining Palmer & Cay, Rutecky was a senior consultant with PricewaterhouseCoopers, providing expertise relative to the financial implications of risk.
Was this article valuable?
Here are more articles you may enjoy.
From This Issue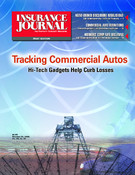 Commercial Auto