Rick Padula has been appointed president and chief operating officer of the Glover-Padula Insurance Agency in East Greenwich, R.I., which is one of Gencorp Insurance Group's business units. Padula has been with Glover-Padula for 25 years, most recently serving as executive vice president. He specializes in commercial lines insurance. Robert Padula will remain as chairman and chief executive officer of Glover-Padula in addition to his role as president of Gencorp.
Todd Kisel has been promoted to assistant vice president in the commercial insurance division at TD Banknorth Insurance Agency Inc. As an account manager based in the North Conway, N.H. office, he will be responsible for commercial insurance sales to clients throughout Northern New England. Kisel joined TD Banknorth in 2001. He previously has served as a personal insurance sales unit leader and producer. TD Banknorth Insurance Agency, Inc. is a division of TD Banknorth, N.A., the banking subsidiary of TD Banknorth Inc.
Ann McKeown has been appointed director of the Massachusetts auto insurance underwriting for Safety Insurance in Boston, Mass. McKeown has 16 years of insurance experience, having joined Safety Insurance in 1989. She was promoted to underwriting services unit manager in 1996; in 2001, she became an underwriting unit manager overseeing voluntary agents.
David Grigg has been appointed senior vice president and national director for professional liability of Willis Group Holdings. Grigg will be based in New York City, where he will focus on the construction practice and lead Willis' efforts for architects, engineers, design-builders and contractors. Grigg was formerly with Hub International.
Eric Dinallo has been named general counsel of Willis Group Holdings and will join Willis' Partners Group, the company's top management committee. Dinallo will be responsible for the legal, compliance, audit and corporate secretariat teams across the company. He takes over from William P. Bowden, Jr. who is retiring. Dinallo is a former managing director of regulatory affairs at Morgan Stanley and, prior to joining Morgan Stanley, served as the chief of the investment protection bureau of the New York Attorney General.
John Q. Doyle has been named president of American Home Assurance Co., senior vice president for domestic general insurance of American International Group, president and chief executive officer of National Union Fire Insurance Co. of Pittsburgh, Pa.
At the same time, Christopher A. Maleno, president of American Home's Excess Casualty Unit, has been named executive vice president and chief operating officer of American Home.
In addition to his current position as president of American Home, Doyle will assume responsibility for National Union, AIG's principal provider of management and professional liability products and services. He succeeds John W. Keogh, who has left the company to pursue another opportunity. Doyle joined National Union in 1986 and served in senior roles in the management and professional liability divisions.
Maleno was president of AIG Excess Casualty, a division of American Home. He previously held key underwriting and marketing positions within the Domestic Brokerage Group, including regional vice president for New York. He joined AIG in 1995.
Robert T. Williams, the man behind the wheel of Progressive Insurance's independent agency brand, Drive Insurance, has resigned. The Progressive Corp. in Mayfield, Ohio announced on April 7th that it had accepted Williams' resignation, effective May 17. Williams is president of the company's Drive Group of Insurance Co.'s.
Progressive Insurance declined to comment on why Williams had submitted his resignation. Williams took over at Drive when it was launched in late 2004 as part of Progressive Insurance Co.'s move to re-brand its independent agency segment by giving it a new name and a big advertising push. At the time, Williams said the goal was to increase the amount of business the company got from independent agents, even though it was already the largest writer of independent agency auto business.
Arthur Taibe has joined the Iroquois Group as a regional manager to serve member agents in New York. Taibe has held various sales, marketing and branch management positions in New York. The Iroquois Group is a network of property and casualty insurance agencies based in Olean, N.Y.
Nick Bozzi has been appointed senior vice president and regional client relationship manager for the Northeast by New York, N.Y.-based Mercator Risk Services, a new independent wholesale insurance broker. Bozzi has 20 years of client executive and business development expertise in the property and casualty commercial insurance industry. Bozzi will be responsible for all aspects of Northeast sales development. Prior to joining Mercator, Bozzi was the Northeast marketing executive for Crum & Forster, where he was responsible for retail client relationships.
Daniel J. Leonelli has been named regional vice president for commercial lines of the Hanover Insurance Group Inc.'s for the company's Connecticut and Rhode Island territory. Leonelli will work out of the Glastonbury, Conn. office, reporting directly to Michael Christiansen, regional president. Leonelli joins The Hanover from Peerless Insurance, where he was regional vice president for southern New England. Since 1992, Leonelli, worked at Peerless in senior level positions in its Syracuse, N.Y. office.
W. Flagg Pavlik has joined Jimcor Agencies' brokerage division in Pittsburgh, Pa. Pavlik has the experience to tackle Jimcor Select Risk division's property, inland marine and ocean marine accounts. The excess and surplus lines wholesaler has seven offices in New York, New Jersey, Pennsylvania and Massachusetts.
From This Issue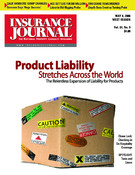 Product Liability Stretches Across the World