Willis Group Holdings, the global insurance broker, has named Don Bailey as chief operating officer of the company's North American business unit. In this capacity, Bailey will work with Mario Vitale, CEO of Willis North America in managing the organization's day-to-day operational and sales activities while also developing and implementing the unit's long term strategy. Bailey will be charged with executing on the overall strategy in North America and building an organizational platform that will drive future performance.
Bailey joined Willis in March 2003 to lead the company's North American Executive Risks Practice. He and his colleagues made significant strides in growing the practice in terms of size, capabilities and revenue. Willis appointed Bailey as CEO of Willis Risk Solutions North America, the company's large account practice, in March 2004.
Bailey joined Willis from Allianz Insurance Company in Chicago where he served as senior vice president and chief underwriting officer of the Specialty Risk Lines. Prior to his tenure with Allianz, he served with Aon and Marsh in various capacities. His insurance career started with Chubb & Son in 1987, when he joined the firm as an underwriter in the Financial Institutions Department.
Tom Coughlin, who has been chief operating officer of Willis Risk Solutions North America since 2000, will succeed Bailey as CEO of the practice.
Avreco has hired Rose Giunta as assistant vice president at Avreco's Chicago location. Giunta has worked in the insurance industry in property casualty for more than 25 years and joins the firm from Kelly & Elliott. She can be reached at (312) 529-1528 (direct), (312) 896-5831 (fax), or rgiunta@avreco.com.
Swett & Crawford, based in Woodland Hills, Calif., announced that Neal Abernathy, its president and chief operating officer, has been named CEO.
Abernathy has been president and COO since August 2005. He will also retain the president's title.
In addition, the firm will move its corporate offices from Woodland Hills, Calif., to Atlanta, Ga., to streamline and consolidate administrative and support functions under Abernathy's leadership.
Aon Consulting, the human capital and management consulting organization of Chicago-based Aon Corp., has announced that Jason Krumwiede has been named vice president in the Employment and Recruitment Process Outsourcing practice. He will be based in Chicago.
Krumwiede has more than 13 years of experience in staffing, recruitment process outsourcing and human resources software. He comes to Aon from Workstream Inc., where he was vice president and central region sales manager. In his new role, Krumwiede will be responsible for leading employment and recruitment process outsourcing sales and business development in the United States.
Brooke Corp., in Overland Park, Kan., announced that Shawn Lowry and Mitch Holthus were elected to its board of directors at its annual shareholders meeting.
Lowry has served as president and a director of Brooke Franchise Corp. since 2003. He added more than 350 locations to Brooke's franchise network since he became president. Lowry joined Brooke in 1996 as a corporate sales representative and then became Missouri state manager, regional manager and national sales manager before assuming his current role. The board also elected him as a Brooke Corp. vice president.
Holthus has been a director of Brooke Franchise Corp., the company's franchise subsidiary, since 2003.
Brooke Credit Corp. originates loans to insurance agencies and businesses that sell insurance or financial services, including Brooke franchisees. Its Brooke Brokerage Corp. subsidiary brokers hard-to-place insurance and brokers loans for general insurance agencies.
John Hancock Financial Network has named Clifford L. Dugan Jr. managing partner of its St. Louis agency. The St. Louis Dugan General Agency at 73 Clarkson Rd., Ellisville, Mo., has satellite offices in Clayton and Charleston.
Dugan is responsible for increasing John Hancock Financial Network's insurance and investment product sales in the St. Louis marketplace. The firm will assist families and businesses on products and services for estate planning, retirement, college savings, business succession, life and long-term care insurance and investment diversification.
Previously, Dugan held management positions within the firm and oversaw sales and developed agency sales representatives. Prior to that, he had worked in the field as an agent.
Conseco Inc., in Carmel, Ind., announced that Daniel G. Walseth has been named executive vice president, general counsel and secretary.
Walseth was formerly with Thrivent Financial For Lutherans, where he most recently served as vice president and senior associate general counsel. His prior experience includes senior vice president, general counsel and corporate secretary at Lutheran Brotherhood Fraternal Benefit Society and senior positions at ITT Hartford Life Insurance Companies and ITT Life Insurance Corp.
Joe Zack, vice president at The Phoenix Group, in Ripon, Wis., has received the 2005 Agency Peak Performance EXchange New Producer of the Year award. The award recognizes new business generated by The Phoenix Group in 2005, compared to similar-sized insurance agencies.
Founded in 1958 by Sam Holmes, The Phoenix Group specializes in various types of commercial, personal, life and health coverages and has nurtured relationships with many insurance carriers for more than 37 years, according to a written release issued by the Group.
Zack, who joined The Phoenix Group in 1997, has a personal client retention rate of approximately 95 percent and specializes in tailoring health, vision and life insurance coverages to client needs.
The Phoenix Group, with offices in Ripon, Clintonville, Fond du Lac, Oconto Falls and Wautoma, is a subsidiary of Hometown Bancorp.
From This Issue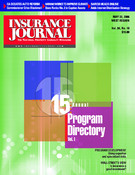 2006 Program Directory, Vol. I