Loveland, Ohio-based Indiana Insurance, a member of the Liberty Mutual Group, announced that Michael D. Connell has been appointed president and CEO.
Connell's appointment coincides with the retirement of Richard T. Bell, president and CEO for the past seven years. Bell's 38-year career includes seven years as president and CEO of Peerless Insurance, also a member of Liberty Mutual Group.
Connell was most recently president and CEO of Hawkeye-Security Insurance, also a member of Liberty Mutual Group. Prior to that, he served as regional vice president with Indiana Insurance from 1996 to 2004.
David L. Lancaster takes over for Connell as president and CEO Des Moines, Iowa-based Hawkeye-Security Insurance, also a member of the Liberty Mutual Group.
Previously, Lancaster was Wausau Insurance senior vice president and general manager for Wausau's Signature Division, responsible for profitability, underwriting, and middle market customers. He was with Wausau for 22-years.
Dallas-based U.S. Risk Insurance Group has named April Moeser as assistant vice president of marketing.
Moeser will assume the primary strategic and operational responsibilities for the sales and marketing support activities of U.S. Risk Insurance Group. She will lead company efforts to identify, launch and manage products and services in emerging and established industry markets.
Moeser has more than 20 years of insurance industry experience in marketing, underwriting and claims. Prior to joining U.S. Risk, Moeser was assistant vice president corporate accounts of American International Group in Dallas.
Farmington Hills, Mich.-based national specialty insurance wholesaler, underwriter and managing general agent Burns & Wilcox, has hired Paul Anderson as director of branch development.
Anderson has more than 20 years of insurance experience. He will lead and manage production in coverage areas such as environmental, professional liability, management liability and umbrella coverages. Anderson has targeted professional liability as a key growth product for the company. He will direct the development and growth of 38 offices in 26 states.
Previously, Anderson was director of commercial risk brokerage for Aon Risk Services. He also previously held positions as assistant vice president/marketing with Willis Corroon Corp. in Southfield, Mich., and Amerisure Co.'s in Farmington Hills.
Zurich has named Mike Foley as chief operating officer for Zurich North America Commercial. Foley, who takes over on Sept. 1, 2006, will be responsible for all operating matters related to Zurich North America Commercial's businesses and functions, including delivering its earnings goals, managing the divisional performance and the operating review processes, and driving strategic initiatives. Foley will also have responsibility for the Strategic Initiatives Group, Corporate Operations, Business Engineering and IT.
Foley will succeed Frank Patalano, who will retire on Dec. 31, 2006.
Foley currently heads McKinsey & Company's North American Property/Casualty insurance practice. He joined McKinsey in 1996 and was named a principal in 2001.
Indianapolis-based Insurance broker WSIB Insurance Agency LLC has announced the promotions of Laura Hauenstein as president and H. Don DeWitt as executive vice president of its WSIB Motorsports Division.
Since 2003, Hauenstein was WSIB's executive vice president. She has more than 17 years of insurance industry experience in sales, marketing, and underwriting.
DeWitt has more than 20 years experience in insurance underwriting, sales and marketing, including formerly serving as the program leader for the K&K Motorsports Division, owned by Aon Corp.
Arrowhead General Insurance Agency Inc., San Diego, has elected Ronda Sedillo CFO, responsible for increased interactions and duties with carriers and the investment community.
With Arrowhead five years, Sedillo was most recently director of finance, responsible for preparing internal and external financial statements, daily cash management and overseeing the monthly financial reporting to division presidents, insurance carriers and the shareholders.
Erie Insurance Group recently appointed Jeffrey D. Stempora senior vice president, division officer and chief information officer. He will guide the company's information technology strategy and execution.
Previously, Stempora was with Citigroup in Warren, N.J., where he served as executive vice president, chief strategist, chief information officer and global head of strategy and strategic initiatives for technology infrastructure.
Mercator Risk Services, an independent wholesale insurance broker, has added Vincent Gatto to its Northeast property practice as a vice president.
Prior to joining Mercator, Gatto worked for eight years as a retail and wholesale broker, most recently at CRC Insurance Services, handling surplus lines and property placements. He has also worked as a wholesale broker for NIP Specialty Brokerage. Prior to wholesale, he began his insurance career on the national retailer side.
Colemont Insurance Brokers' Fresno, Calif. office has added Jeanie Boggs to its team of casualty brokers as assistant vice president.
Boggs has 30 years of experience in insurance, with 16 of those years in wholesale surplus lines underwriting. She is now ready to expand her book of business into brokering casualty accounts. She will be starting a new Fresno production team. Boggs previously worked for six years with Colemont's Fresno underwriting team.
Stephen Brooks has joined Jimcor Agencies as a professional liability specialist in its Holliston, Mass. office. He has 15 years of insurance experience. Brooks will be working in the Jimcor Select Risk Brokerage division.
From This Issue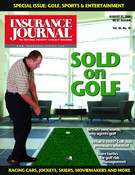 Sold on Golf