Zurich has named Mario P. Vitale as chief executive officer of its Global Corporate North America operations, effective Oct. 2. In this newly created position, Vitale will report to Geoff Riddell, CEO of Zurich Global Corporate, and will work closely with Axel P. Lehmann, CEO of Zurich North America Commercial, to ensure optimal alignment of the two business divisions. Pete Connors, president of Zurich Global Energy and John Kelm, president of Global Corporate Customer, North America, will report to Vitale, who will be based in New York City.
Vitale joins Zurich from Willis Group Holdings Limited, where he most recently was chief executive officer – Willis North America. In addition, he was executive partner and a member of the office of the chairman of Willis Group Holdings Limited.
Integro announced that William T. Sullivan has joined the firm's Chicago office as a managing principal. He comes to Integro from Aon, where he served as a relationship manager. Sullivan has more than 30 years of experience in brokerage and risk management, according to the Integro statement. He also has a strong background in placing excess casualty insurance in the London, European and Bermuda markets.
Integro, through its subsidiaries, is an insurance brokerage and risk management firm that serves the complex insurance and risk management needs of large or complex institutional risks. Integro is headquartered in New York and has offices in San Francisco, Chicago, Atlanta, Bermuda, Toronto, Montreal, London and Stockholm.
Commissioner Sandy Praeger announced that Kansas Insurance Department employee, Stacy L. Rinehart, has been awarded the Accredited Insurance Examiner (AIE) designation from the insurance Regulatory Examiners Society. An AIE designation represents individuals who have completed an extensive curriculum of insurance-related courses and study.
Rinehart has also been awarded the title Associate, Life Management Institute through LOMA. This is a new level of recognition for insurance and financial services professionals. The new associate-level designation recognizes achievement of industry professionals who have completed five courses within the Fellow, Life Management Institute program curriculum. Courses in the program provide a comprehensive business education in the context of the life and health insurance industry. Rinehart has worked with the department as a market conduct analyst since 2004.
Bolivar, Mo.-based Duck Creek Technologies, a provider of software and services, announced that Lee Fogle has joined the company as senior vice president, Field Operations. In his new role, Fogle will be responsible for Duck Creek's sales and services functions. According to the company statement, Fogle has more than 20 years of experience, most recently serving for five years as president of the Claims Outcome Advisor division of ISO and corporate vice president of ISO. Earlier in his career, he held sales and management positions with Policy Management Systems Corp. from 1983 until 2001, when he oversaw the divesture of PMSC's COA product from Computer Sciences Corp. to ISO prompted by CSC's acquisition of PMSC in 2000.
Ernie Csiszar, the Romania-born former South Carolina regulator who two years ago was named president and chief executive officer of the then newly-formed Property Casualty Insurers Association of America, resigned from PCI effective Sept. 30.
Csiszar indicated that he plans to pursue a variety of personal and professional interests following his tenure at PCI. "I've been a lawyer, a college professor, an investment banker, an insurance company CEO, a regulator and a trade association executive," said Csiszar. "And I've enjoyed each phase of my career. I plan to continue to work within the financial and insurance industries. I leave PCI in the capable hands of a strong board and a talented staff."
PCI has launched a national search for a new CEO. In the meantime, June Holmes, PCI's current chief operating officer, will serve as the interim CEO.
PCI was created in January 2004 through the merger of the Alliance of American Insurers and the National Association of Independent Insurers.
Markel American Insurance Co. (MAIC) announced that Nancy Kane has been named to the newly created position of business development director and Kevin Behringer is a new marketing associate.
Kane most recently she served as senior marketing manager for Brady Corp., where she was responsible for industry and product marketing. She has also held positions as vice president of marketing for TCF National Bank Wisconsin and director of marketing for Mueller & Sebena, S.C.
Behringer comes from Environmental Management Consulting in Lake Mills, Wis., where he headed the marketing department. Prior experience includes a position at Minacs, also located in Wisconsin, working on direct mailings and account management. In his new role, he will be working on managing MAIC's public Web site and online experience and he will head up the public relations effort.
Fort Dearborn Life Insurance Co., a subsidiary of Health Care Service Corp., a Mutual Legal Reserve Company, announced the appointment of Simon Camaj as director of customer service and support for the employee benefits business. As customer service and support director, Camaj will be responsible for Fort Dearborn Life's multiple contact centers, regional service representatives and key account management.
Camaj has more than ten years of insurance and was most recently an operations manager at Aetna (formerly Broadspire Services), where he managed both short- and long-term disability claim operations. Previously, he served as claims examiner at Chubb Services Corp.
To submit information for People, email smckenna@insurancejournal.com.
From This Issue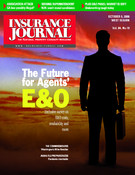 The Future for Agents\' E & O