North Dakota Insurance Commissioner Jim Poolman said he will resign Sept. 1 to begin an insurance consulting business. Poolman was elected insurance commissioner in 2000. He is a former Grand Forks state representative and bank trust officer. His position is up for re-election in 2008.
In the past, Poolman has been approached to run for other offices, including the U.S. House. He has been mentioned as a potential candidate for governor should the incumbent, GOP Gov. John Hoeven, decline to seek re-election next year.
Rupert Hall, president of Golden Bear Management Corp., announced that Roland E. Lorenzo joined the firm as vice president of their new Illinois office.
Lorenzo will oversee the new Naperville, Ill., location and will be responsible for writing primary general liability, excess liability, and property on a national basis.
Lorenzo has over 20 years experience in the insurance industry, most recently as the senior casualty consultant for CNA Insurance – E&S Division. At CNA, Lorenzo was responsible for developing, underwriting and managing a multimillion-dollar book of casualty business.
Stockon, Calif.-based Golden Bear Management Corp. works exclusively with wholesale brokers.
Colemont Insurance Brokers of Illinois promoted Todd Brejcha to the position of assistant vice president broker at Colemont — Chicago.
Brejcha began his career at Colemont more than eight years ago as an assistant broker. Before that, he served as a marketing/customer service representative for a smaller retail agent.
Colemont Insurance Brokers identifies itself as one of the top five largest specialty insurance brokers in the U. S.
Mark Thompson was recently appointed to assistant vice president, Product Operations, for Encompass Insurance, the independent insurance agency division of the Allstate Group.
Most recently Thompson served as assistant vice president of Product Operations, Non-Standard for Allstate Insurance. In that role, he sponsored the design and development of Allstate Blue, a non-standard auto product that serves drivers with a history of accidents or speeding tickets; owners of luxury, high-performance cars; and individuals with no insurance history.
Brown Smith Wallace promoted Julie Abel to senior accountant in the Insurance Services Group.
Abel joined Brown Smith Wallace in 2006 as a staff accountant in the insurance and reinsurance services group. In the short time she has been with the firm, she has developed an in–depth understanding of the insurance industry and has created strong professional relationships with clients and co-workers.
Brown Smith Wallace identifies itself as the second-largest locally owned independent full-service CPA and business consulting firm in Missouri.
USF Insurance Co. promoted Ken Rice to director of underwriting. Rice joined USF in July 2006 as underwriting manager, a role he held until his promotion.
Previously, Rice was a relationship manager at AON Corp., based in Southfield, Mich.
USF Insurance Co., based in Farmington, Mich., is a property and casualty insurance company that serves niche program and excess and surplus markets.
Chicago, Ill.-based Geo. F. Brown & Sons Inc. appointed Brian J. Murphy as vice president, Brokerage Operations.
Prior to joining Geo. F. Brown & Sons, he served as director of Business Development for the Horton Group. His work experience includes various underwriting, program development, marketing and distribution management roles at CNA and Zurich.
Aon Corp. announced that Michael S. Flanagan has been named managing director within the Aon Technology Group and Michael C. Lamprecht has been named senior vice president within the Aon Financial Services Group.
Both the Aon Technology Group and the Aon Financial Services Group are a part of Aon Risk Services.
A 15-year industry veteran, Flanagan came to Aon from Arthur J. Gallagher, where he served as managing director of Gallagher Cyber Risk Services.
Lamprecht is a ten-year industry veteran and previously served as the national practice leader for eInsurance and CyberRisk Services at Gallagher.
In their new roles at Aon, Flanagan and Lamprecht will develop risk management solutions for companies with technology, media, privacy, and intellectual property exposures.
Both will be based in Chicago.
Columbus, Ohio-based State Automobile Mutual Insurance Co. announced that Alison Coolbirth has been elected to its board of directors.
Coolbirth of Bloomfield, Conn. is the principal of A&B Enterprises, a firm offering management consulting services to insurance firms, software start-ups, and institutions of higher education.
During a 30-year career with Aetna Life & Casualty, Coolbirth held senior management positions including senior vice president of small/select accounts, CEO and managing director of Aetna Reinsurance in London, and CEO of the Aetna Life & Casualty Foundation.
Citizens Insurance Company of America, part of The Hanover Insurance Group Inc., announced that David N. Jeffery has been named regional vice president for personal lines for the company's Michigan territory.
Jeffery will work out of the Citizen Insurance headquarters in Howell, Mich.
He joins Citizens Insurance and The Hanover from Safeco Insurance Co., where he served as sales director for the company's Midwest region.
To submit information for "People," e-mail smckenna@insurancejournal.com.
From This Issue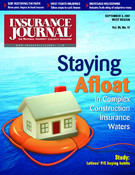 Contractors; Special Events; Digital Product Guide