The Progressive Corp. in Mayfield, Ohio, is consolidating management of its two distribution channels for personal lines.
Since 2000, Progressive's personal lines segment has been organized into two businesses — the agency business and the direct business. The company said it will continue to price products based on how they are distributed to reflect the channel cost structure, but it is combining the operations of the two businesses into a single personal lines organization, consolidating the product research and development and product management functions.
The new personal lines organization will be led by John Sauerland, currently president of the direct business group.
John Barbagallo, currently the agency group president, will become commercial lines group president, assuming responsibility for the commercial auto business and professional liability business. He will continue to manage the company's agent relationships and field sales organizations.
Earlier this year, Brian Silva, currently the commercial auto group president, advised CEO and President Glenn Renwick of his intention to retire in mid-2008. After helping with the transition, Silva will shift his focus to several of the company's key projects until his retirement date.
Columbus, Ohio-based State Automobile Mutual Insurance Co. recently announced that Lewis Center resident Rubesh Jacobs has been elected assistant vice president by the board of directors.
Jacobs recently joined State Auto as planning director after serving as a consultant at Diamond Management and Technology consultants in Chicago. From 2000 to 2006, he served in a number of capacities with Nationwide, including vice president and chief operating officer of BlueSpark LLC; strategy and innovation officer of Nationwide Strategic Investments; IT process and governance director for Nationwide Corporate; and global IT manager for Nationwide Global holdings.
Appleton, Wis.-based SECURA Insurance recently named Jenny Haas as its new director for Research and Development. Previously, she served the company as commercial lines manager for Training and Product Development.
In her new role, Haas will lead a team of professionals to focus on product development, enhancing market research capabilities and improving efficiency.
Prior to joining SECURA, Haas worked for Jewelers Mutual as both director of Commercial Lines Marketing and Agency Operations manager. Before her employment with Jewelers Mutual, Haas held several positions within the Commercial Underwriting Department for Integrity Mutual Insurance.
Ohio-based the Hylant Group named Frank "Skip" Treco as president of Indianapolis operations, which include Hylant's Carmel and Bloomington, Ind., offices. In his role, Treco will be responsible for the overall management, direction and performance of the two offices.
Treco will also focus on further expansion in large accounts and middle market segments in the greater Indianapolis area while continuing to grow the employee benefits and personal lines departments.
Treco brings 25 years of experience from the insurance industry. Prior to joining Hylant, he was the head of office for Marsh in Indianapolis and Marsh's Western Michigan operations and was named managing director in 1999.
Zurich has named William "Bill" Blake as regional executive for its southwest region. Blake will be based in Zurich North America Commercial's Glendale, Calif., office. He will be responsible for Arizona, Southern California, Colorado, Southern Nevada, New Mexico and Wyoming.
Blake has 18 years of insurance experience. He joined Zurich in 1997 as a senior account executive. In his career with Zurich, he took on increasing responsibilities across the Northeast, Mid-Atlantic, Northwest and Southwest regions for Zurich's construction business,
Willis Group Holdings, the global insurance broker, announced the appointments of Jackie Lantry and Rick Storms to vice president of the Employee Benefits Practice for Willis' operations in Minneapolis.
In their new roles, Lantry and Storms will both manage and expand the practice.
Lantry, a client advocate for Willis, has a background that includes sales for PHP (now Medica) and Group Health Inc. (now Healthpartners), followed by several years of human resources experience in the Minneapolis law firm of Dorsey & Whitney, and ING.
Storms is also a client advocate for Willis. Storms worked for nearly 20 years at ING where he worked in a sales and management capacity on health and welfare plans, retirement plans, and international benefits. Most recently, he was a senior associate for Mercer in Minneapolis.
The National Association of Professional Surplus Lines Offices elected officers and directors for the trade association's 2007-2008 term.
The new officers are: President – Mary Ellen Rozzell, Continental/Marmorstein & Malone, Paramus, N.J.; Vice President – John F. Wood III, Specialty Risk Associates Inc., Shreveport, La.; Secretary – Dale H. Pilkington, Colony Insurance Company, Richmond, Va.; and Treasurer – Marshall P. Kath, Colemont Brokerage Group Inc., Dallas, Texas.
Kevin T. Westrope, Westrope, Kansas City, Mo., will serve a new three-year term on the board. Steven R. Gross, Metro Insurance Services Inc.; Marshall P. Kath, Colemont Brokerage Group Inc.; Tom Mulligan, Western World Insurance Group; and Gary Tiepelman, Scottsdale Insurance Co., were renominated for three-year terms.
To submit information for People e-mail smckenna@insurancejournal.com
From This Issue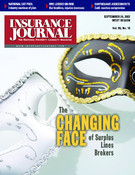 Salute to Surplus Lines Brokers/NAPSLO; Personal Lines Markets; Product Liability