McQueary Henry Bowles Troy hired Jimmy Balagia as senior vice president in the firm's property and casualty group in Austin.
Balagia has 30 years of experience as a property and casualty broker/consultant and outsourced risk manager. Prior to joining MHBT, he served for eight years with Frost Insurance Agency Inc.
He is active with many professional and community organizations, including serving as president of the Independent Insurance Agents of Austin, a six-year board member of West Austin Youth Association and a member of the Headliners Club. Additionally, Balagia was a past board president of the Austin Arthritis Foundation, a past board member of the Austin Country Club and a member of the Leadership Austin class of 1987. He also has received the Certified Insurance Counselor designation.
The Louisiana Workers' Compensation Corporation hired Joseph Erickson as business unit manager for its middle market accounts team and Vernon Willis Jr. as business unit manager for its large accounts team.
Erickson previously has held several leadership positions with CNA Insurance Company, where he was employed for 15 years, including branch president and chief underwriting officer. He also worked most recently on the agency/brokerage side of the business as agency chief operating officer and commercial insurance manager.
Willis is a native of Texas and has more than 33 years of commercial underwriting experience. He was previously casualty executive for the southeast region of Royal & SunAlliance in Charlotte, N.C.
Dallas-based U.S. Risk Underwriters named Lorna Greenwood as program manager. In this position, Greenwood will create, launch and promote new commercial programs and products, as well as design and manage procedures for the programs. She will also offer marketing assistance to carriers of existing programs, including actuarial data collection and reporting.
Greenwood has a decade of underwriting, marketing and sales experience in commercial lines, including experience as an underwriter for U.S. Risk Underwriters.
Most recently, she was manager at Worldwide Risk Services, where she was responsible for commercial lines business and life, accident and health, as well as marketing, underwriting and process design for direct retail and wholesale. Prior to that, she was underwriter for Fairmont Specialty Group Inc., where she handled general liability, automobile, property, crime and workers' compensation for a wide variety of commercial accounts.
Burns & Wilcox promoted Marcus Bouler to commercial lines underwriter at its Houston office.
Most recently, Bouler was an assistant and renewal underwriter. He joined Burns & Wilcox in 2004 as a participant in the company's underwriting trainee program held at its New Orleans office. Bouler transferred to the company's Houston office in 2005.
Willis Group Holdings appointed Nigel Brunning as senior vice president and regional partner for Willis of Louisiana Inc. His responsibilities include acting as branch management of Willis' operations in Louisiana, while expanding the existing client base in both marine and non-marine industries. He will also assist the other Willis offices in the Gulf Region in the development of new business.
Brunning brings 32 years of experience to the position. He has worked within the Willis Specialties Group in London since he joined the company in 2004. He worked principally in the marine industry sector and other specialty areas such as construction, property and general casualty.
The first 15 years of his career were in the non-marine property and casualty business, including seven years working in New York and Atlanta. He began his insurance career with a Lloyd's broker and worked exclusively with U.S. non-marine property and casualty clients.
Kyle McDaniel joined Dallas National Insurance Co. as marketing manager. In this capacity, he will work with independent agents representing the company across most of the nation.
McDaniel formerly was an analyst and client services representative for commercial real estate firms in Newport Beach, Calif., as well as in Dallas and Austin, Texas.
Dallas National is licensed to write property casualty insurance in 35 states and the District of Columbia.
West Chester, Pa.-based Venture Insurance Programs named Joseph Dolce as executive vice president and Mary Teter as senior vice president of underwriting of Venture's National Accounts Division.
As executive vice president, Dolce will oversee Venture's National Accounts Division, which offers alternatives for larger accounts, primarily golf management companies, resort properties and other large hospitality risks that have national presence or require significant risk management services. This division gives qualified accounts access to alternative risk financing structures such as large deductibles or captives and specialized risk management services.
Dolce has more than 25 years of experience in the insurance industry and has been instrumental in all aspects of alternative risk financing, reinsurance treaties and package lines development for Venture. He began his career with Venture in 1993 as director of underwriting and most recently served as executive vice president of underwriting.
As senior vice president of underwriting, Teter will be responsible for underwriting and reviewing new submissions, negotiating with carriers, overseeing implementation of risk management programs for each account, and providing service and support to brokers.
Teter has 20 years of insurance industry experience and joined Venture in 1993, most recently serving as senior underwriter for the Preferred Club Program.
To submit information for "People" e-mail sjones@insurancejournal.com.
From This Issue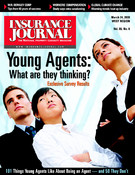 Salute to Independent Agents; Errors & Omissions; Energy/Oil & Gas