Agency Specialty Product Network, a unit of Aon Corp., has named five new regional vice presidents.
Rob Romano will head the Northeast Region, which comprises Connecticut, Maine, Massachusetts, New Hampshire, Rhode Island, Vermont, New York City and Long Island. Romano brings 21 years of insurance industry experience to his position. He joins ASPN from Midwest Employers Casualty Co.
Ken Chappell is the new vice president for the Mid-Atlantic Region that includes Delaware, Maryland, New Jersey, New York (excluding N.Y. City and Long Island), Northern Virginia, Pennsylvania and Washington, D.C. Chappell joins ASPN from the Irwin Siegel Agency where he served as associate vice president, marketing for the past nine years. Prior to that time, he was national accounts manager, Blue Cross/Blue Shield, for managed care products.
Paul Granata will head the Southwest Region, which includes Arizona, New Mexico, Southern California, Southern Nevada and El Paso, Texas. Granata joins ASPN after 11 years at Great American Insurance Group. He served most recently as regional marketing manager of Great American, and prior to that, he was southwestern regional manager for AIG.
Kim Wells will head the West Central Region, which includes Central and Northern California, Hawaii and Northern Nevada. She joins the firm from Victor O. Schinnerer & Co.
Connie Adams will head the Mid-Central Region, which covers Iowa, Kansas, Missouri, Nebraska and Oklahoma. Adams has spent over 30 years in the insurance and finance industries.
XL Capital Ltd. has named Michael S. McGavick as its next chief executive officer. He joins XL on May 1, succeeding Brian M. O'Hara, XL's CEO for the last 13 years, who announced in October 2007 that he would retire from the position by mid-2008. McGavick's appointment is subject to immigration approval from the Government of Bermuda.
He served as president and CEO of the Seattle-based Safeco Corp. from January 2001 to December 2005. Prior to joining Safeco, McGavick spent six years with the Chicago-based CNA Financial Corp., where he held various senior executive positions before becoming president and chief operating officer of the company's largest commercial insurance operating unit. He also served for two years as director of the American Insurance Association's Superfund Improvement Project in Washington D.C. Most recently McGavick ran unsuccessfully in Washington for a seat in the U.S. Senate.
The Professional Insurance Agents of Connecticut elected new officers at its annual meeting last month. The new officers are President Michael F. Keating of West Hartford, president of Michael J. Keating Agency Inc. in West Hartford; President-elect James Goodman of Shelton, president of Goodman Insurance Inc. in Shelton; Vice president Howard Olderman of Milford, president of The Olderman and Hallihan Agency Inc. in Ansonia; Vice president James Berliner of Danbury, managing member of Berliner Fitelson Insurance LLC and president of Berliner-Gelfand & Co. Inc., both in Bridgeport; Treasurer Timothy Russell of Sandy Hook, senior member of The Russell Agency in Southport and Secretary Brian Schmitt Sr. of Shelton, president of Curtiss, Crandon & Moffette Inc. in Trumbull.
The Progressive Corp. has named Larry Bloomenkranz as chief marketing officer. Bloomenkranz joins Progressive from United Parcel Service, which he joined in 1989 as international advertising manager. He later became director of International Brand Communications before assuming the position of vice president of Brand Management, Advertising and Sponsorships. In that role, he was responsible for global brand strategy, identity and advertising, as well as enterprise-wide sponsorships and events.
New York-based Valiant Insurance Group Inc. has hired James E. Bradley as vice president in charge of Valiant's Lawyer's Professional Liability Insurance program for small-size firms.
Bradley, who will be based in Albany, formerly served as vice president with Aon Affinity Insurance Services in Latham, N.Y. During his career, he's also held a variety of positions at JLT Services Corp., A.W. Lawrence Group, Marsh & McLennan Inc., Alexander & Alexander Inc. and Wausau Insurance Company.
Two others have joined Valiant to support Bradley: Diane Nordby, who joins Valiant as assistant vice president and underwriter, and Rachel Austin who joins as assistant underwriter.
Nordby has been a professional liability underwriter at Aon Affinity Insurance Services and JLT Services Corp. for nearly 20 years, and has xperience building books of specialty E&O business, Valiant said.
Austin has more than nine years of experience in the property casualty program insurance arena, most recently at Aon Affinity Insurance Services.
Scott McClure has joined Amity Insurance Agency Inc. in Quincy, Mass. as a commercial property and liability consultant. McClure will develop new business focusing on commercial property, including apartments, condominiums and office buildings. The agency specializes in insurance for the legal community, commercial/habitational real estate owners, charter schools and the hospitality industry.
Robert Courtemanche has been named chief executive officer of ACE Private Risk Services.
Courtemanche, based in Madison, N.J., will direct the overall growth and profitability of ACE's personal insurance lines, including ACE Recreational Marine and Private Risk Services, which provides specialty coverage for affluent individuals and families.
In addition to his North American responsibilities, Courtemanche will partner with the ACE Overseas General leadership team in leading ACE's expansion into the high-net-worth businesses across the globe.
Courtemanche has more than 20 years of personal lines insurance industry experience, with a special focus on affluent clients. He joins ACE from Fireman's Fund, where he served as president of its Personal Insurance business. He previously served as senior vice president of American International Group's Private Client group, where he helped establish that business segment.
From This Issue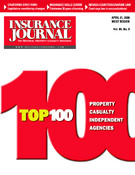 Top 100 Retail Agencies; Medical Professional Liability; Top Performing P/C Insurers: 1Q