Novato, Calif.-based Fireman's Fund Insurance Co. named Michael LaRocco president and CEO. He will report to Chuck Kavitsky, president and CEO of Allianz of America, parent of Fireman's Fund, and will also serve on the International Executive Committee of Allianz SE.
LaRocco has nearly 30 years of experience. He last served as president and chief operating officer of Seattle-based Safeco. Prior to Safeco, LaRocco spent eight years at Geico Corp. in senior management roles, including regional vice president with responsibility for the $1.2 billion Northeast region. His background also includes tenures at Superior Insurance and Progressive Corp.
The Governing Board of the California Earthquake Authority hired Glenn A. Pomeroy as CEO. Pomeroy has experience in public service positions, including former commissioner of insurance of North Dakota. In addition, Pomeroy has served as North Dakota securities commissioner, assistant attorney general and three terms in the North Dakota House of Representatives.
Pomeroy served in the National Association of Insurance Commissioners (NAIC), leading the organization as president in 1998.
The California Earthquake Authority is a publicly managed, largely privately funded organization that provides catastrophic residential earthquake insurance.
Wal-Mart Stores President and CEO Eduardo Castro-Wright and Tupelo Capital Management CEO Lulu C. Wang were named to the board of directors of New York-based MetLife Inc.
MetLife CEO and Chairman Robert Henrikson said Castro-Wright's experience in Latin America and Asia, and Wang's work in financial services would aid the company in its expansion outside of the United States.
Castro-Wright joined Wal-Mart in 2001 and worked in Mexico through 2005, first as president and later as CEO of Wal-Mart de Mexico. He then joined Wal-Mart in the United States as chief operating officer of the Wal-Mart Stores division in early 2005 and was promoted to his current role later that year. He has also previously served in leadership positions at Honeywell International Inc. and Nabsico.
Wang founded New York-based investment management firm Tupelo Capital Management in 1997 and has been engaged in professional money management since 1972. Prior to founding Tupelo, she was a director and executive vice president of Jennison Associates Capital Corp.
Aon Corp. named Chad Karasaki managing director of the Aon Construction Services Group. Karasaki, who will also serve as chairman and CEO of the Aon Honolulu office, is the latest in a series of hires by Aon Construction Services Group to strengthen its growing presence in Hawaii.
Karasaki joins Aon from Marsh, where he had worked for 22 years. He was most recently head of Marsh's Hawaii office and was responsible for managing many of the company's largest construction, development, hospitality and retail clients. He has more than 20 years of construction risk management experience and has worked in the Hawaii market for almost his entire career. As managing director, he will use his access to this market and his understanding of owner and contractor controlled programs, hurricane and typhoon-related claims and construction defect cases to the benefit of the Honolulu construction practice.
Atlanta-based Beecher Carlson appointed Toni Johnson senior vice president in its national construction and real estate practice. Johnson will spearhead the expansion of the Northern California construction, real estate and national affordable housing business. She will also be responsible for managing clients within the construction practice in Northern California. She will be based in San Francisco.
Johnson has provided insurance, risk management, claims and consulting services to Fortune 500 companies, investment funds and private companies throughout the United States. Prior to joining Beecher Carlson, Johnson worked for Marsh in San Francisco.
Burns & Wilcox named Marcia Wable a commercial lines underwriter in the company's Fresno, Calif., office. Wable will work to help grow the company's excess and surplus business.
Most recently, Wable was an underwriter at Colemont Insurance Brokers. Prior to that position, she was a relationship specialist at Aon and was responsible for assisting clients in the agricultural and food industry sectors. She has more than 30 years of experience in the insurance industry.
Robin Hamilton joined San Diego-based Cavignac & Associates as an account manager to oversee the firm's construction-related accounts.
Hamilton has 21 years of industry experience. Previously she spent seven years as an account manager for John Burnham Insurance Services, a division of Union Bank Insurance Services in San Diego. Prior to that, Hamilton spent 10 years as a customer service representative and account manager at Barney & Barney, and four years as a customer service representative at Parker Insurance Services.
Frank Brass, James Cuneo and Deidra Lowe were appointed to California's Workers' Compensation Appeals Board.
Brass has served as a WCAB commissioner since 2001. He has more than 40 years of experience as an attorney specializing in workers' comp law.
Cuneo has served as a commissioner for WCAB since 2001. From 1984 to 2001, he was president of Cuneo Black Ward & Missler, specializing in worker's comp law.
Lowe has served since 1985 as an associate attorney and partner with Hanna, Brophy, MacLean, McAleer & Jensen, a law firm specializing in workers' comp defense.
San Francisco-based Jansen & Hastings, a managing general agency serving the residential construction and health care industries, appointed Bob Brian senior vice president.
Brian will lead the San Francisco office to provide service for West Coast wholesale clients. He will focus on specialized residential construction programs and products.
Brian, who has 30 years of experience in the insurance industry, joins from Zurich North America where he was regional underwriting manager.
Michael Ludt joined Mountain View, Calif.-based Lawson-Hawks Insurance Associates as a broker for the healthcare and medical malpractice division.
Ludt has more than 11 years experience in providing coverage for the healthcare industry. Previously, he served as vice president of business development with Madison Health Care Inc. and as co-founder of Stop Loss Insurance Brokers Inc., both Southern California-based healthcare-oriented insurance brokerages.
Richard Colver and Martin Ralph have joined Willis Group Holdings UK and Ireland employee benefits practice, and Rob Perry will join the firm's Asia political risk and trade credit division team in Singapore as an executive director.
Ralph has 17 years experience advising companies and trustees on employee benefit arrangements. He is an associate member of the Pensions Management Institute, and most recently oversaw the occupational pensions division at PIFC Consulting.
Colver has 22 years of experience in employee benefits sector, both in the insurer market with Standard Life and in benefits consultancy at PWS. For the past 10 years, he headed the group risk and healthcare business at Heath Lambert.
Perry is currently a team leader in Willis' political risk practice in London. He has 19 years of industry experience. This will be his second international assignment, having previously worked for Willis Group in the United States.
Guy Carpenter & Co. named Nick Frankland, Andrew Marcell and Ryan Ogaard to its executive committee.
The committee is responsible for developing the firm's strategic plan, setting budgets, prioritizing investments and interacting with the leadership of Marsh & McLennan Cos.
Frankland is the CEO of Guy Carpenter' s European operations and chairs the international board, which oversees the activities of the European and Asia Pacific management boards.
Marcell is the global head of business development for Guy Carpenter and also serves as the firm's CEO for Continental European operations and leader of the firm's specialty operations throughout Europe.
Ogaard is the global leader of Guy Carpenter's Instrat unit. He oversees the firm's worldwide network of actuaries, cat modelers, financial experts and software developers located throughout 14 countries.
Carrick Lambert was appointed managing director, EMEA (Europe, Middle East, Africa) financial institutions industry practice at Marsh.
He joins Marsh from Aon's Global and UK financial institutions industry practices, where he most recently served as managing director. Lambert has more than 15 years experience at senior levels in the financial sector.
Kirk Chartier was named senior leader of distribution and strategy at Safeco, where he will oversee the company's marketing and distribution efforts and focus on helping independent agents grow their customer bases.
Chartier previously served as senior managing partner at Zyman Group, a marketing consultancy. He has also worked in various positions with General Electric, and consulting groups Goodman & Co. and Answerthink. He also spent 11 years as a staff officer and helicopter pilot in the United States Marine Corps.
From This Issue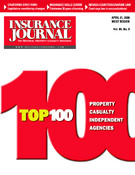 Top 100 Retail Agencies; Medical Professional Liability; Top Performing P/C Insurers: 1Q