Patrick G. Ryan, founder and executive chairman Aon Corp., said he intends to retire Aug. 1, 2008. Ryan said the firm's transition to a new management team under CEO Greg Case is complete.
Ryan founded Aon, which has its origin in a small insurance agency he started in 1964. That agency eventually became Ryan Insurance, a firm focused on providing advice, consulting services and distribution of insurance products to the automotive industry.
In 1978, Ryan Insurance purchased the insurance brokerage subsidiaries of Esmark Corp., expanding into risk management services for commercial and industrial clients. In 1982, following a merger with Combined Insurance Co. of America, the company acquired Rollins Burdick Hunter, then the seventh largest insurance broker. The company continued to expand through organic growth and acquisition, and in 1987 changed its name to Aon Corp. Through the late 1980s and into the 1990s, the company continued its acquisition strategy. Today Aon operates with more than 500 offices in 120 countries generating revenues in excess of $7 billion.
Ryan will continue as chairman of the Board of Trustees of Northwestern University, and as chairman and CEO of Chicago 2016, the effort to bring the 2016 Olympic and Paralympic games to Chicago.
XL Capital Ltd. named Michael S. McGavick CEO. He succeeded Brian M. O'Hara, XL's CEO for the past 13 years, who announced in October 2007 that he would retire from the position by mid-2008.
McGavick was president and CEO of the Seattle-based Safeco Corp. from January 2001 to December 2005. Prior to joining Safeco, he spent six years with the Chicago-based CNA Financial Corp., where he held senior executive positions before becoming president and chief operating officer of the company's largest commercial insurance operating unit. He served for two years as director of the American Insurance Association's Superfund Improvement Project in Washington D.C. Most recently McGavick ran unsuccessfully in Washington for a seat in the U.S. Senate.
Wells Fargo Insurance Services Inc. named Mark Stokes managing director for its San Francisco office. In addition to maintaining his current managing director responsibilities for Wells Fargo Insurance Services' Petaluma and Santa Rosa, Calif., offices, Stokes will assume managing director responsibilities for the San Francisco office. While working closely with insurance carriers, Stokes will ensure that field offices have the necessary tools to promote sales growth, as well as will assist producers with new and renewal business. He will also assist field offices with negotiating terms, conditions and pricing for customers.
Stokes began his career with Fireman's Fund as an underwriter. He later became a workers' compensation underwriting manager for Transamerica Insurance Group. Stokes joined ABD as a property/casualty producer and then became property/casualty sales manager for ABD's Petaluma office. Most recently, Stokes was the director of property and casualty insurance in the North Bay for ABD/Wells Fargo Insurance Services.
Burns & Wilcox hired Michael Bain as a commercial underwriter in the company's Salt Lake City office. Bain brings seven years of industry experience. Most recently, he worked at Colonial General Insurance Agency, where he was a commercial brokerage underwriter.
Beecher Carlson appointed Charles Pierpont managing director of its national energy practice. Pierpont, who has 20 years' experience in the power generation industry, will develop, implement and manage complex risk management programs for private equity clients and power generating facilities of all types.
Previously, Pierpont was area executive president for Arthur J. Gallagher and Co. He also has worked for Marsh & McLennan, Johnson & Higgins and Alexander & Alexander.
Worldwide Facilities named Greg Kuchar vice president of the company's San Francisco office.
Kuchar most recently was with Risk Placement Services (RPS) in Orange, Calif., where he spent the past four years as construction practice leader. Prior to RPS, he was vice president with Summit Insurance Services specializing in producing construction business. He began his career with Brewer & Lord in Boston.
Worldwide Facilities also added Chris Murphy as a casualty broker in the company's San Francisco office. Prior to joining Worldwide, Murphy spent two years with RPS as a casualty broker. He began his career as an underwriter with the Lexington Insurance Co. in Boston.
Grass Valley, Calif.-based Networked Insurance Agents appointed Melissa Masles to vice president of placement. Masles will oversee the company's commercial lines placement operations.
Before moving to Networked, Masles was senior vice president for Personal Insurance in Chubb's western region. During her tenure, she worked in functional areas including marketing, underwriting and human resources. She started her career at Safeco.
Crump Group Inc. of New Jersey promoted John Jennings to president of its wholesale property and casualty insurance services division.
Most recently, Jennings was president of Tri-City Insurance Brokers and was a key member of the senior leadership team of the recently-merged commercial insurance operations of Crump Group Inc. Prior to joining Tri-City in 1993, Jennings held positions in the retail insurance industry with Jardine and RBH Inc.
Jennings replaces Glenn Hargrove.
Tampa, Fla.-based Arbitration Forums Inc. named W. Russ Smith president and CEO, succeeding D. Kay Smith, who served as AF's president for 11 years.
Smith, a veteran insurance professional, most recently was vice president of claims for USAA, where he oversaw policy and procedures for all claim functions.
Arbitration Forums resolves inter-insurance company disputes.
Aon Construction Services Group., part of Aon Corp., hired Scott Rons as assistant vice president of surety operations.
Rons will the company's footprint in Colorado. He will be based in Denver.
Rons has 20 years of construction underwriting experience. He most recently was a senior account specialist with Safeco Surety.
La Jolla, Calif.-based Sowers Baccala Insurance Brokerage hired Eileen Jolly as director of its executive risk division. She will oversee business development and market relations for professional liability, employment practices liability, and directors and officers liability lines of coverage.
Jolly has more than 20 years of insurance industry experience with San Diego regional retail brokers, and she has also operated an insurance consulting business.
ELM Insurance Brokers Inc. named Michele Epstein head of its newly opened Concord, Calif., office, and Gregg E. Higgins head of its new Mission Viejo, Calif., office.
Epstein most recently was president of Attorneys & Professionals Insurance Services Inc., a retail brokerage focusing on professional liability, primarily within California's legal community. She also served as regional vice president and California state director of the National Association of Insurance Women.
Higgins has been a broker and director of field marketing since joining ELM in 2004. After retiring from the Navy in 1993, he began his specialty lines career in the Boston office of AIG/National Union as an underwriting assistant. He most recently was specialty lines underwriting manager for The Philadelphia Insurance Co.
California State Compensation Insurance Fund appointed Ronald Jamero claims manager for the State Contract Services division, based in Rohnert Park, Calif.
SCIF promoted Robert Collet to claims manager for the Oxnard district office.
Jamero began his career at State Fund as a claims adjuster for the Santa Rosa district office. He was appointed assistant claims manager for the office in 1996.
Collet joined the State Fund in 1988 as a claims adjuster in Woodland Hills. In 1992, SCIF promoted him to assistant claims manager for the Los Angeles district office, and five years later he became sales manager. He was named assistant claims manager for the Oxnard district office in 1999.
San Jose, Calif.-based Thoits Insurance Service Inc., named Kathy Vowles vice president.
Vowles has 18 years of insurance industry experience. She began her career as a claims adjuster and moved to selling personal insurance through the California State Automobile Association. For the past decade, she has specialized in selling professional liability policies to certified public accountants nationwide.
Wanda Revells joined Universal North America Insurance Co. as assistant vice president of marketing and agency relations for Arizona and Nevada.
She will oversee development and execution of market strategy to support new production and growth initiatives. Her responsibilities include account development, retention and customer relations.
Universal, a national homeowners carrier, expanded into Arizona and Nevada in January.
Revells spent 27 years as an agent with independent insurance agencies in Tucson, Ariz., and also worked at Allstate. She was president of the Independent Insurance Agents of Tucson and a board member for the Independent Insurance Agents & Brokers of Arizona.
Portland, Ore.-based Liberty Northwest, part of Liberty Mutual Group, appointed Nancie Linley branch manager of claims for its Anchorage, Alaska, office. Linley will supervise two teams of workers' compensation case managers and claims assistants.
She has more than a decade of experience in workers' compensation claims and was one of the original case managers when the Liberty Northwest Anchorage office opened in September 2001. Prior to joining Liberty Northwest, she worked for Crawford & Co. and Northern Adjusters in Anchorage.
Also in the Anchorage office, Liberty Northwest promoted Serra Williams to senior case manager, and Ethel Perdue and Brandon Young to case managers.
Farmers Insurance Group Inc. named Denise Ruggiero vice president for legislative and regulatory affairs.
Ruggiero served from 2003to 2006 as managing attorney for State Farm in Sacramento, Calif., where she oversaw legislative, regulatory and initiative activity in California and 10 western states. Prior to that, she was State Farm counsel for Texas, and also served as divisional claims superintendent for litigation and auto claims.
Risk Placement Services Inc. promoted T.C. Anderson IV to underwriter and broker at the company's office in Scottsdale, Ariz.
Anderson joined RPS in 1994 and has worked in claims, underwriting services and most recently as a commercial underwriter.
Celia R. Brown joined the executive management board at XL Capital Ltd.
Brown is executive vice president and head of global human resources and corporate relations.
She has served XL and its predecessor companies for nearly 20 years, including associate general counsel, corporate secretary and head of human resources for NAC Re Corp. and chief administrative officer for XL America.
Ace Ltd. appointed Carl Faulkner European e-commerce manager. He will oversee developing the distribution of products both through Ace's online system and strategic alliances.
Before joining ACE in 2006 as e-commerce manger for Continental Europe, Faulkner developed e-commerce offerings for a number of companies including Allianz Group and Egg.
Marsh appointed David Barr managing consultant in its U.K. environmental practice. He joins Marsh's London office from Willis, where he headed its U.K. environmental team.
Barr is a geologist and hydrogeologist with 17 years of experience in oil and gas exploration, environmental technical consulting and environmental insurance. He has also worked with property investment and development funds, waste management companies, chemical manufacturing firms, and major oil and gas exploration and production businesses and retailers.
Cooper Gay Risk Services Inc. appointed Ted Clayton western regional director.
Based in California, Clayton will oversee wholesale operations in the western region.
Clayton was most recently senior vice president and western region director at Westrope & Associates, where he helped to start up and lead its California-based operations.
From This Issue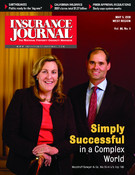 Salute to Managing General Agents/AAMGA Issue; Agency Technology; Premium Finance Directory